Author, entrepreneur, life coach, business owner, and inspirational speaker. Those are just a few words to describe the many roles Jacari Harris has in life. At a young age, Harris entered the foster care system and was soon fortunate to be adopted. Whether it's through tragedies or the challenges life has thrown his way, Jacari has overpassed them all and found a purposeful life. With no limitations, he's overcome hardship and accomplished so much in in his lifetime. We caught up with him to discuss his life experiences, the release of his highly anticipated book, Lost & Found, and much more in our exclusive interview.
Tell us about your experience in foster care and being adopted. 
I entered into foster care when I was almost two years old chubby, fat cheeks, and bow legged. I was dropped off to a family friend by my biological mother and three days later was picked up by the Florida Department of Children and Families. My mother constantly battled with substance abuse, and my father was completely uninvolved with my life. With no relatives able to take me in, I became one of the hundreds of thousands of children who enter the American foster care system each year.
After going to and from multiple foster homes in a short-span, I was blessed to be taken in by a loving family who later on adopted me. It took many more years for me to understand that I was more than a statistic. Battling the feelings of insignificance and abandonment that commonly plague adopted children, my early school years were marked by continuous behavioral problems.  I could have let my affliction determine m destiny. Instead, through hard work, determination, and a growing relationship with God, I found my identity and began realizing my dreams. I was elected Study Body President, completed a Study Abroad in Senegal West Africa, received a United Negro College Fund (UNCF) award, interned with 2020 Vice-Presidential Candidate; U.S. Senator Kamala Harris in her Los Angeles, California Office. I've had the pleasure of being a recipient of a 40 under 40 awards which celebrate and highlight the achievements of rising stars and influencers at Bethune-Cookman University.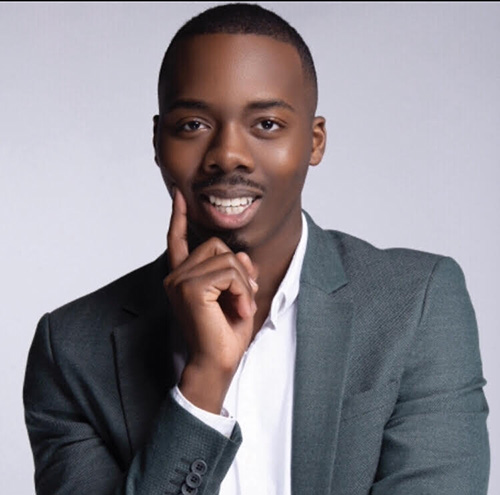 What was it like meeting your father for the first time on your 14th birthday?
I received a phone call for the first time from one of my twenty-three siblings that my father was in the Intensive Care Unit and they thought it would be nice if I had the chance to see him before her transitioned. I was upset that I finally thought of during a time that I didn't have much time to spend with him. My adopted mom immediately took me to the hospital so I could meet him. While on his bedside, I didn't know what to say or think, so I prayed for him and left. A few months later he died.
What inspired the creation of your debut book, Lost & Found?
The book operates as an inspirational story. I went back in time by obtaining my court files that dated bac to 1989—years before I was born, I wanted to know my true identity, how all of this started and why it all un-folded the way it did. Every chapter will not only show you how I was able to rise from the losses of life, but it will also show you proof that tragedies can position you for a purposeful life.
More than a memoir Lost & Found shows how it's possible to overcome a rough beginning in life and endure a tough journey to find success and become an inspiration to others.
How did Benjamin Crump, Esq. become a mentor to you?
I first heard of Attorney Benjamin Crump in the summer of 2013 during the Trial of George Zimmerman as he was the family attorney for Trayvon Martin. Like many others, I became angry and disgusted with the shooting of Martin and wanted to see change. Right after my high school graduation in 2014 I took a risk and decided to go to Parks & Crump law office without a meeting schedule or interview seeking for an internship. By the time I left the firm that day, I walked out with a "Welcome letter" to start a summer internship the following Monday. From that point forward, Attorney Crump became my mentor.
How has quarantine life been for you?
Quarantine life has been one of self-reflecting, goal setting, planning, and stay cautious of my surroundings.  I never imagined that I would be releasing my debut book during a pandemic, however; with my book, I know that many people will feel inspired to not give up—especially with all that's going on.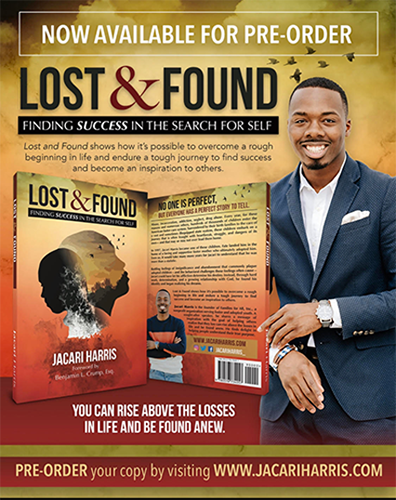 What are you currently working on?
With my book set for release on September 15, 2020 I'm planning for a virtual book tour that will be conducted on Instagram and Facebook live as my guest and I will have candid conversations about the book, life, and goals!
 For more on Jacari Harris, click here! 
Follow him on Facebook, Instagram, & Twitter.
All images by:
Trisha LaCoste
Drea Nicole of Rebel Lifestyle ATL