"Papa is the man who'll take a stand, Papa don't take no mess, Papa don't, Papa, don't, Papa don't!" – James Brown, Papa Don't Take No Mess.
Sheen Magazine was on the scene getting down at the annual James Brown Get Down Fundraiser on the heels of what would have been the Godfather of Souls 90th trip around the Sun on May 3rd—Happy Heavenly Birthday, James Brown!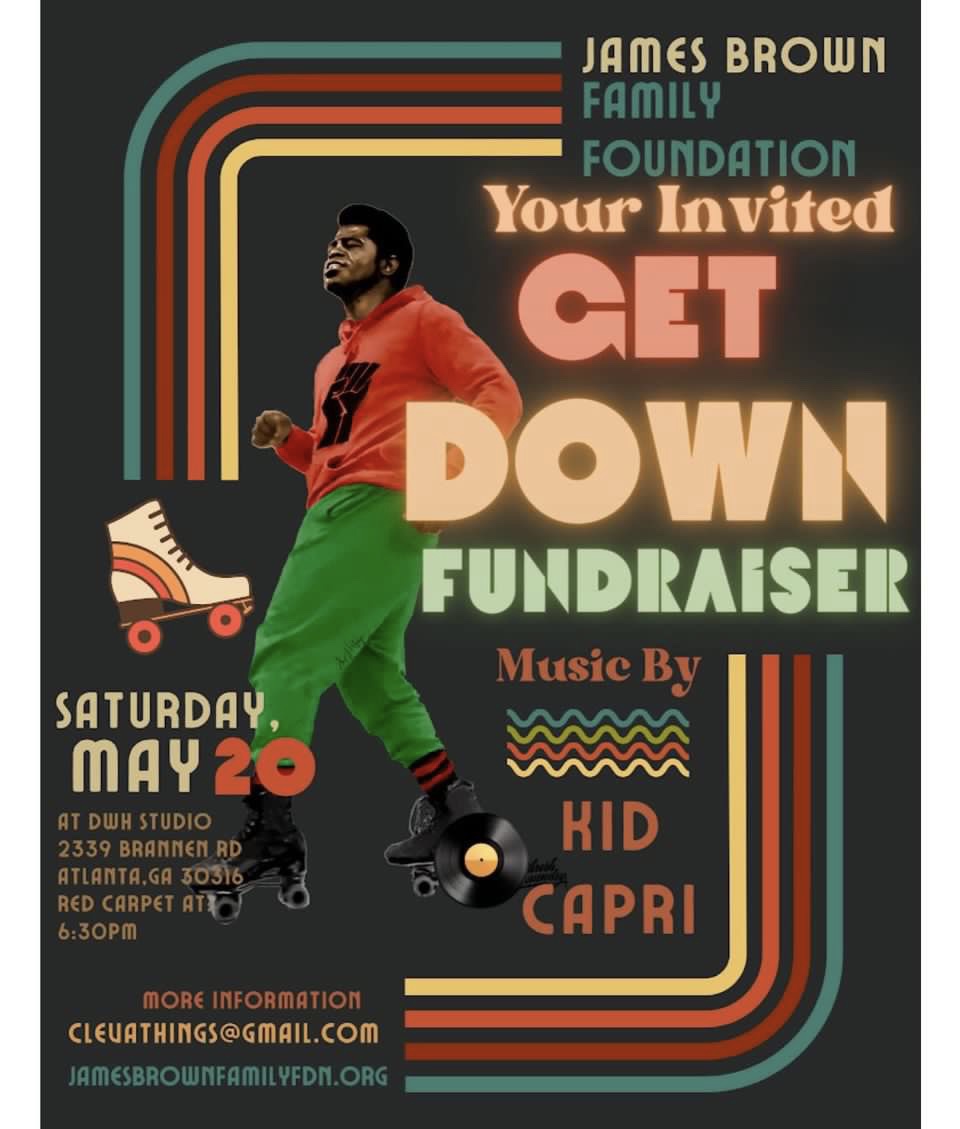 James Browns' ATL Get Down Fundraiser, with sounds provided by the world renowned—DJ Kid Capri, was hosted by three of the four daughter descendants of the, "I'm Black and I'm Proud," legend and icon—Dr. Yamma Brown-Lumar, Dr. Deanna Brown-Thomas, and Jeanette "Brown" Mitchell-Bellinger. James Browns fourth daughter—Venisha Brown, transitioned from physical to non-physical in 2018. In total, James Brown has a tribe of sons and daughters keeping his legacy alive and well in various ways.
The James Brown Family Foundation began because in terms of giving back, just like a Taurus—James Brown never forgot where he came from. James Brown was well known for his charitable giving, such as having annual turkey giveaways and toy drives during the holidays, something that continues to this day. Keeping up with the JBFF mission of, "Empowering global communities through the arts and sciences," the family wanted to go deeper and thus, developed The James Brown Academy of Musik. For twelve years, JBAM has been a musically intelligent space where children's musical gifts are explored and expanded on, from instrumentalists to vocalists. James Brown often spoke about how important music is in schools and how it actually assists in disciplining one to want to propel and enhance their reading, science, and math—it's not the other way around. Down in Augusta, Georgia, is the James Brown Family Historical Tour, in which the people can learn more about the American Icon that is, James Brown.
Brown's daughters shared a few details about their father, such as Alpha Kappa Alpha Sister, Deanna revealing that in real life, Papa Didn't Take No Mess, "but learning from him was something you could not get in college." "He was Daddy to me and James Brown to the rest of the world," Dr. Yamma Brown reminisced on The Rock and Roll Hall of Famer and the bitter sweetness of sharing her Daddy with everybody. Jeanette Mitchell-Bellinger's experience was slightly different, as she didn't grow up with the 4x Grammy winner—connecting with her family later in life. Yet, all was still fruitful, Jeanette says she was able to learn through a different lens, discovering her Father via her sisters, brothers, and the world.
Another incomparable, iconic, innovative musician—Ceelo Green, accurately proclaimed that, "James Brown influences everything. James Brown is in fact, everything. From one end of the elemental chart, to the other. It's a respect, an admiration, an acknowledgement. It's an embodiment, it's an innate instinctual strength that is at the center, at the core, and at the soul."
Follow a few of the family and friends on social media at @daughterofsoul, @jamesbrowndaughter, @jscoopb1970, @ceelogreen, @kidcapri101
Stay tuned and tapped in with all things James Brown by following @officialjamesbrownfamilyfdn and @jamesbrownacademy and visit www.JamesBrownFamilyFDN.com
Videography by Jamall Rashad