Business owner, certified nutritionist, best-selling author, and relationship/life coach, JJ Smith is known around the globe for her passion to educate others. Whether she's educating us on natural remedies, ways to stay slim, or live a healthy life in general, she's our go-to woman! We caught up with health advocate to discuss how she juggles all her life titles, her book 7 Day Apple Cider Vinegar Cleanse, and much more!
How do you juggle life as a business owner, certified nutritionist, best-selling author, and relationship and life coach?
Well, for me I try to focus on my passion. I love health and nutrition, reading about food/detoxing, and so I love spending my time learning, teaching, and educating those things. From a business owner standpoint, I try to leave business operations and marketing to a lot of my team. That way I can stay true and authentic about what I love. When I write a book, I'm generally write about what I like, what I love, what I've learned, what I'm doing, and what I'm interested in. That doesn't feel like work to me. I'm generally just doing what I would do naturally. Before the books had commercial success, I was earning no money. It's transition into a full-time brand to me and it's a nice, pleasant surprise that I can do what I love and do it full-time. As it relates to the business operations and marketing, I leave that to people that are more skilled in those areas.
Tell us about your book 7 Day Apple Cider Vinegar Cleanse.
The 10-Day Green Smoothie Cleanse was my first New York Times Best-Seller. It sold over a million copies. The whole premise was in 10-days, we're going to help you lose 15 pounds, jumpstart weight loss, get rid of sugar cravings, and really put you on a path to a healthy lifestyle. A lot of people did that, had great success, and fell in love with the Green Smoothie. Some of them just didn't want to drink the smoothie or were getting burned out. I learned a lot about apple cider vinegar and its health benefits. It's an amazing health tonic. It do everything from stabilize blood sugar, lower cholesterol, lower blood pressure, but its impact on weight loss is where I focused in. I created this 7-Day cleanse, it's a meal plan where you're eating regular food for seven days but you're also drinking an apple cider vinegar detox drink. You do that for seven days and you get the same results you would get if you did the 10-day green smoothie cleanse. You still lose up to 15 pounds and it promotes fat loss in the body. Apple cider vinegar is great for gut health, it will improve your digest. It will kickstart your metabolism and really start you off on the right path. A lot of people may not have ten days but it's a lot easier to fit in seven days. If you don't want to drink green smoothies but still want to detox, this is an amazing detox.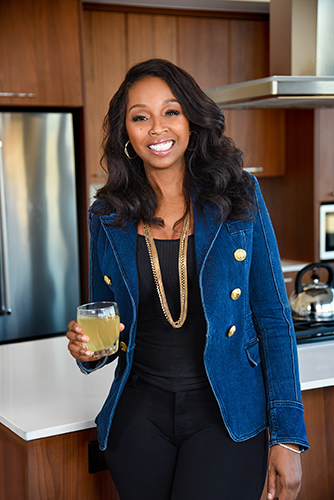 Can you tell us about the launch of Liver Focus Supplement?
I take different supplements. One day someone asked me, "If there was one supplement you could take, what would it be?" I said "Easy, that would be my liver supplement." There is no supplement that provides the health benefits and ability to accelerate fat burning in the body. I wanted to educate people about liver health, why it matters, and why it's important to detox it. The Liver Focus Supplement improves mental clarity, digestion, but most people love it because it helps accelerates fat burning particularly. What most people don't know is that the liver is the fat burning organ. That's its nickname. It will burn fats and carbs in the body. Anytime you optimize liver function, you're going to increase your body's ability to burn fat. It doesn't mean anything is wrong with your liver but you're trying to optimize liver function to these accelerated benefits. Liver Focus was my first supplement launch that would really help people on that stubborn body fat and increase some of those health benefits as well. It will be two years since it's release this summer but it's provided a tremendous amount of help for a lot of people.
What are you working on now? What can we expect to see from you in the future?
I'm always working on new book projects. I've come up with unique ways to burn belly fat. You can be slim and have belly fat. Belly fat is so much more stubborn and complicated. The traditional diet and exercise don't apply to belly fat. It's a very stubborn fat so you have to address the detox, hormonal imbalances, and some of the other root causes that cause belly fat. I'm working on a project now that really help people target and hone in on belly fat. It's not focused on ab work. Everyone's abs are slim if you burn the belly fat, it's just until you get rid of the belly fat, you wouldn't even show those abs. Working out isn't the best way to burn belly fat. I've been focused on teaching others the root causes. A lot of my audience has issues with blood sugar. Whether that's diabetic or sugar spikes, blood sugar is a root cause problem for a lot of people and why they struggle with their weight. We're going to do a lot of projects with blood sugar that will help people turn their body from a fat storage machine into a fat burning machine. The best way to do that is stabilizing blood sugar. Belly fat and blood sugar are the two main focuses for the next quarter.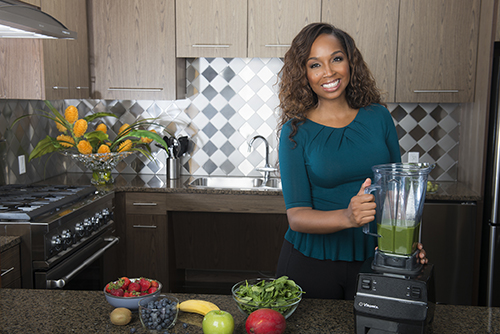 For more on JJ Smith, click here!