Model, entrepreneur, and humanitarian, Jordan Emanuel is clearly a woman that holds many titles in life, but we're over here wondering how she juggles it all with such grace? The young, educated woman with an impressive resume is not only taking her success and pouring it back into the Black community but also for women as a whole. As the co-founder of the women's non-profit organization, Women with Voices – Emanuel is dedicated to focus on two initiatives surrounding mental health awareness and sexual education and liberation. We recently caught up with her to discuss everything from the inspiration to create the organization to why she is so passionate about two initiatives.
Tell us what made you want to step into the world of entertainment?
You know, I don't know if it was ever a decision that I consciously made – it was more so something I was naturally drawn to. If my dad were speaking, he would tell you that I was a very entertaining four-year-old. I would tell all of his friends jokes and loved entertaining others. I enjoyed making people smile and laugh, conversing with people, and learning new things. I think it was more of a natural attraction than anything else.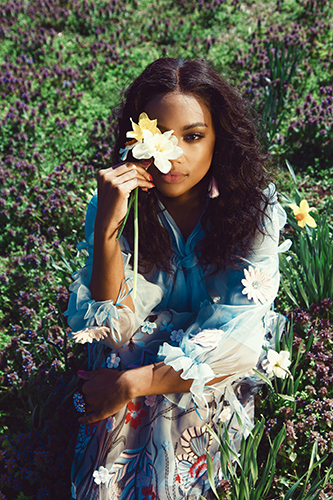 Can you tell us about the women's nonprofit organization, Women with Voices?
Women with Voices is based in Brooklyn, New York. Of course, with COVID, the last year has been challenging. It's right across from the Barkley Center. Usually what we do is hold workshops based on our initiative. For example, my two initiatives are sexual education and liberation and mental health awareness and coping mechanisms. So, right now, May is Mental Health Awareness month, so we are gearing up to hold some of our first virtual workshops to discuss meditation. We'll have our good friend who owns a meditation center come and speak. We'll also have art as a stress reliever. Especially in times like right now, mental health is so important. Also, it's Women's History Month so we have a grant that we're going to be announcing at the end of the month based on one of our programs, so everyone be on the lookout for that.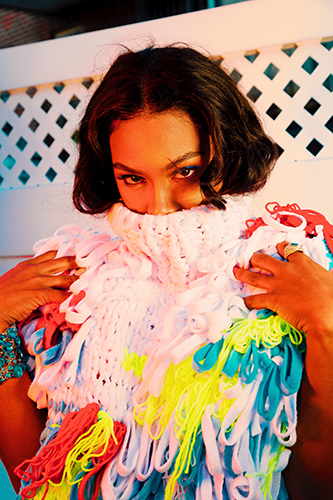 Why would you say mental health awareness and sexual education and liberation are topics you are passionate about?
I have always been someone who never really thought about body type and images. For me, it's always been 'Okay, we have these parts, and that's what it is.' I never really thought about them in a sexual way. Or anything like that. When I did Playboy, I was abundantly aware then of other people's interpretation was of me posing nude meant. From there, it was important for me to not only educate people on their vulnerability and feeling comfortable and confident in their own skin, but to also to combat that theory that women can't be comfortable in our bodies or show our bodies or that we can't accomplish things in life. We want to represent ourselves in that confidence. That's where that came from. In addition, I did a program when I was in high school, where we went to other high schools to teach people about different communities that they might not know. Right now, with gender identity being such a huge topic, that's what we were teaching in high school. So, that was something I knew I wanted to include in the programs for Women with Voices. As far as mental health awareness, I've always been someone that dealt with anxiety. It's a natural part of who I am and that was something that I struggled with when my mother passed away. Soon thereafter, my grandfather – who was my favorite human ever passed away five months after. My depression really was amplified at that point. I was a senior in high school, so dealing with that while trying to apply for college was a lot. I was fortunate enough to have therapists and good friends but for those that don't, they don't know what they're supposed to do. I wanted to create something and shed light on the options for them as well as combatting the stigma associated with getting help, especially in the Black community. Those were definitely my driving points and inspirations.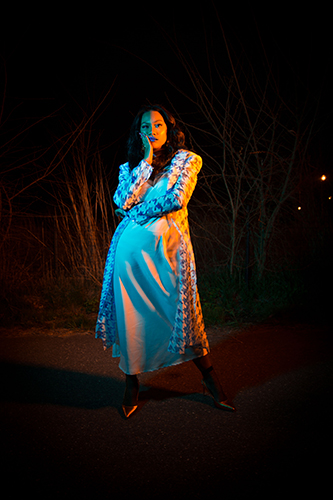 What are you currently working on and what can we expect to see from you in the future?
Right now, I'm literally editing my podcast that I'm hopefully launching in the next year or so. It is a music-based podcast. It's very fun, very TRL, '90s, MTV vibes which is fun. I also have my swim line that is hopefully coming out at the end of the summer. With Women of Voices, you should be on the lookout for events and virtual events that we're hosting.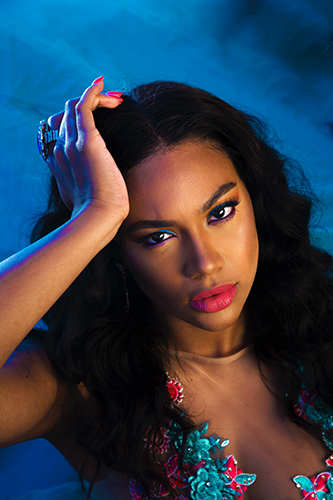 For more on Women with Voices, click here.
Stay connected with Jordan Emanuel by following her on Facebook, Instagram, & Twitter.
All images by Genevieve Andrews