Juandolyn Stokes is a dynamic woman in media, ministry and the marketplace. As an author, educator, media personality, pastor and professor, she enjoys using her voice to educate, inspire and empower all people. She is the first female in years to grace the airwaves of News & Talk 1380 WAOK Radio as the midday radio host of On Point w/ Juandolyn Stokes, heard weekdays from 10am – 1pm. Her show content covers everything from politics, to fashion, health, wellness, education, legal and Sister Talk. She is passionate about being a voice for girls and women everywhere and believes that we are a gift to the world.
As a graduate of the Interdenominational Theological Center in Atlanta, GA, with a Master's of Arts in Christian Education and a Master's of Divinity, her voice is used in other capacities as well. Juandolyn serves as Pastor of Deeper Life in Christ Ministries in Conyers, Georgia, and recently completed a Clinical Pastoral Education chaplaincy program at the Atlanta VA Medical Center in Decatur, Georgia. She is very active in the community, participating in urban ministry and teaching biblical education classes as an adjunct professor at Beulah Heights University.
Tell us about your journey into the media field:
I began doing radio in my hometown of Savannah, Georgia on WSOK Radio as a teenager. Upon graduation from high school, I moved to Atlanta to attend Clark Atlanta and major in Broadcast Management & Marketing. Early in my matriculation at Clark Atlanta University, I joined their radio station, WCLK Radio as host of the morning gospel music show, called Joy in the Morning, for over ten years. I ventured into my own syndicated radio show The Juandolyn Stokes Show and produced the Bobby Jones Radio Show on the Sheridan Broadcasting Network in Pittsburgh, PA. I also joined the Earl Bynum Show on the Rejoice Soul Food Network, doing a weekly inspirational feature.
In media, I've been a contributing writer to publications like, The Belle Report and Gospel Today Magazine, just to name a few. I'm a veteran gospel music industry executive, starting in the promotions department and eventually working my way up to Vice President of Marketing of Atlanta International Records. For television, I regularly host the Atlanta Live Show on WATC TV 57, interviewing local and national, recording artists, authors and speakers from across the country.
Share the areas of black news you have been most passionate about highlighting in this current season:
Black Culture – Trends, fashion, music, celebrities, actors, technology
Black Businesses/Entrepreneurs – Promoting the support of black businesses and encouraging black business start-ups
Black & Brown Sisters – Highlighting black women and listening to their success stories
Health & Wellness – Focusing on health matters like (Breast Cancer, Diabetes, High blood pressure etc.); Mental Health & Wellness topics about suicide prevention, COVID 19 pandemic, maternal health
Love & Relationship – Conversations about marriage, dating, etc.
Climate Change – Discussions about environment, air quality, air pollution etc.
Politics – Local, regional and national level
Social Issues – Racial Injustices, human sex trafficking, poverty, affordable housing, youth & crime, etc. 
How would you describe the highlight of your career so far?
Engaging with people has always been a highlight in my career. I remember interviewing a guest who was diagnosed with Stage 1 Breast Cancer at the age of 26. When she shared her story, my lines lit up from young adult women to our elders, who all spoke of their challenge with breast cancer and how her story encouraged and inspired them all. When I can influence and impact others in a positive way, that makes this sacred calling to the media, even more purposeful. 
What is next for you in 2022?
I've got a new book coming out in 2022 about Prayer, Praise & Worship. Also, I will be launching my podcast, Just Juandolyn, which will feature discussions about faith, food, fitness, fashion and friends. Be on alert to hear my voice doing narrations and voicing for audio books, literary works and musical projects.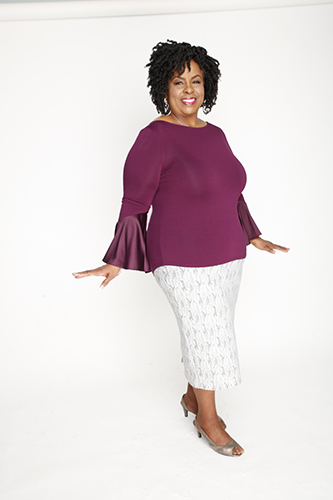 To connect with Juandolyn, follow her on Instagram or click here.
All images by Reggie Anderson