Entertainment sweetheart, Julissa Bermudez is back and better than ever! Bermudez is no stranger when it comes to hosting various shows and sharing people's stories, but this new series will focus on her New York upbringing, the launch of her body care brand, República Skin, and much more! We had the chance to sit down with Bermudez to discuss all the details of her exciting show, set to premiere tonight on CLEO TV!
Tell us about how you got into entertainment.
I always joke and say entertainment for me was a no brainer growing up with older brothers who never paid me any attention. I was constantly trying to entertain or impress them, when I think about it I'm sure it's why I'm so uninhibited! Growing up in NYC gave me the opportunity to attend a performing arts high school, which also allowed me to start going on auditions early on.
Can you give us insight into your show, It's Me, Julissa!?
This show is exciting! I'm hoping people tune in and embrace my vulnerability, transparency, challenges and things, especially as women we all face! Most of my career I've been the girl holding a mic, speaking into a camera and being the talking head. This show allows me to go beyond that!
What made you want to step into skincare and create República?
I've always been obsessed with skincare and beauty and as I grew my social media following and became a beauty influencer I really got inspired to create a quality product at a price point I felt was missing.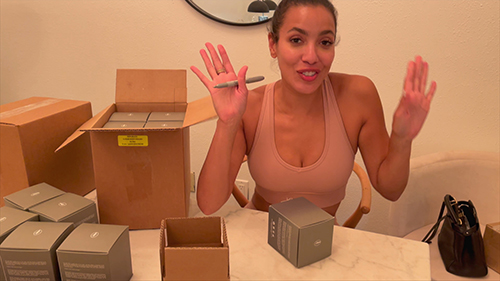 What are you currently working on and what can we expect to see from you in the rest of 2021?
I'm currently working on the next products for república. I do custom formulation so it's a long process. I plan on going on tour with my brand to do in store pop ups! I expect more, it's me Julissa episodes!
It's Me, Julissa premieres tonight, Friday, October 15th at 9:30pm EST/8C on CLEO TV.
For more on Julissa Bermudez, follow her on Facebook, Instagram, & Twitter.
All images provided by CLEO TV.