The only Goddess in the rap game, K Goddess is coming in hot! When asked how she plans to dominate in the music industry, her response was, "My foot is on their necks until the day I get through that door." Brutally honest but true, this rapper, actress, and model is a force to be reckoned with. With the release of a brand new single "Friends," we wanted to catch up with the woman of many hats to discuss the new project, her upcoming LP, and more!
How did you first get into entertainment and what made you want to become a rapper, model, and actress?
I started off really young. I always knew that I would enter the music industry. For some reason, I thought I was going to be a singer (laughs) but I can't sing. Once I entered college, I wanted to take it a little more seriously. I went to college for basketball so that was my main focus at the time. Once I left college, I took acting more seriously because I was tired of being a bartender in a strip club. Ever since then, it's been a full-fledge on my music career.
Most people don't know that you are a basketball star. Was it difficult for you to make the decision and choose the music path in terms of your career?
No, it wasn't difficult at all. It was mainly easy because I really didn't have an ultimatum. When I was in school playing basketball, I was still trying to figure myself out. When you're in college, you need money to survive. That's when I began bartending in the strip club. Instead of giving me an explanation as to why I was benched on the basketball team, they just thought that I was a stripper. They didn't give it a second thought. I really didn't have a choice when it came to choose my career. They made it easy for me (laughs).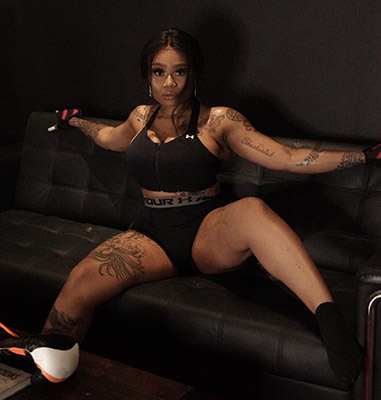 Tell us about inspiration behind your music video, "Friends" off your second independent projected titled, The Arrival.
My inspiration was really always wanting to be a boss chick. I always carry my boss demeanor and always carry dominance within my career and self personally. Once I recorded the song, "Friends" I felt like the video really needed to be a vibe so my audience could see where I'm coming from and how I want to be presented in this game. It was easy to put the video together; I direct all my videos. I'm really happy with how it turned out. Now people see my creativity and they see and understand that K Goddess is a boss (laughs).
What can we expect to hear from your LP expected to release soon?
In this LP, listeners can expect more communication from me. They will see a side of me that I really don't show. It's a more sentimental, story-telling side of where I grew up and where I am from. I'm all about listeners having the chance to know that I'm human and that I go through the experiences they go through. Listens can expect to connect with me more on a spiritual, personal level.
What do you have planned for us in the future?
In the future, you can expect to see me everywhere. I want K Goddess to be everywhere: billboards, top of the charts, everywhere. I'm trying my best to be transparent and to be more in tuned with everything that is going on. I'm helping the community. I'll be in politics, on television, and so much more!
For more on K Goddess, follow her on Facebook, Instagram, & Twitter.
All images by Visuals By Frenchy