"God, you've always had a sick sense of humor when it comes to me; please tell me this is just another one of your jokes"-a line from Married at First Sight' (MAFS) star Keith Manley's debut book.
The masterpiece nicely titled "Life is Just-A Walk Within," is the perfect balance of transparency and self-reflection in its rawest form. I caught up with Keith to discuss how the book came about, the importance of doing inner work and much more!
How did writing a book come about for you?
Honestly, I've always enjoyed writing since I was around five or six-years old. Yet putting something together like a book was brand new to me. It started out as journaling, and when COVID hit, I used journaling as a method to hash out my thoughts. As the quarantine transformed, I continued to do a lot of reading and researching on how to use writing to express myself. After a while, my notes turned into chapters, like one day I'd write about my comfort zone. The next day writing about me building the nerve to take a trip to Arizona on the other side of the country, which I'd never been to before. Eventually my thoughts turned into a lot of messages I felt people could get something from, so that's how my journal turned into a book.  
How important is it to you to do inner self-work first vs getting people's approval?
I think doing inner work is the most important thing. Especially in the situation I was coming from in having to share my personal life with so many people. This was the prime time for me to start to accept myself more because there were so many outside opinions coming in at me at the same time. I look at multi-challenges in life as a test to see how I'll respond to certain things, so doing inner work is very important to me.
There is really no way to be prepared for an experience like being on MAFS. After the show aired in 2019 on Lifetime, the feedback started flooding in at one time and we got to unlock our social media accounts like Instagram and Twitter. Then 2020 hit with COVID and quarantine life, then Netflix picked up the show, so it was like a heavy second wave of opinions. But this wave was three times as big as the first wave, so it was a lot to process all over again. If you don't know yourself that well it can be easy to fall into the trap of what other people have to say about you. Over time you realize people only judge you by their perception or the small pieces of what they think they know about you. It's all just a mural back to some things they've been through that has nothing to do with me, so I've learned to take things with a grain of salt.
What is one unexpected lesson being on MAFS taught you?
Hmm. . . I would say because I had real family stuff going on while we were filming, like the passing of my grandmother that was something I wasn't expecting at all. I wasn't expecting the last time that we were able to speak was at my wedding, these are things I could never plan for. It just blows my mind that was all documented and I can go look at it whenever I want to, which is cool to think about. So, having to deal with that and continue in my real marriage was a whole different thing. It truly showed me I had a lot to still work on being a husband and one day potentially being a father. I needed to be a little more transparent when it comes to the things I like or don't like and even what rubs me the wrong way. I thought I was doing a great job with that already and gave it my best but looking back, I saw areas I could improve in and the biggest one was learning to let my guard down a little more. I'm grateful for the unexpected lessons because it showed me another side of myself that I would've never seen if I wasn't in a position to face that.  
How did the book help you mend an estranged relationship?
Before I considered anyone else's opinion, I was really worried about how this was going to affect my brother and my parents because they didn't sign up for all this. They were just along for the ride and I wanted to be sure I wasn't putting out too much of our family business. Still, I wanted to be honest with myself and give enough information that it felt like people could hopefully relate to it in some way. A couple weeks before releasing the book I gave it to my brother and parents to read in their own time. I didn't mention what it was about, just handed it to them. I went to Denver, CO and when I got back my brother picked me up from the airport. He told me he read the book, and I think he respected my stance, and it has helped our relationship as we both have strong personalities and must give each other space sometimes. We haven't talked in detail about everything said in the book, although we're planning something now to sit down and have a conversation and I'm a little bit anxious. But I'm looking forward to hearing what he has to say, because I think it can only help our relationship in the grand scheme of things being straight up with each other. I think it's going to make our family closer and stronger.
So, the book was a huge step out of my comfort zone to share my inner thoughts, feelings, family issues, etc. and other things that mattered the most to me. It gives me anxiety just thinking about it because now all my stuff is out there. 
Who motivated you to write this book and continue your path of self-reflection?
My grandmother! She's always been a writer and kept a journal and being into counseling was a big thing to her. I wrote about this as well, even at the sickest moments in her life she was still on the phone at night, praying with others or helping someone sort through their issues. It's amazing to me how selfless she was, so she's definitely my biggest inspiration when it comes to this book. She played such a huge part in our family, especially with holidays or getting the family together that now we just feel this huge piece is missing in our lives and it's different. We're trying to work through it, and it'll take some time, but I think she'd be amazed this was the route I took, and I know I'm making her happy.
What can we expect to see from you in 2021?
I hope to get more into my creative self. This book has been a big push for me in doing that as I continue my writing. I do counseling with people where they can schedule a one-on-one consultation with me to talk and help them work through some of their challenges in life. I'm big on mentorship and coaching so that's my biggest goal this year. Although I still work with my kids, I feel there are a lot of adults and people my age who can relate to me by reading my book. I want to continue building on that and helping as many people as I can. This past year has been a blessing to help us get in touch with who we really are on a deeper level, so I'm beyond grateful.
The book is available on all digital platforms.
For more on Keith Manley follow him on Facebook, Instagram, and Twitter.
This feature was submitted by Nikki Gillis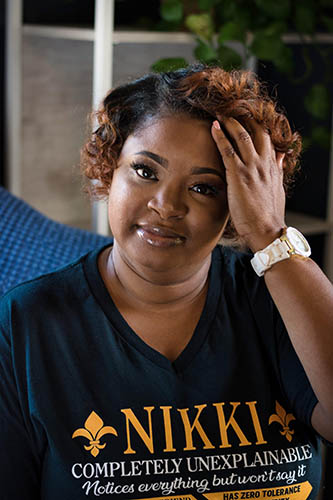 Nikki Gillis is a prolific writer with a dedication to self-awareness from Winston Salem, NC. For 12 years now, Nikki's style of ghostwriting has been echoing behind the scenes in several leading industries. Her focus is to remain a rarely seen "publishing insider" of high-quality content with a surgical ear for music that feeds the soul.