For Foster Care Advocate Laura Williams making a difference in Greater Los Angeles and beyond is personal. As President and Founder of Just Who I Am, Williams is on a mission to serve at-risk and underprivileged children through fashion, mentorship, and generosity. 
According to data listed in the Children's Law Center of California, there are over 437,000 children in foster care on any given day in the United States. In California alone, there are over 60,000 foster care youth and only 16 percent receive important services like mentorship. As a dedicated and affectionate community leader, Williams is lowering the statistics and bringing change. 
Before being legally adopted at the age of ten, young Laura endured physical and emotional abuse at the hands of her biological mother and struggled even as an adult with rejection from her biological father. It's those feelings that fuel her passion to be a very present help in times of need. Williams tells SHEEN, "Even though we are a nonprofit, my approach is family oriented. I know that I would not be where I am today without my family, my church family, and my village helping my parents raise my brother and me."
"That's why JWIA recently adopted six girls and the role that I want to play in their lives is big sister because I want them to know that although I'm here to help, I care about them as well and I want them to succeed. We can have fun, we can go wherever they want to go, but I also want them to know that education is very important. So, while I am that fun big sister, I'm also the serious big sister that will do anything to help them become whatever they want to become in life, she adds. 
Williams sat down with SHEEN to discuss foster care advocacy, mentorship, and how she uses fashion to instill values in her "sisters."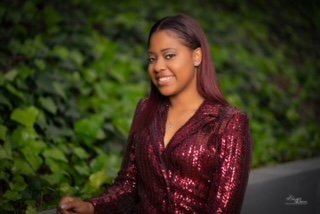 What inspired you to launch a fashion show platform through your non-profit JUST WHO I AM? 
A lot of foster youth are transferred from home to home in the middle of the night with nothing to call their own. So, I made it my goal to create a safe and fun environment where they can come together and not only have clothes to call their own but to be able to express themselves. To see the smiles on the children's faces when they walk into a room filled with racks of clothing and knowing whatever they pick they can keep brings me an overwhelming amount of joy.
What core values do you instill in at-risk foster youth through fashion? 
Not every situation is the same for each individual, but can you imagine growing up feeling less than, unwanted, rejected, and even abandoned. Fashion can reflect emotions and feelings. You know when a person is sad by when they just throw something on or when they're happy because they walk around with their head held high and proud of their outfit. Just Who I Am's fashion show has a purpose. It's to instill confidence, raise self-esteem, and show the youth to be proud of the clothes they wear because in reality, it's a reflection of them. 
Take us behind the scenes into the makings of your annual fashion show. What type of clothes and designers do you seek out for the foster youth? 
When it comes to choosing the clothing, everything is a donation and if the children honestly don't like the clothes, I will make the sacrifice to buy them what makes them most comfortable. A large number of our clothes came from "Bell of California," which is a store in downtown LA that I have been shopping at since I was a little girl. Bell of California has been a big part of our fashion show for the last two years and trust me the girls love the clothes. Everything that they model in the fashion show is brand new and they get to take it home. The amount of donations that we receive is overwhelmingly great and they get to take bags of clothes home. I am proud to see the girls love the clothes and the shoes and just feel a sense of entitlement when it comes to being able to say that these are their clothes. 
What's next for JUST AS I AM? 
So many doors have opened up for Just Who I Am this year and I'm so excited for what the future holds. As we are expanding on our annual events and outreach, my ultimate goal is a transitional housing program for children who have aged out of the foster system. Although I'm hands-on with youth that are under 18 currently, I want to expand to the ones who have turned 18 and felt like they have nowhere to turn. My goal is to bridge the gap between foster care and homelessness once they turn 18. I know this won't happen overnight but I'm steadily working hard to make this transitional housing program achievable. 
For more information on Laura Williams, follow her on IG: _ldw_
Photo Credits: Courtesy of Laura D. Williams