LAYA sees absolutely no boundaries or limits to her creativity, which is every reason why she's on her way to becoming one of the greats. Hailing from Staten Island, New York, the rising star provides her own spin on 90's R&B, bringing back that feel-good, nostalgic feeling we all know and miss. Her smooth and sultry sound serves as a breath of fresh air in the music industry, with heartfelt lyrics that will have you yearning for that summer romance.
Exploding onto the scene with her breakout single "Sailor Moon," LAYA has since exploded into the limelight, inserting herself as a force to be reckoned with in the music industry. Her looks, her sound, her visuals, her personality… everything is true to LAYA and what she stands for, creating a vibe any moment she can.
In April of this year, LAYA unveiled her debut EP Um Hello, with the title being a statement that she's here, she's ready, and she's here to take over. The 11-track project is spearheaded by lead single "Brag," featuring fellow New York native Fivio Foreign.
Sheen Magazine caught up with LAYA during BET weekend, at the Warner Records day wellness party. Read below as we discuss her roots, biggest influences, her name, the impact of "Sailor Moon," editing her own cover art for Um Hello, collaborating with Fivio Foreign, opening for Teyana Taylor, goals, and more!
For those who don't know, who is LAYA?
I am just a ball of fun. I am that glass of tall cold water that you needed. That's what I am, I'm a glass of cold water after a long day of thirst. [laughs]
I really love cold water, you don't even know!
Yeah! Especially here in LA, it's a desert. It's crazy, it's dry.
How was it growing up in Staten Island? How did that influence you?
It has influenced me in a way of always feeling like I have to prove myself. From anyone that's from New York, they know they always throw shade on Staten Island all the time, like we're not a part of New York. Yet, I pay that New York city tax all the time, every year. But it definitely built that hunger. I'ma prove myself, just coming from an underdog city or an underdog borough in the city.
Who are your influences? Because you are so unique and creative.
First of all, drag queens around the world. Oh my god, love love love love. I get so much inspiration from them, and so much love from them as well. As far as artists, Missy Elliott, Brandi, Destiny's Child, all the big R&B girls of the day. Monica, Mya, Aaliyah, all of them.
When did you realize you could do music for a living?
Oh, I've been singing my whole life! Forever, forever. There was never a moment where I ever thought I was going to be a doctor or a nurse or a lawyer. It was "oh I'm going to be a singer." My whole life, I knew this is what I knew I was gonna do.
Did you work part-time jobs prior?
I've worked 9 to 5's. I've worked in restaurants and service, and did that whole thing. But it was always "I'm just doing this temporarily." I've always known this was something that I was working towards. That's why I always had flexible jobs like being a server, so I can always change my shifts so I can do a gig.
What was the inspiration behind the name?
LAYA is actually a remix you could say, of my last name. My last name is Ayala. So Ayala backwards is Alaya, which is pretty but it sounded too close to Aaliyah. I'm like "nah, we can just drop the first 'a' and just kept it LAYA." Smooth. It's a remix of my actual last name.
I know "Sailor Moon" was a big record for you. How was it releasing that?
It was really cool because I released it during the pandemic. It was one of those social media challenges where a lot of independent artists were challenging each other to post a clip of an unreleased song. I was only working on "Sailor Moon," it wasn't even finished. I had posted just a clip of it, because another artist friend of mine had tagged me. When I posted it. everybody on my Instagram and on the internet were like, "What is this? We need this song, we need this song!"
Boom: I finished it up, put it out. It started snowballing and doing its own thing. People were like, "We need a video. We need a visual for this." This was all during the pandemic. I dived right in and created a video. I shot it on my iPhone, did all the special effects myself. It went from one thing to the next. It's been insane so I owe a lot of my success and my blessings to "Sailor Moon," to that song.
You just released your project, Um, Hello.
It's been awesome. I'm so excited that people are enjoying it and they're loving it. I called it Um, Hello because I really wanted to get attention, and get the world's attention. So "Um, hello? Check me out." It's definitely been moving in that space. It's really been calling out to a lot of people, so I'm so grateful for that.
Talk about the cover art, because I love that it represents so many arms of you. Literally.
I was inspired by a photo that Nadia Lee Cohen did. She's a super awesome creative, but it had me thinking because I do so many things myself. I write my own music, I record myself, I mix myself, I style myself. I'll film myself for my videos. I'm doing my own edits, I'm doing the special effects. I'm creating my own props. My hat for the cover, I painted it. I made it out of a cereal box, and hand-painted it to match my dress. I edited the actual cover art for the photo. My photographer friend shot the cover and I made the edits. It was going off of this: I do so many things, so many tasks. There are all these different arms representing I'm just gonna do it all.
How was it collaborating with Fivio Foreign on "Brag"?
It was a really simple and organic happening. The song and the video were already done, it was just me in it. My team was hanging out with him. They got the opportunity to play it for him, just showing him like, "oh yeah, this is what LAYA's about to do. She's about to drop this." He said "oh this is fire." He wanted to get on it. I guess it resonated with him, he decided to hop on it. I was able to get him to my house, shoot footage of him, then pop him into the video that I had already created.
Have you always been this creative?
Yes! [laughs] Yes, I have. I was that kid that always got the art award in school. I was always making posters, doing this and painting that. I was always that kid.
In the video, you and Fivio are seen in the yearbook pictures. What was your tagline in high school?
You know what's funny, I didn't necessarily have a tagline. But I remember in my yearbook, wee each had quotes. My quote was, "I will become a successful recording artist," something like that. It's really really trippy because when I was creating that video, I looked back at my old photo, which is actually in the video if you look closely. You might have to run it back a few times, but my original yearbook photo is in there. When I looked back to go find it, I read that and thought "that's crazy." Because now I'm doing it!
What's one thing you want fans to get from Um, Hello?
I just want them to feel inspired. I want them to feel good when they're listening to it. I want them to turn up and enjoy themselves. I love R&B and I know it stands for Rhythm & Blues, but I'd like to bring more of the rhythm back to R&B. You know, not just always blues. I don't always want to cry. I like to think that my music helps people feel good, and to uplift them and inspire. I make this bossy, master manifestation music. "I'ma go get this. I'ma get the big bag!" I hope people take that from it.
How would you describe your fashion sense?
Over the top. Extra. Always forever extra. I'm my own Spice Girl, that's it. Over the top, period. Always a moment.
Do you have any beauty go-to's?
A good lip liner and a bold cat eye. It could be black, it could be white, it could be blue. But a sharp eye and a good liner, those are my go-to's.
What are you most excited for joining Teyana Taylor on tour?
I'm excited to see her! I'm excited to perform, don't get me wrong. I'm excited to do my thing, but this will be my first time getting to see her live as well, so I'm super super excited about that. I feel stoked. It's gonna be a super cool ladies night, and I'm here for it.
You're also going on tour with Alex Isley?
That's gonna be super fun, I can't wait. It's actually my first tour. I'm not anxious, but I'm itching to do it. Just itching to do it, so I'm super excited.
Do you have any goals for yourself?
Goals? To do everything! To hit all the markets, to take everybody's money. To be booked and busy, period. To keep on making music. Listen, singing these songs and making these songs, this is all I want to do. Period, that's what I'm here for. Just keep creating the vibe.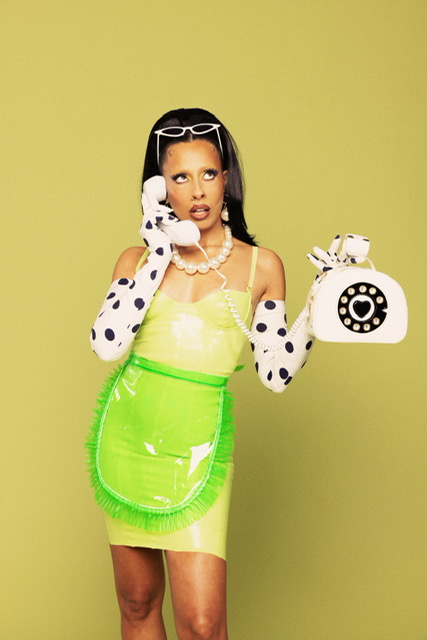 Photo Credits: Jabari Jacobs