Setting an example for her generation to dream big and never give up, 22-year-old Diahni Sample is a woman of many talents. First and foremost, she is an inspirational speaker and entrepreneur who uses her life experience of healing and self-love to inspire women of all ages around the world. But her impact doesn't stop there! She's also the CEO of the Prepare for Greatness Academy, which teaches the importance of knowing once's worth as well as practical business tools like social media networking. She is the founder of the Female Boss Collection, the creator of the #ItsJustYourHair movement, and the CEO of the Boss Up N Travel agency.
From launching a movement that encourages women to embrace their natural beauty to helping individuals book the vacation of their dreams, Diahni truly does it all. How does she manage it and still achieve her goals? We sat down with Diahni to learn more about her passion for inspiring others and leading a new generation of women to empowerment and greatness. 
How has the pandemic impacted your career as an entrepreneur?
The pandemic brought out the boss and the hustle in me. Before, I was an average entrepreneur; I played around with charging my worth and promoting my business, which got zero results. When the pandemic hit, it forced me to prove just how much of a boss I am. I started making real money, elevating my work, promoting more, and giving 100% to my growth. I needed the pandemic.
How do you stay motivated during these challenging times?
It's not always easy, which is why I say affirmations and revisit my old work. I always scroll down my page to reflect on everything that I've done. Then, I remind myself that I am the greatest inspirational speaker of my generation.
Do you typically achieve the goals you set?
Yes, most of the time. I write down my goals and set deadlines for myself. So far, I've achieved all my goals from 2018 to 2020.  
Tell us more about your experience being mentored by Jenelle Harris, the CEO of She Exist.
Jenelle has been my mentor since 2018. She's one of the women who believed in me and pushed me to reach new levels as an inspirational speaker. She booked me for my first out-of-state event in 2018 and booked several interviews for me, all from the goodness of her heart. She's the definition of a woman who genuinely supports other women. She could've helped someone who was already established in the industry, but she mentored me. To this day, I continue to line up interviews because of her platform.  
What are some of your greatest accomplishments?
I'm incredibly proud of hosting my first female boss brunch in Atlanta, relaunching my business startup and travel agency, reaching my sales goal, and releasing three books in two years! 
What advice would you give someone who wants to mirror your success?
Make sure this is something you love to do. I wear many hats in my business while I continue to grow my empire. There are days when I don't make any sales or when my views aren't the highest, but I still push forward and promote my brand. The reason I'm motivated to keep going is because I love speaking and setting an example for my generation. My love for my work tops any dollar I will ever make.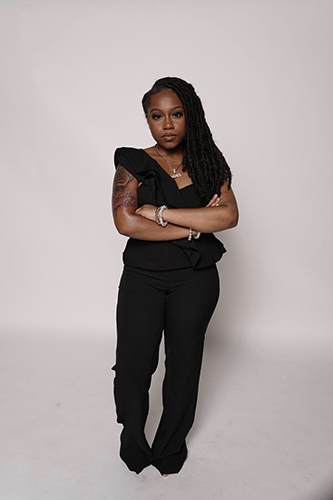 What sense of purpose do you draw from your culture and community?
My sense of purpose is to be the voice for my generation. I'm here to be an inspiration and a living example to my peers that we can do everything we put our minds to if we trust ourselves, heal within, and work hard.
What do you like the most about speaking?
I love sharing my story. Regardless of how many times I share my experience, I always get a new, life-changing reaction.  
What else can we expect from you in 2021?
My company, Female Boss Collection, will launch new products. I'm also hosting two female retreats this year starting in February. I'm also a travel agent, so come to me for your next vacay!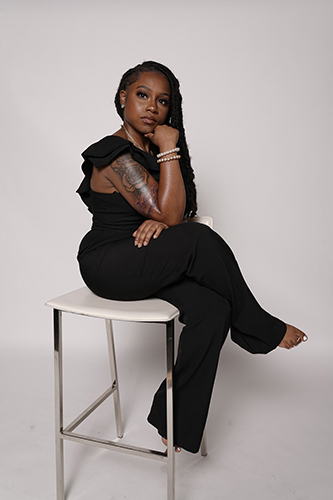 Where can we book you or learn more about your work?
For business mentorships and apparel, click here. Visit my website, Instagram and Facebook.
For speaking engagements, email sampledeedee@icloud.com and for travel agency inquiries, text (770) 866.1951.
All images provided by Diahni Sample