If we told you that actor, Lodric D. Collins initially started in a completely different field, would you believe us? Shortly after his senior year in college, Collins made the decision to simply live his life in a way that would make him happy and well, acting was just that for him. We recently had the chance to sit down with the actor to discuss his acting journey, his experience working on the Aretha Franklin biopic, RESCPECT, and much more!
Tell us about your experience working on RESPECT. 
It was incredible. A great experience working with such an all-star cast and crew.  From day one, walking in, I was greeted by the most supportive, patient, and talented group of individuals – both cast and crew.  There was also a realization that we were all playing real life characters that left/are leaving some big marks on this earth, and it was important that we portray them with an air of sensitivity, respect and also pride.  On top of that we had a genius director, Liesl Tommy, who led and supported this in every aspect. 
You star as Donald Winthrop on BET's The Oval. Do you mind telling us about your character and how you relate to him in real life? 
Sure. Donald Winthrop is an extremely complex character in my book. He has a strong moral compass but works in a position where most of the time it has to be shelved.  He is extremely intelligent and always thinking and strategizing.  I believe him to be a true patriot – and that means doing what he feels is best for the country and the administration he works for. At the same time, he is extremely lonely and is begging to be loved, which leads to jealousy, possessiveness, and possibly a drone strike on anyone who may touch what is his. 
I am a middle child of 5 boys, so I understand the need to covet what is mine very well. I am also an extreme thinker. My mind is always racing and processing everything around me, all of the time. It's a blessing and a curse, but in this situation, I am able to throw it all into the character and multiply it. So, I guess Donald may be somewhat of a release in that realm.   
What made you decide to skip law school to pursue acting? 
My measure of success changed around my senior year in college. With education comes enlightenment. I realized that success in life could simply be measured by the things that made me happy. I'm sure being a lawyer could have brought me some joy, but not like acting has. It is really that simple for me. 
What are you currently working on and what can we expect to see from you in the future? 
I've got a few projects coming up, GOD willing they make it past the crazy "pandemic pre-production" phase.  However, while I am waiting, I am writing and developing projects that reflect the richness of where I come from – Southwest Louisiana.  It's a place that is the foundation of who I am. It inspires me and I would like to show people why.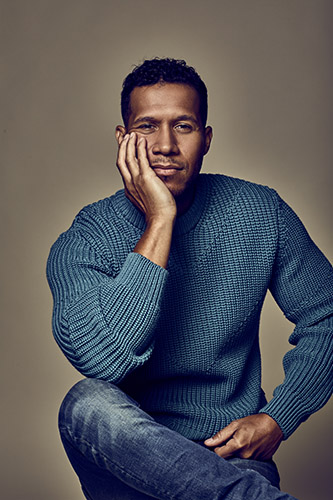 For more on Lodric D. Collins, follow him on Facebook, Instagram, & Twitter.