When it comes to authenticity in the music industry, Luh Kel is the prince of riding his own wave. Just last year, he released his first hit single, "Wrong," which charted on Billboard's Hot R&B/ Hip-Hop chart and is certified platinum by RIAA. This was just the beginning as he shocked the world with two follow-up singles, "BRB" and "Pull Up," which are both certified Gold. Since then, Luh Kel has been the topic of everyone's conversation.
Luh Kel's new project, L.O.V.E, is already dominating the music industry within days of its release. With a feature from Queen Naija on his single, "Want You," the project was already a trending topic. Music lovers around the world are praising the rising star for his ability to create works of art that appeals to their heart. A lot of his inspiration comes from his relationship with female rapper, Famous Ocean.
At only 18 years old, Luh Kel has made a mark in the music industry that can't be replaced or duplicated. As his success continues to rise, Luh Kel intends on staying true to his one-of-a-kind sound.
Although you are in the early stages of your career, you've already became the face of younger R&B. As a trendsetter, how do you intend on growing as an artist?
I just want to change the wave, you feel me? I want to stay true to my sound, and not follow what anybody else is doing. I want to change the way people listen to the genre and put the focus on the music – let that speak for itself.
The video for "Want You" featuring Queen Naija just dropped and it's already a hit record. How did this collaboration happen?
I recorded the song first, and then we sent it to Queen Naija, and she played with it. She hit me right after she recorded her part like, "do you like the song?" She knew it was hot. She's a cool person, so it was really easy to work with her on the video – she's got really friendly vibes.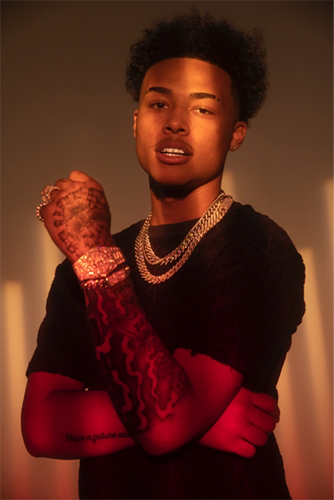 You had your fans going crazy about the Bachelor themed 'All in You' video. However, many would've loved to see an appearance from your beautiful girlfriend & rising hip hop star, Famous Ocean. Will she be starring in any of your upcoming videos?
She hasn't been in any of the videos I've recorded recently, but she's always been there, supporting me on the side. She may not be in front of the camera, but fans will definitely see her behind the scenes.
It's clear that Famous Ocean is the inspiration for many of your hit records. What do you love most about her? How does she motivate you?
Honestly, it's just her being around. When I'm in the studio and she's around, it's instantly a good song. Like she gives me a bunch of topics to talk about and speak on. I definitely pull a lot of inspiration from her and our relationship – all of my song topics are mostly about love, so the fact that I have her has really helped me out and inspired my work.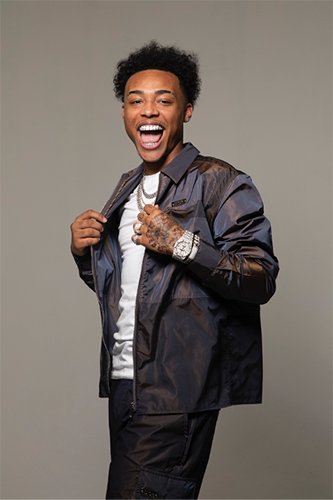 Your project 'L.O.V.E' was released on October 23rd. What can fans expect? Will there be a collaboration with Famous Ocean?
Fans can expect a different vibe if they listen to it. You'll definitely be in your feelings, but there are also a lot of turnt songs that will make you lit. I worked with a lot of big producers, including Scott Storch on the track "Real," so all of these songs the fans have heard have been little teasers. I'm definitely excited for people to hear it.
All images courtesy of Luh Kel