Kejuana Ford is not your average brow boss. She is a 24-year-old licensed esthetician, instructor, cosmetic tattoo artist and owner of Brows by Keke and She Brow Cosmetics; offering all supplies necessary that every brow professional needs in order to service their clients.
She Brow Cosmetics has set itself apart from other leading brands by offering the #1 selling brow tint in the United States. Its formula has proven to be most effective and efficient for a luxury brow tinting experience.
"It's the formula that I have for my brow tint, and the years that I've put into it; it's natural, it contains keratin, and there are no chemicals within this brow tint at all. You do not have to mix it with any oxidants or anything; you literally mix it with water, and you remove it with water. — It is so pigmented, and the color stays on for about 3 weeks. It is the best product on the market right now."
Some of the other products they offer are their concealer palette, brushes, pencils, and wax sticks, which are in high demand due to their angled design and convenience for custom use. She Brow Cosmetics is proud of their top-quality standard that Kejuana says applies consistently throughout her entire brand.
In addition to offering a trusted resource for supplies in the brow beauty industry, Kejuana does one better by positioning herself to instruct other brow bosses on mastering techniques and using the right products. She offers ongoing workshops and trainings which are updated and presented consistently to help professionals soar in their craft. — "We also are releasing 2 new classes: Our Micro-shading Class and our Master Wax and Tint Class which literally show you the step-by-step process of how to master these processes. They are very, very detailed. I try to be as thorough as possible when it comes to all of my trainings; whether it's an in-person training or an online class."
Given the times that we are in, we can expect a much higher rate of folks still being at home and looking for virtual resources to help them advance and achieve their goals. Kejuana is providing this opportunity through her brand Brows by Keke, and she has raised the bar by offering only luxury services and product quality.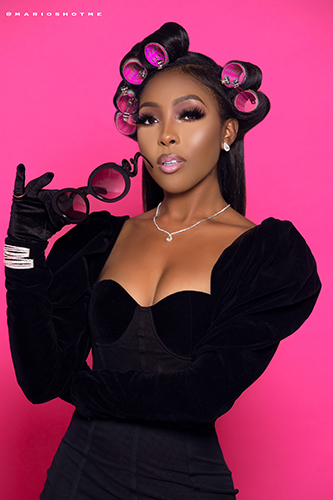 She Brow Cosmetics is gearing up to release new colors in their brow tint, as well as a new powder palette to go along with their concealer palette. They are preparing for the release as well of their new topcoat! — "Just to tell you a little bit about our topcoat; it looks like a nail polish topcoat, like what you would use to seal the color on your nails. This one is for brows only. It helps seal your brow color to make it last longer than the 3 weeks that we already offer with our brow tint." –
We will have you know that there are not many estheticians or cosmetic lines that create and offer their own formula of brow tint, within their product line. Kejuana prides herself in this accomplishment which she says was not easy to do and took a long time to complete. She talked about working through this process and it reminded her of some of her consistent traits of strength and endurance through some of her greatest challenges; one being her big move from her home city of Dayton, Ohio; and the initial fear she had of failing. She had to start all over with building her brand in a new area, which she did and proved yet again to be successful. She is most proud of her overall journey and where she has been able to take her career and her brands, in the 6 years she has been in business.
Kejuana Shares Her 8-Minute Brow Technique:
"The 8-minute brow technique uses our waterproof pencils (which there are 2 colors: coffee and chestnut). Literally, the only thing you need to do is fill in your brows; it's a dual pencil that you just shade in and blush it using our concealer and brushes to underline the brow. Blend it in, put on your topcoat, and literally, you are good to go for the rest of the day. Your brow will last for the entire day, and you don't have to worry about smudging or anything of that nature."
All images by Mario Shot Me