When it comes to possessing the building blocks of success: drive, tenacity, consistency and experience, Visionary and Innovator, CEO Danyel Thompson is a triple threat pioneer who's seizing the Cannabis movement, but in an upscale, fashionable way.
Hailing from the idyllic island unique for its pink sand beaches, this LA-based entrepreneHer is elevating the consumer experience with her founded company 4TwentyDecor. This rising global brand combines cannabis, fashion and technology. 4TwentyDecor is a modern-day affluent brand that not only changes the stigma of the Cannabis industry but presents an exclusive experience that will soon become a must-have for every retailer and household.
SHEEN had the pleasure of sitting down with the trailblazer to discuss the inspiration behind creating 4TwentyDecor, the critical components to developing the brand and why 4TwentyDecor is in a league of its own.
Check it out here!
4TwentyDecor is home décor but with a twist infusing technology and cannabis. So how will the Fashion House within 4TwentyDecor stand out and set trends?
The Fashion House of 4TwentyDecor is dedicated to constructing beauty, personality, and Awe for the home. The driver for success within the Fashion House is "the elements of the details"! The designs must consider the customer before the customer finds the design.
This "house" must care for the different personalities that roam in different homes. The fabrics are just one element; matching each fabric and material with smoke accessories begins to catapult 4TwentyDecor in its own trendsetting, stand-out and take notice space.
Your entrepreneurial journey began in your early 20's. What personal or professional words of Encouragement (WOE) would you tell your younger self?
Remain humble, prepare your emotions for the sharks, learn how to swim fast, pay attention to others' failures, and solve for what they couldn't so you don't repeat the same. I have been telling myself this for years without knowing it until now, but it's only after experiences that I can articulate my WOE.
You once said, "success is a personal measurement, and your genetics and cultural blend wouldn't allow you to consider any task "done" until it was next to perfect." Tell us about where you're from, your upbringing and why you refuse to remain complacent even after you have reached a substantial level of success?
I was born and raised in Bermuda, but my blend is Bermudian and Jamaican. To explain my life as young Danyel, I will have to reference a Dave Chappelle comment of envying poor children cause they all shared the common lifestyle and that he had just enough money to be poor around others (I am paraphrasing). Well, that's me in a nutshell (ha)! The only difference, growing up in a wealthy country (Considering the GDP at the time) and the "well-off" people of the island, it was very noticeable that my family was struggling even though I tried my best to hide it.
My life growing up is the reason I refuse to be complacent. I have never been afforded the luxury of just receiving help, money or guidance, which pushes me to hunt it, seize it, and conquer it!
I don't feel as though I have reached a substantial level of success. What I see is me conquering one journey and moving on to the next. I am nowhere and, in any shape or form, DONE yet!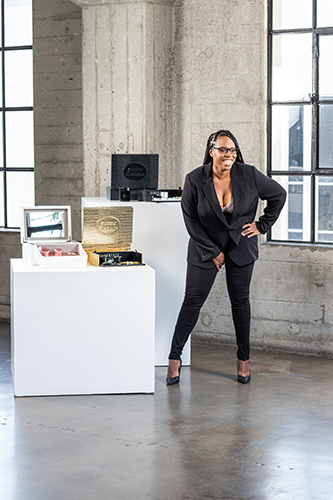 What inspired you to create 4TwentyDecor?
I wanted to bring Dainty, Bourgeoisie, security, and technology to housing cannabis and smoke accessories. At first, I saw a problem with security. Then I saw a problem with it feeling disorganized with no sensual flair, and I said I needed to solve each problem separately and combine them into one solution.
How long did it take you to develop 4TwentyDecor?
Out of the three houses under 4TwentyDecor (Tech, Fashion S. Access House), the tech-house is the longest development by far. There is a process of designing, research, development, building, testing, and implementing behind each technology creation. For example, the tech-house I started to research and development almost two years before the start.
Why did you feel it was necessary to include tech and fashion in the cannabis industry?
Simple – because everything needs to be done SMART and everything done Smart deserves to be beautiful to the beholder – the Cannabis industry is no exception.
What interested you in getting involved in the cannabis industry?
What makes any investor invest in a lucrative market? A proper return on their investment! The cannabis industry is a force all on its own.
We all know cannabis is well known in the HipHop industry. However, are there prominent pioneers in other industries that you'd love to be an ambassador for 4TwentyDecor?
When creating something of this magnitude, you have to think about the full spectrum. I can confess that I have had certain heavy hitters in mind since early conception. Bill Maher, Martha Stewart, and Anna Wintour. Bill because he's smart and loves cannabis, Martha because she's smart and loves décor.
And when you think of Anna, you don't ever think of cannabis, but what she brings is the ultimate smart sophistication, and profoundly enough, if 4TwentyDecor were a person, it would be combined with all three personalities plus one more – SMART unmatched levels of luxury! I don't look at each person mentioned as a brand ambassador, but I did construct 4TwentyDecor in an alluring way that the most prominent pioneers will take notice and will want to utter the name 4TwentyDecor.
What advice would you give aspiring entrepreneurs?
From the business operations aspect, there are a few things you should understand as you walk this journey:
Contracts
Bookkeeping
Time management
Deadlines
After all that you've accomplished, what are some WOE's or affirmations you practice?
The only thing I tell myself is, "keep moving forward!"
What's next for Danyel K. Thompson?
Join me on Instagram _4TwentyDecor to get involved with what's next. I can show you better than I can tell you!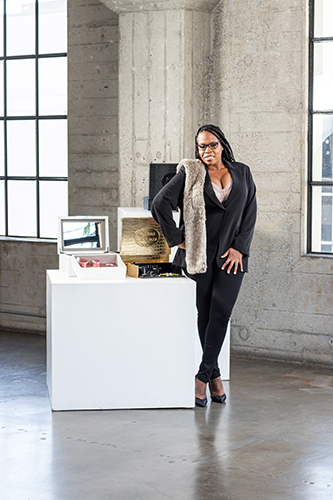 Stay Connected. Follow Danyel on Instagram today!