With the release of Jingle Jangle and the soundtrack, everyone is wondering who Marisha Wallace is! Wallace beautifully voices in the song, "Miles and Miles," penned by John Legend. After suffering from COVID-19, she stood against all odds by pushing through and sending messages of hope to people across the nation. We caught up with her to discuss her experiencing with Jingle Jangle, her upcoming album, COVID-19, and more!
How was your overall experience working on the soundtrack for, Jingle Jangle.
Being a part of Jingle jangle has been a dream come true. Never in my life did I imagine being on the same soundtrack as Usher, Ricky Martin, Forest Whitaker and Anika Noni Rose. I worked with legends on this movie full of black excellence. Millions of people will be introduced to my gospel and soul drenched voice. So many people will see themselves represented for the first time. 
Working on Jingle Jangle was an absolute dream. I got to help create the song with David Talbert, so we were in the studio just trying different riffs and ways we wanted to do the song. Vocally, it's the freest I've ever been allowed to be in studio. I got to go back to my North Carolina church gospel roots. Growing up I idolized gospel singers like the Clark Sisters, Tremaine Hawkins, Vanessa Bell Armstrong. I grew up listening to that music. So, after working on Broadway for years, this time I got to really use my gospel chops.  I worked with John Legend's production team. Harvey Mason Jr. (Grammy Awards CEO) vocal produced me, which was a dream as he has produced many legendary voices. And the writers Davy Nathan and Phil Lawrence of Bruno Mars team, were also so wonderful during the process.  I knew, while working on the project, that it was special. 
What can we expect from you upcoming debut album?
My debut album is an album of hope, inspiration, and healing. It will give you a good cry and lift your spirits. It has songs you know like "Purple Rain" and "Alive" but rearranged and featuring some Marisha Wallace magic. Also included are original songs like "I'm Free" and "Before I Go" written by amazing top liners like Kamille and Toby Gad, who wrote "All of Me" for John Legend.  The first single off my album "Before I Go" has already been dubbed Record of the Week and has been Playlisted on BBC RADIO 2, the biggest station in the UK.  This album has the soul and gospel you expect from me but with a pop sensibility. This album speaks to our humanity and empathy.  My prayer is that this album brings much joy and healing, something we're all-in need of at this time. 
How has COVID-19 affected you? What message would you share with our readers?
I actually had CCOVID-19 in March. It was so scary. I was alone in another country, away from family. And no one really knew what it was. My good friend's husband, Nick Cordero, had died of COVID and I was terrified. But during my recovery, I recorded a gospel version of Tomorrow from Annie. I was feeling helpless and wanted to do something to help and restore my hope. I released that charity single and it went viral, and that is how I got my record deal. That song went on to be used in US OPEN 2020, and we even managed to surpass Lady Gaga & Beyonce on the iTunes charts.  
So, I will say to your readers, even in the darkest times, we have to remember the sun will come out tomorrow. Sometimes, what we think is meant for our bad is actually meant for our good. We are facing times like we have never seen before, but after every storm comes a rainbow. We have to stay positive and stay safe. We have lost so much.  Let's take the time, now, to appreciate what we still have. 
What can we expect to see from you in the future?
I have so many plans for the future. Once Covid is under control, I plan to go on a headline tour next fall in Europe and the UK. I am also starring in a Netflix series that comes out in March. And I am playing Motormouth Maybelle in Hairspray at the London Coliseum. I am already working on album two and hope to get back to the states very soon. I was also invited by the Queen of England and the Royal family to be a headliner for the Royal Variety Show, so you'll be able to catch that soon. I think you will be seeing a whole lot more of me.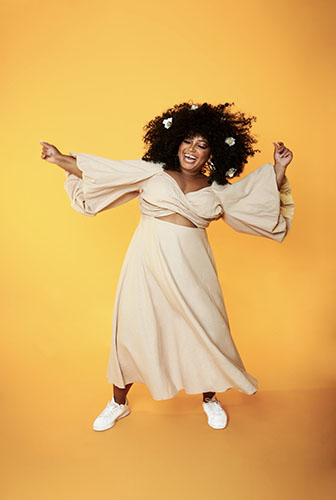 For more on Marisha Wallace, follow her on Facebook, Instagram, & Twitter.
All images by Ray Burmiston