MC Lyte deserves all her flowers! You may recognize the name as one of the pioneers of when it comes to females in the rap game, but her journey to the top wasn't always a walk in the park. In fact, her long-winded road in the music industry is now being turned into a sitcom, her own show on ALLBLK called Partners In Rhyme. The crazy part? The AMC Networks' streamer bought the show without even seeing a script.
Partnering up with Bentley Kyle Evans, who's directed legendary shows such as The Jamie Foxx Show and Martin, Lyte is enthralled to finally be releasing her own series that's loosely based on her own life. Clocking in at 7 episodes deep, Partners In Rhyme sees Lyte starring as herself, a female hip-hop icon who's now shifting her focus into her protege: her niece Lucious T (who's played by Precious Way).
The light-hearted series is currently playing on ALLBLK every Thursday, as Lyte brings that same energy and passion from music into the film world. Sheen Magazine caught up with Lyte to discuss highlights from set, challenges she faces as a woman in hip-hop, the meaning of Black Girl Magic, and more! 
What were the highlights from shooting? Was it done during COVID or after?
This was during COVID. I guess we could say after, but can we really say after? [laughs] We had testing on set several times a week. We had rapid testing and then we had the long PCR testing. It was a lot to contend with, and it was extremely expensive. But we wanted to keep everyone safe. We humbly say that we had no breakouts at all. Everyone was in the best of health, going in and out of the studios. We're very happy about that. We made it through. We've been working on this: we started the script writing process in about October of last year, then we started pre-production in February. We started shooting March/April, then we've been in post since. Delivered the show and now we're here.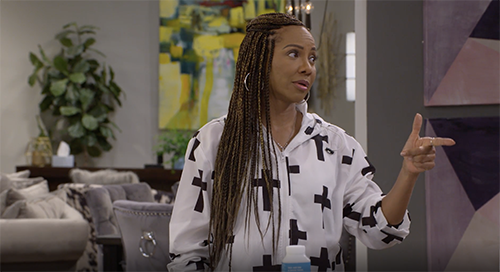 How does it feel to create a sitcom loosely based on your life and experiences in the music industry? Because it's definitely not easy, not everyone makes it. 
The show was easy, the journey was difficult. I can't say difficult, but I can say that creating a show was the easy part. It was all of what was before that. The ups and downs of the business. The moving from one label to the next, then the next. Loses its distribution, then I'm without a label. Where am I going to put out music next? Oh okay great, here comes Mark Geiger. He has iMusic with BMG, let's go for it. We do it, then the guy that's supposed to do the marketing and branding dies of throat cancer. No one even knew that he was ill. He goes right on outta here into a jump ship: dropped the body, goes floating. We're down here with a record, with no one attached to finish out the marketing and branding of it. It was horrendous. I walked into Tower and remembered all of the CDs that I saw in there of the record, no one knew it was in there. There were quite some things I was dealing with, but to have this show and now be able to tell this story, it's fun.
What's your favorite episode? There's 7 right?
Yeah, there's 7. My favorite episode… I'd have to say the first or the last. There's another one in there with a karaoke thing that we did. [laughs] It's really funny, so it's hard to say what's my favorite. One of my favorites is of course, Richard Lawson plays my dad. That was a great episode to be able to have a veteran like him on the set.
I saw it in the trailer you said the era you come from, freestyles ain't free. Can you expand on that?
Oh yeah, I mean they ain't free for me no more. I've done that, been there and I'm on the other side of that. Now I get to listen to freestyles and judge them, which is what everybody does in the first place. I say that in the show to Luscious who's played by Precious Way, who's now also on the show Queens. She's an MC first, she decides "I want to act." Right off the bat, she becomes Jackée's daughter on Days of Our Lives, becomes my niece on Partners in Rhyme, and becomes Brandy's daughter on Queens, in the matter of this amount of time. [pinches fingers] I'm glad to have her on board. And of course Rolanda Watts, Ron G, Chloe, Wesley Jonathan, everybody. Everybody in the cast is wonderful to work with, it's a great experience. 
What challenges do you face as a woman in hip-hop?
Whatever they were, had to do with performance. Had to do with promoters not wanting to pay women equally. Men on the bill not wanting to go before me. They want to go after MC Lyte. Some promoters will have a whole bill, a whole Hip Hop bill and not put one woman on it. That's not the full scope. They put their shows together the way they want to, and they don't have to have female representation. Those were some of the things that were difficult. 
Once you get older and you understand what a business it is, we as artists signed to major record labels are no different from those who are signed to football and basketball teams. They trade us. They use us on performances over here to get somebody else an ad on that radio station. They give you a song with this producer because they really want that producer to do a song with another artist that they have on a record label. It's just the way the game is played. Once you know business, none of it feels unfair. It just feels "Oh, this is how you play business. Get ready for the ride." [laughs]
What does Black Girl Magic mean to you?
Black Girl Magic doesn't exist. It's the hard work behind-the-scenes that makes it look like magic, but trust and believe there are women behind-the-scenes doing lots of things. Strategizing, moving things around, planning, putting goals on a board, all of those things are being done behind-the-scenes before anyone even gets to see what's put on the front of the stage. Black Girl Magic is everything that goes on behind-the-scenes to actually make it happen.
What is one thing you want fans to get from this sitcom? 
That true school and new school can exist in one space. That you can address serious topics, but yet have some fun at the same time. We went after what do we need to address here that's serious? Okay now, let's lay the comedy all over it. Thanks to Will Smith and Duane Martin for talking to me in that kitchen at night and giving me these little droplets that I can take back in to Bentley Kyle Evans to make this whole thing work.
What are those conversations like?
They're priceless. This is the show guys, what? They said "Oh, well you should think about it in these terms. You should da-da-da." They gave me the sugar coating that I needed to put on it. Bentley and I sat and we discussed which of those things we wanted to use, and which wouldn't serve us. It just came out wonderfully. It looks like it came from a whole lot of Black Girl Magic. [laughs]
All images provided by ALLBLK