Meagan Good has done it again. And this time she's starring in a chilling and twisted love story that you're definitely going to want to watch with your girls. Death Saved My Life is set to release this Valentine's Day weekend on Saturday, February 13th on Lifetime, and features The Good sisters, Meagan and La'Myia Good, along with fellow actor Chike Okonkwo."
The crime-thriller takes us on a journey that follows Jade (Meagan Good), who seems to have it all – a successful marketing career, a fine husband who is an admired and highly respected heart surgeon in the community, and a daughter they both adore. While, externally, it appears that Jade has the perfect life, behind closed doors she's living a waking nightmare. Her husband Ed (Chike Okonkwo) is controlling and brutally obsessive, abusing her physically, mentally, and emotionally.
Broken, scared, but finally fed up, Jade decides to leave her husband, however, she soon faces a threat that becomes a horrifying reality, discovering that Ed has hired someone to kill her. Knowing no one will believe her, Jade realizes the only way to escape Ed is to make him believe the hitman completed the job and that she is dead. And y'all, he is relentless! With the rekindled love and support of her sister Leigh (La'Myia Good), Jade fights for her life… and trust me, you will be on the edge of your seat.
Based on true events, the film opens up conversations around mental illness and health, domestic violence, and sisterhood. As the Executive Producer, along with Julie Insogna Jarrett and Seth Jarrett, Meagan hopes that Jade's story delivers inspiration, provokes hope, and sheds light on topics that have been typically hush-hush within the Black community. Meagan tells SHEEN, "From the moment that I read the script, I loved that it tackled these issues. I think these are things that we don't have enough dialogue around, especially in the Black community. I love that we deal with these issues [in the film]. I'm hoping it empowers many people that could be in a situation like this to step out on faith, and that it is freeing for people."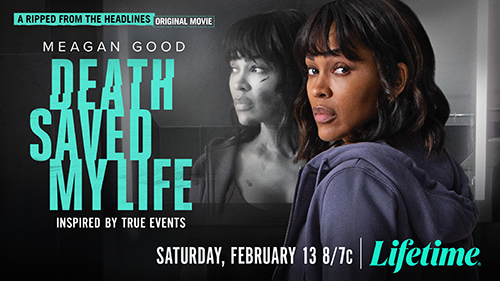 Death Saved My Life premieres Saturday, February 13th at 8:00pm ET/PT on Lifetime as a part of the popular Ripped from the Headlines series.