Who says you can't have it all? It seems that Amanda Henn – award-winning actress, public figure, model, producer, college graduate, and business owner – has it all – including that special something that puts her in the spotlight each and every time she takes part in a project.
Here's what the award-winning actress and humanitarian had to say when we spoke with her recently.
Tell us a little about yourself.
I feel blessed to have been encouraged to use my gifts for others to enjoy and help others. While walking through a department store in Atlanta, a buyer asked me if I would like to be in a fashion show. Never in my life would I have dreamed that this would happen, nor how far it would take me. I started modeling at the age of 17 and have had forty years of walking the catwalk and doing photoshoots for designers and magazines, filming commercials in California, and dreaming of a film career.
Let's talk about your foundation.
My foundation was set up a few years ago and although it does not include my name and I am not on the board, I fund the foundation by working and it receives half of everything I make. My foundation gives help to HBCUs, education and basic living expenses.
Give us the details on your film and TV projects.
I am so proud of our film "California Love", a true story that will touch the hearts of everyone that lives in this country and the world. The story is about the lives of Joanne Beck and Jay Hunter and their struggles during the riots in LA during the 1990s. Looking forward to distribution.
I also have a TV project that I am producing and starring in called "Table 13". We were working on this and completed most of the pilot, then I broke my foot while filming and was out for six months…and then the pandemic hit. We plan on finishing up within the next few months. I'm very excited.
And lastly, my really good friend John Nicholson, star of Murder Chose Me and I are working on a TV project that will star John, his son Phoenix, and myself. John is a wonderful father and friend and we hope to build this show around raising Phoenix with me playing John's mom and grandmother to Phoenix.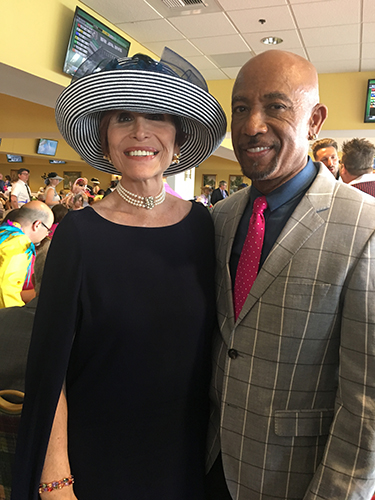 Congratulations on the Diamond Award from Morehouse College. Tell us more!
This past February, I was honored by Morehouse College and the 'You're Not Alone Foundation' for my work with hospice and my own foundation as well as my long modeling and film career. I have worked with hospice locally for a long time and really like to help with young people that are dying and too sick for "Make a Wish" trips. I try to make wishes come true through my contacts in the entertainment industry like connecting young people with their favorite celebrities! Working with hospice is the most fulfilling part of my life.
The people in Atlanta heard about of my work in the community and of course my career and they reached out and honored me with one of the Diamond Awards, but I feel like this award is for the unsung heroes that care for the dying and ease them into their next chapter and they just allow me to do what little bit I can do and it is my honor.
What person had the most influence on you?
Oh, my goodness, I have to say my grandmother was my biggest influence. I was with my grandmother everyday and she was so giving to me and the whole community. She didn't talk about things, she did them. Just watching her live kindness was the most wonderful way of learning. Grandmother would often remind me that pretty is as pretty does, other words for, don't buy into the press because looks fade and careers fade but kindness lives on.
Outside of work what do you love?
I love to play the piano, sing, and make YouTube videos! Most of my YouTube videos are of cooking – I love to express myself in the kitchen.
Stay in the loop with all of Amanda Henn's latest work on social media – Instagram, Facebook, YouTube, and IMDB.
All images provided by Amanda Henn