When it comes to setting trends, making boss moves, and slaying The Wynn Twins give us all three. The Wynn Twins use their social media presence to entertain and inspire their followers, leading by example slaying while putting in the work to build their brand. If you are familiar with the Wynn Twins, you know they come to slay not play. We here at Sheen are delighted to share their journey in this exclusive. We caught up with the twins to discuss the launch of their pancake mix and more.
Tell us about yourself and what inspired your pancake mix?
Every one always ask us why pancakes? Well here's why. Breakfast is the most important meal of the day and it's also our favorite meal. It's the first thing we put in our bodies before we enter out into the world, a world that sometimes is not always kind to us. Being trans ain't easy, even though we make it seem easy. We try to implement things at the start of our day to make us feel happy, make us smile and what could be better then rainbow pancakes filled with sprinkles. Like critics always say y'all are strange, be yourself, what they don't get is that we are ourselves now more then ever, we're unicorn and we poop sprinkles (laughs).
How does utilizing social media help you connect in a different way to your audience?
Social media helps us connect with our audience by providing a platform that gives us reach to people from all over the world, all ethnicities and backgrounds who are experiencing the same obstacles as us. It gives us the opportunity to be real, honest, and sometimes vulnerable. We extend that olive branch to our audience and provide them with a safe place to be them selves without judgment, something that is sometimes hard to find in our community. Like we try to be their support system because little do they know sometimes they are ours.
How do you handle the pressure when it comes to criticism or backlash via social media?
Whew, how do we handle the pressure? This at times can be very hard we receive so much criticism and judgment by being something that comes natural to us. We try our best to ignore it but sometimes it can be really hard. We both suffer from anxiety and stress from time to time, but we pray heavy, and we stay faithful. So as long as we do that and stay focused then no ratchet comment formed against us shall prosper. (Laughs).
How would you two describe working together?
Working with family is always tough, even with us being twins, but I can tell you this. When we put our heads together, its like something telepathically clicks, we join together serve, and deliver.
Who's the diva?
We definitely both can be divas, it just depends on which day you catch us but if we had to choose then Star would definitely be the DIVA. It's her way or the highway (laughs). Most people think its Shay because of her tough exterior but she's really the sweet heart.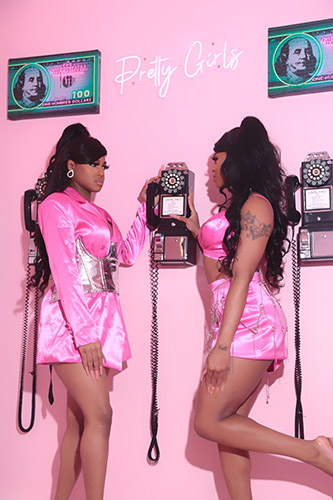 What do you feel has been the biggest misconception about you two?
The biggest misconception is that because we are twins, we are one person in two separate bodies, but aren't. Although we have more similarities than differences. We are two people with two different personalities that happen to be identical twins.
When you're not working, what do you like to do in your free time to relax?
Whenever we get a moment to relax, we like to use that time to travel to be with our family. We live in Atlanta but we are from the DMV, which is where all of our family is. We are so blessed to have a family unit as supportive as ours so being with out them can get a little lonely at times. So every chance we can, we make our way to the DMV to see them. We need that balance from time to time, but most importantly we need that love it keeps going.
What're your beauty must-haves?
Chile our beauty must haves are our wigs, our lashes, and our lip-gloss you wont catch us dead with out all three.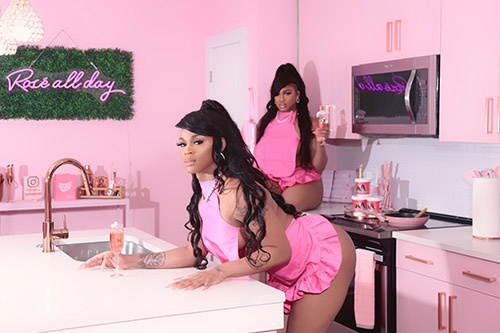 What advice do you have for someone hoping to put themselves out there much like you two did?
Our advice to anyone trying to put themselves out there would be stay true to who you are, be yourself, and you must have thick skin. Always remember why you started and never ever give up!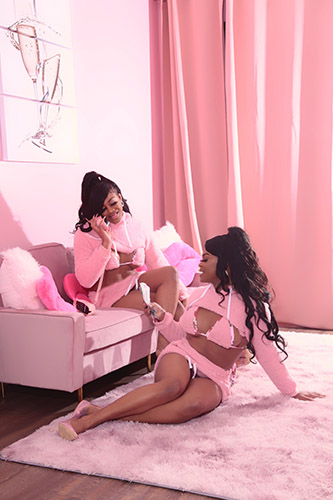 Tell us about your latest projects that fans can look forward to?
In addition to our pancake line, we are launching a full line of beauty products starting with WYNN TWINS Heat, WYNN TWINS Cosmetics, and WYNN Skin to name a few. With us being trans women, we wanted to create products for the LGBTQ+ community. Really our products will be for everyone, but we wanted to use this avenue to pay homage to the community that embraced us and let us know its okay to be us, be free, so we are going to have a little something for the guys, gwrols, and the girls so stay tuned.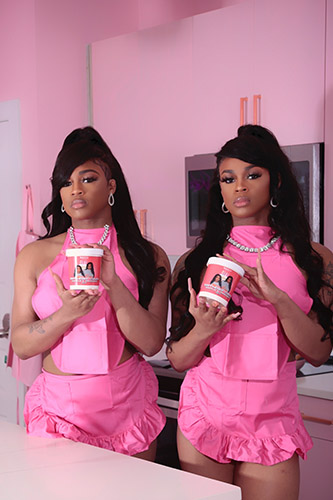 For more on the Wynn Twins, click here.
All images by @alotheradiogod2