This month is Women's History Month, and we want to honor and celebrate women that are making things happen for others. I have recently had an opportunity to interview some phenomenal hairstylist in the industry to shed light on their craft and to show the world who they are as an individual. We do not always get to see what goes on between each beauty session, but a stylist can be someone's friend and confidant. They can be a listening ear to the person suffering from hair loss, a crying shoulder for that young girl suffering from mental illness, or a big sister to that struggling single mother who is trying to make enough money to make ends meet. They give so much to others and sometimes never get the thank you or recognition they deserve. I have watched my sister, Lekia, give herself to others day in and out and I wanted to take the time to honor the person that she is and how generous her heart is.
Often, we see the glamour, but never the artist behind the art. Beauty comes in different forms and it is not always dressed up a certain way. My sister is not only a stylist: she is a licensed instructor, a mentor, and friend to many. She has a heart for humanity and the betterment of people. She is a pillar of her community. She is always demonstrating kindness and works selflessly to help others achieve their goals. I have listened to her ranting late at night praying about the safety of a young girl suffering from mental illness, trying to figure out what she could do to help. I have watched her teach other people about believing in themselves and writing their vision. She has driven countless miles to prepare brides and their wedding party for their big day. She shows up with her magical cape and waves her magical hair comb and gives people that magical fairy tale. She creates magic and puts her dazzling touch on everything she does.
Lekia has been working in the hair industry for over 20 years and her work speaks volumes. She does not just have a passion to do hair, she also believes in giving back to young adults and allowing them to see that there is more within them. She has volunteered with DJJ (Department of Juvenile Justice) and showed young girls, that they could use their hands to make money. She wants to be able to reach young girls and teach them the trade of hair and show them what opportunities are available. Lekia's gift is not just in doing hair, she believes in financial literacy and building credit. She wants these young girls not only to know how to make money doing hair but how to climb and maintain. She wants to show them the things that no one taught her when first getting started in the industry and that is how to properly run a business without taking loopholes. As entrepreneurs, we have so much to give back. We can take the knowledge that we have learned over the years and become a resource to at-risk communities and help show these young up-and-coming artists how to craft their skills, but also how to expand their business. Lekia is a trailblazer and is blazing the trail for others. She is opening doors for others that may never have an opportunity.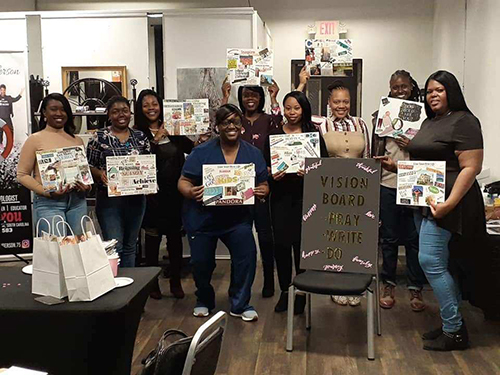 When I asked Lekia, what has driven her over the years she said, in the beginning, I loved doing hair, but at some point, I became curious about what causes hair to grow. She wanted to get to the root of it. She found the root of hair loss. She started to see so many men & women of all ethnicity suffer from hair loss and how it had an impact on them mentally. There were so many questions that people had, and she did not have the answers to give. That made her want to go deeper in finding out what caused hair loss. She found that it was caused by stress, medication, improper nutrition, vitamin deficiency, trauma, pregnancy, and so much more. Like most business professionals, you want to be able to provide a solution to existing problems. This drove Lekia to study to become a trichologist. Trichology is the study of disease or problems related to the hair and scalp, as well as their treatments. Lekia was able to study underneath, Yvonne Solomon, one of the top trichologists in the country. Studying trichology taught her the phases of how hair grows and being able to go under a microscope to identify how the hair grows underneath the scalp. It gives an up-close look at hair loss. Being a trichologist helps to find a solution to hair loss.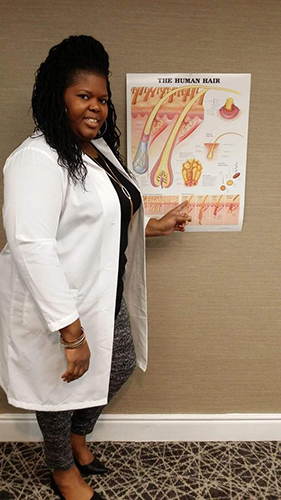 Lekia gives credit to our mom for helping her to see the gift within her and giving her the nudge to move forward, and our aunt that taught her to braid hair when she was a young girl. Lekia was a teenage mom, that knew there was more ahead of her if she continued to stay focus and believe. She gives praises to the owner of the first salon she worked in. Cindy opened the salon doors and gave her a chance and provided resources for her to get started. Not everyone receives blessings when they first start out, but to those that do not ever forget that someone has helped you. There are great people in the world that is looking to pave the way for the next generation and Lekia feels it is imperative that she gives back and help young people find their gift and operate in it.
Lekia has found great success in the hair industry and was able to help many people, not only does she create looks in the salon, but she does also wedding parties, and help people put together their look for television interviews. She has always wanted to work with celebrities and has been able to assist many at the beginning of her career.
There is so much more when you think of a hairstylist, they have unlimited opportunities and are always in demand. My advice to others, when you find a great stylist that sows into you, do not forget to sow back into them.
Featured Image by D'Andre Dease