Professional hairstylist, and Baltimore native, Crystal Simmons, is taking the beauty hair care world by storm and leaving her mark on the industry! With over ten years' experience, she has become known for her close, personal connection with her clients. As the owner of the hair studio, Ador'e by Crysie, Simmons prides herself on providing a royal experience to all of her clients so that they feel as good as they look. We had a chance to talk to the Millennial Mogul for a fun, insightful interview.
What has motivated you to leap into entrepreneurship in the beauty industry?
When I was younger, I always styled my own hair. I would try out different styles on myself and my friends. I started going to cosmetology school when I was in high school, and I always knew that I wanted to be a hairstylist. Then, one day my dad asked me this question, he said: "Do you want to be paying rent in someone else's space or do you want to be the boss?" That made me think about becoming an owner, so I made the decision that I would start my salon.
How have you been able to pivot during the pandemic and possibly prepare for another COVID-19 shutdown?
I have learned to come up with ways to keep the clients coming in to treat themselves to service by bundling services as well as doing giveaways and raffles. Also, keeping products on hand and sharing tips on how to use them via social media is a great idea. You have to be creative and learn to adapt when things change. Nobody saw this coming. It has been a learning experience.
How do you use social media to stay connected to your clients and maintain support?
The most important thing is to post content regularly and to stay consistent. I love to engage with my clients and to get to know them and to share more about myself with them so that they can get to know me. I like trying out new styles and techniques and showing those things to my followers on social media and getting their feedback. This is also a way to show them how to use the products that they purchase when they are not able to come into the salon so they can keep themselves looking good while stuck at home. It also helps to build a relationship and stay connected.
How have you used the Power of Manifestation to build and propel your business?
I believe in manifestation and the law of attraction so much! I sit down to manifest every day, and I write down what I am happy and grateful for at least once a week. I pray over my goals and then I speak things into existence. I believe deeply in speaking things into existence.  Manifestation and the law of attraction have been a huge part of my growth and success.
What is next for you in your business as a beauty business mogul?
I love entrepreneurship and the idea of helping someone else to build their brand the way I did so I want to open my salon suites. This way, I can give someone else an opportunity in the same way that someone else gave to me so that they can express their creativity and experience being a boss. I want to have space for hairstylists, barbers, lash professionals; everything! I also want to get into mentoring women to help them to build a business and follow their dreams.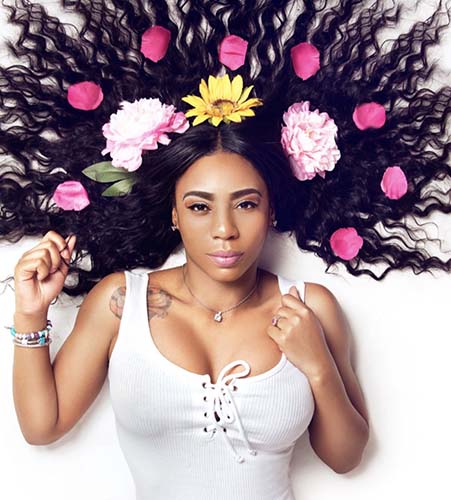 Crystal Simmons has learned some valuable lessons on thriving when the unthinkable happens, as she learned to roll with the punches during the pandemic. She is also a big advocate for using manifestation to help shape your destiny, making her a millennial and entrepreneurial force to reckon with!
Stay connected with Crystal Simmons on Instagram.
For more on Adore Luxury Extensions, click here.
Follow Adore Luxury Extensions on Instagram today!
All images courtesy of Ador'e by Crysie