"When life gave me lemons…I made a lemon sugar scrub…" – Alicia Bean
Alicia Bean is a Houston, TX native and the owner/founder of Oh So Sweet Scrubs, LLC. This amazing company specializes in handcrafted, all natural, cruelty-free, vegan skincare products that will soften and hydrate your skin from your face down to your feet. This product, when incorporated into your daily skin care regimen, helps children, women and men of all ages from all ethnicities achieve smoother, softer, and healthier skin.
As we all know, creating a business is not easy, this is exactly why we sat down and spoke with this amazing powerhouse of a woman.
Please tell us who Alicia is at her core.
My fun- loving bubbly personality has led me into moving to the beat of my own drum. Someone once said to me, that I have a radiant aura about myself that shines so bright and people will naturally be drawn to me. My desire, love and passion within my heart leads me to freely want to help others. No matter what stage of my life, whether personal or professional it's always been to help someone feel good about themselves. 
What made you want to go in to business for yourself?
My journey into entrepreneurship has been in the making since 2010 after the birth of my son and I wasn't aware of it. During and after my pregnancy my skin was a mess, I was in search of a real solution that wasn't gonna break the bank. I decided to start pampering myself at home by making my own skincare products and [ended up] achieving really great results. Driven and determined to better myself, I decided to turn my passion into a business.
What would the Alicia of today tell the 21-year-old Alicia?
Understand that you have a great purpose and are destined to do great things. Stand firm, be bold, and never let them see you sweat.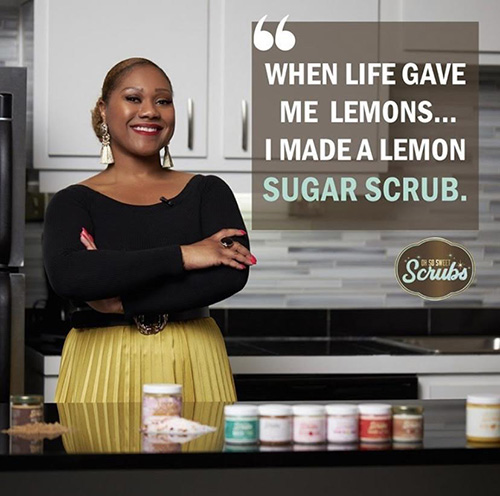 What advice would you give to the woman who doesn't feel like she is good enough to make it in to the marketplace?
No matter where you are in life's journey, always remember slow growth is still growth. You must give yourself grace and be proud of who you are TODAY.
What do you want people to know about you?
Since launching two years ago my business has been 100% self funded with the development and creation of the brand, which consists of 26 skincare products.  
What's next for your business?
Everyday seeds of new opportunities, abundance and prosperity are being planted all around me. I seek God daily and soon many blessings will manifest into my reality. 
Please learn more about this mogul in the making by connecting with her on her official website, Facebook, Instagram, & Twitter.
All images courtesy of Alicia Bean