The Sacred Woman by Queen Afua is a well- known staple for women on their journey to healing their mind, body, and spirit. The book was the inspiration for Powerhouse and Women's Wellness Advocate OlanikeeOsi. It eventually lead to the CEO of SelfishBabe & Goddess Detox, creating both companies out of necessity after reading  Afua's book. The book highlights not only the physical but the holistic side of womb and vagina healing. Famous for her Yoni steams (The Queen's Vaginal Steam), Olanikee has created a movement that empowers and helps women tap into their divine femininity. The evolution of her entire movement focuses on items created around womb healing, vagina healing and self-love inspired products. The main purpose of the products she offers are to help women physically, spiritually and emotionally detox.
Olanikee's journey into Women's Wellness began in grad school where she attended FAMU. "When I was 22 yrs old, I had just graduated from FSU and started to attend grad school at FAMU. That experience was profound for me. At FAMU, I met great friends, mentors and professors and several of us would come together for a weekly women's circle based on the book Sacred Woman, by Queen Afua. We would discuss the book, wear white, and heal through sharing our traumas while holding space for one another."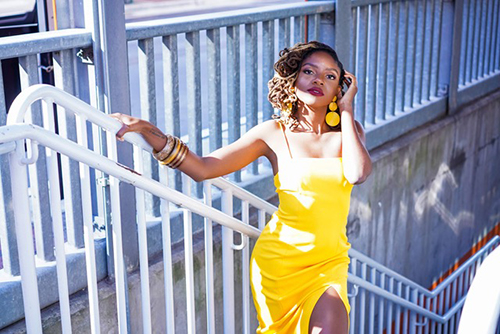 Similar too many holistic start-ups she started off small, selling shea butters and t-shirts with empowering messages geared towards women. Her awakening moment began when she discovered and created the Goddess Vaginal Detox Pearls, heavily inspired by Afua's book. Olanikee expressed what that process was like for her.
"Once I discovered and used the Goddess Detox Pearls myself, I became clear and intentional about my journey into women's wellness. I also had other women use them and I received amazing feedback. It was then I knew I wanted to start a company based around women and self-love inspired products." 
"A lot of my inspiration came from Queen Afua's Sacred Woman because I wasn't hearing many people who spoke from her perspective at that time. She really spoke to the spiritual, mental and emotional components of healing. I was also learning the importance of crystals, connection to the ancestors, and altars. I shifted the business to focus on products centered around womb healing, vagina healing, and self-love inspired products because that's what I felt drawn to. I really wanted to help women."
Her vision to provide healing products for women manifested into her creating her first company Goddess Detox, which currently offers 3 products The Queens Vaginal Steam & Throne in Home Vaginal Steaming Set,  The Goddess Vaginal Detox Pearls and The Cleanse That Negativity Away Spray. Her products are driven around easing your cramps, detoxing ex partners, and refreshing your vagina. The latest product The Cleanse That Negativity Away Spray comes out of the need to get back to using the vibration of herbs to cleanse our energy and keep uplifted. It is a natural floral cleanser in a bottle much like Florida Water but more natural.

The infamous SelfishBabe app came about when Olanikee realized that although she was creating and selling self-love inspired products, many women needed more understanding of navigating in that space and mindset. Her mission was to unite women globally offering a free app to help inspire all women no matter their race or socioeconomic status. She succeeded in doing so and is deemed as one of this generations wellness leaders.
"I knew I wanted a "sister" company that represented lifestyle and personal development. SelfishBabe is a company that really focuses on helping women learn how to selfishly and authentically love themselves. We send out daily reminders via the SelfishBabe app so that the self-love mindset could be kept daily"
The SelfishBabe app can be found on Apple IOS and Android. It's accompanied along with a bi-weekly podcast called "SelfishBabe Selfish Talk Podcast".  You'll catch Olanikee dropping all the gems surrounding sex, pleasure, detoxing, vaginal healing and trauma. It's a must listen if you're serious about your journey thru wellness.
Putting Yourself First 
Recently at the Bridging Beauty & Wellness Conference Olanikee spoke on a panel discussing black women, self-love and mental health during Covid-19. Osi's statement was a highlighted moment thru- out the conference. She stated "Black women should focus on putting their pleasures first."  When I caught up with Olanikee she elaborated more on her statement.
"Historically, Black women have been conditioned to put everyone before themselves. This has been an underserving practice since as far back as slavery." She personally practices giving herself permission to enjoy her life in the manner she sees fit. "When women, especially, Black women put their pleasures first, abundance can open up and manifest in your life. When you're in the energy of pleasure, you can attract more of it. And even more importantly, we can be in our Divine Feminine energy of receiving. That is so important to me. We can be joyful and have others pour into us too. We can also give to ourselves."
Getting Back to Spiritual Baths
Osi is an advocate for women getting back to spiritual baths and using herbs to heal the body. She suggests spiritual bathing as a way to connect with one's mindfulness.
"I see the personal effects so I'm big on sharing the importance of connecting to the vibration of the herbs and flowers. They carry a frequency that can help us come into alignment of what we want, need and understanding our power and ourselves." 
She suggests that the mindful practice of pouring the bath over your head can make you feel connected to bliss instantly. In doing so it helps a person tap into the deep inner knowing of self.
Resource Recommendations
Osi recommends women educating themselves on womb trauma and how it affects them. She offers a variety of resources such as:
YouTube video "Yoni Breathing " where she speaks about the connection between the womb and crown chakra.
Her book "The Power of Looking At Your Yoni" helps women understand how to connect to their vaginas.
She has an e-course that accompanies the book.The Power of Looking at Your Yoni course and e-book are both available now, click here.
Suggested Practices  
We asked about practices women could use to create a healthy dynamic in rebuilding their relationship with their yoni and womb. She suggested a great tip of speaking affirmations during intercourse with your partner to help create a more powerful connection with oneself and the womb. She went into detail about some of her personal practices.
"Vaginal steaming, masturbation, tantra with my partner and redefining the way I view menstrual blood." Those are the personal practices she stated she uses. "Looking at all of these things in a more positive way and its life giving force are truly magical!  Appreciating the beauty of my vagina by looking at it in the mirror is one of my favorites as well."
Shifting Your Mindset
Most women on their journey to self-love and healing find affirmations to be a great source of encouragement and keep them uplifted and motivated. Hence why her SelfishBabe app is so popular. Olanikee suggests using the affirmation "I Love Myself" repetitively.
"It may sound simple or basic but the affirmation I find most helpful for beginners is "I love myself".  I recommend that they repeat this to themselves in the mirror multiple times. "I love myself, I love myself, I love myself"… Just repeat it over and over again. it's very simple. Over time, the change in mindset will lead to changes in behavior that reflect that you truly love yourself.
Keep Up with the Powehouse known as OlanikeeOsi on @olanikeeosi, @goddessdetox, @selfishbabes and the Goddess Detox website.
All images by provided by OlanikeeOsi