Beauty entrepreneur Akleia decided to start making her own natural skincare products during the pandemic which caused the whole world to halt. Her passion for vegan natural skincare was birthed from making products that will help with skin conditions such as dark marks and hyperpigmentation. Not only does the skincare brand addresses skin issues, it also helps with anxiety and improves one and mental wellbeing. We speak with the founder to find out more..
How did you develop the idea for Louis Noir, and what motivated you to start up your brand?
It all started with making body butter butters for myself and for family members as an alternative to shop-bought creams which more likely than not, contain toxic ingredients that aren't kind to skin. At first, I made a standard whipped shea body butter and noticed slight changes in my skin. Later on, I began to experiment and add natural fragrance, and also develop the formula by incorporating cocoa and mango butter and a blend of oils to address specific skin concerns such as stretch marks, hyperpigmentation and dry skin.
As the formula became really popular amongst my family and friends, I developed a real interest in creating different batches with varying scents, I decided to build a brand, naming it after my late great-grandfather John Louis who had recently passed away at the time.  My great grandad always encouraged us to work hard and strive for the best, naming the brand after him was my way of continuing is name and his legacy.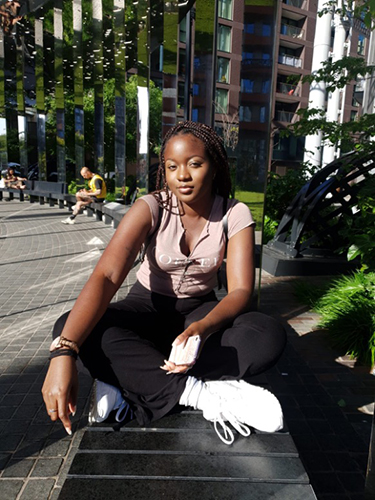 What makes the brand stand out from other skincare brands?
Louis Noir is formulated to make its customers feel and smell good without the use of harsh, toxic and damaging ingredients. In many respects, the products are simple – created with vegan, natural ingredients and with clear benefits and advantages when used on skin. Louis Noir body butters, scrubs and bath soaks are created with well-sourced, organic ingredients and essentially does what it says on the tin. 
What makes the brand stand out is the supplementary aromatherapy benefits that comes with using all of our butters, scrubs and soaks. Naturally scented with a unique blend of essential oils, each of our products not only offer noticeable benefits for the skin and hair but are able to improve one's mood and mental wellbeing and even tackle insomnia.
What is your unique selling point?
The ability to address skin concerns such as dry skin, scars and stretch marks, coupled with unique aromatherapy benefits sets the brand aside from the many vegans and natural skincare brands on the market. Whether it be a whipped body butter, scrub, soak or bath bomb, each addresses a very unique concern and is able to deliver. We have had a number of reviews from family and customers alike who have praised our products for fading marks, for allowing promoting relaxation and in some cases even helping them sleep at night when applied before bed.
I believe that the quality of customer service and attention to detail also sets the brand apart. We're more than happy to answer any questions on our social media page or via email and keep customers in the loop after purchase. All items are shipped swiftly, and customers are alerted by text when their parcels are on the way.
Ultimately, I believe that the quality of Louis Noir products and the service that makes customers feel listened to makes the brand stand out from the rest.
What would you say to other beauty entrepreneurs starting up a company or brand?
I definitely don't know all the answers, but I would say the most important thing is to start. Personally, I didn't want to launch the brand until it was 'perfect' which will never be the case. You learn and grow so much once you've started resulting in continuous growth and improvement. I'd say just start, and once you have, remain consistent.
What more can we expect from Louis Noir in the future?
It's only up from here! I'd like to expand the brand with increased accessibility for customers overseas. For the near future, I'm developing a new range which I won't say too much about yet – but more generally, to introduce more people skincare with great aromatherapy benefits that has the ability to address a host of concerns from skincare to wellbeing.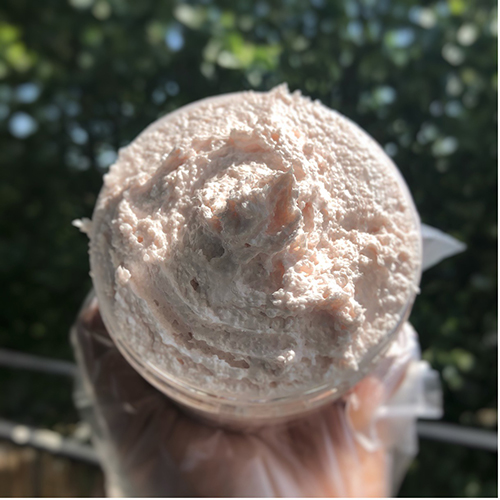 Tell us a little bit about the products and what is your best seller?
All products are created with organic butters, oils and carefully sourced essential oils. For now, we don't have any products that contain water, so all Louis Noir products are preservative-free with a shelf life of up to 6-months. We have body butter such as Midsummer Night which, due to the inclusion of Ylang Ylang can help to promote a restful sleep but also products like our Pick Me Up bath bomb that acts as an energiser and helps to boost your mood. Product descriptions can be found the website and go into more detail regarding the benefits of each body butter, scrub, soak or bath bomb.
Our best sellers at the moment are our Coconut Kiss whipped body scrub scented with Coconut and Lime, our Rose Garden body butter and also our Sweet Vanilla scented body butter.
What do you think about the rise of black owned beauty brands?
I think it's great to see so many new, black-owned beauty brands but also the increased visibility of existing ones. After the tragic death of George Floyd during the height of the pandemic here in the UK, I'm sure we all noticed a huge shift and a plea to support more businesses owned by people who looked like us. It's incredible to see the variety from clothes and homeware to skincare products that are now readily available. It's a known fact that the black population are amongst the largest consumers, with most of our money being spent outside of our communities. Of course, there isn't anything wrong with that, but when trying to build up our community, money definitely plays a major part. Ensuring some of my money goes to businesses with founders that look like me is a good starting point.
How did you raise the funding for your company?
I launched Louis Noir completely out of my own pocket without any additional aid or sponsorship. It was leap, but I had and still have confidence in the products I produce so I was more than happy to take the leap.
Are you working on any new exciting new developments?
I'm in the middle of developing a new line of products aimed specifically for scars and stretch marks. Though Louis Noir body butters are already high in vitamin A and E, this particular line will be comprised of natural and vegan products proven to smooth skin, increase cell turnover and reduce marks and scars with consistent use and without irritating skin.
In the near future, I'm also planning to launch gift sets and bundle sets as well as larger containers for our body butters.
Where do you see the brand in the next 5 years?
In the next 5-years, I myself running a more established, clean skincare brand, used and loved by customers all over the world and operating from my own production space.
You can find out more about the brand here.
All images provided by Akleia