It's summertime and many are looking for new books to read.  Many parents are also looking to add to their home bookshelves to avoid the summer slide for their little ones.  New author, Melody Goliday, has penned a new title that is here to uplift and inspire little girls everywhere.  Her book, The Reason She Has Sparkles, is set to inspire confidence in girls while also motivating them to never dim their sparkle.  "Expressing myself through writing has always been my thing. Once my daughter started reading I noticed there weren't many books with little girls that look like her. I also knew that I wanted her to read more self-confident books," Melody explains.
Showcasing picture books that build self confidence and self-esteem are powerful statements to make to children everywhere.  Melody is not only providing a positive resource but also a means to encourage reading, learning and growing.  "I hope that my book will inspire each little girl to be the best versions of themselves," Melody continues.  Her new book will definitely encourage girls to be themselves as they read each page and see each vivid illustration.
Writing is truly a form of expression.  Words have the ability to build a lasting impact on our minds, hearts and communities.  So it's only natural that author, Melody Goliday, continues to empower the lives of children with another book release.  She's currently working on a new book that will have the same theme of self-confidence and self-love.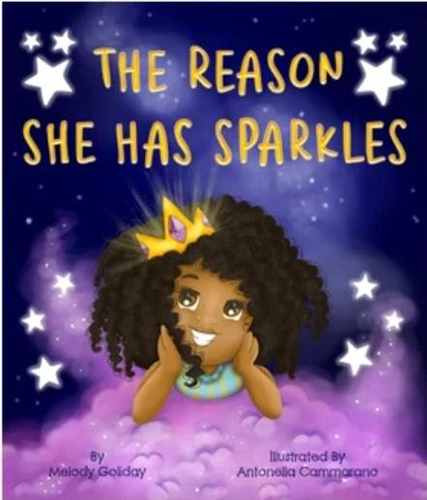 Her inspirational penmanship is surely one to add to your home libraries.  Her beautiful picture book is the talk of the town and children everywhere are in awe of her creation.  See the positive reaction here by one lovely reader.  Melody's Black Girl Magic is the reason why she is spreading her positive sparkle one book at a time.  Purchase your copy of The Reason She Has Sparkles here.  Follow her brand online and on her website.
Writer, C. Scott, is a mompreneur, early literacy advocate and social worker.  Follow her on Instagram and Clubhouse as @curls_coils.  For writing services visit www.curlscoils.net. 
All images courtesy of Melody Goliday