Brilliant, well-versed and multilingual, Michael Wright is one of the biggest underrated actors of our time. He has distinctive looks, and the sophisticated style that we rarely see in the acting world today. He epitomizes talent and his top-notch abilities have been proven in more ways than one. Best known for his standout role as Eddie King in Robert Townsend's film, The Five Heartbeats, Wright is the kind of actor that keeps our eyes peeled to the screen in anticipation of what he is going to do next. Simply put—he captivates the audience with his entire persona, pulling us into his world so that we can experience everything from one moment to the next. Wright explains the process of how he develops a character piece by piece. He works in stages and carefully considers the full impact his acting will have on others. Wright explains, "The greatest sin an actor can commit, is to fail to be interesting. I always try to make my characters interesting. I want you to be riveted and wonder what's going on behind my eyes." This kind of sustained and measured deepness has a lasting impact in the hearts and minds of those who can appreciate authentic and dynamic roles.  
Even with his amazing history, it's baffling that Wright has never been nominated for an Emmy, nor for an Oscar. In my opinion, he's one of the greatest actors of all time.  His character portrayals are so complex and carefully wrapped in the type of package that takes time to dissect. He says, "You work from the general, you know, to the specific, then you go moment for moment, beat for beat and try to imbue everything with true and honest emotional content if you will." He recalls numerous times when people would ask him what exactly he was doing. Wright would reply with, "I'm freeing black folks." He understood early on that he could use art as a mechanism of joy and empowerment. When we see him on the screen, we are touched and thrilled by him…he gives us something very familiar, but foreign at the same time. It is this type of effect on the viewer that gives Wright an extraordinary presence on and off camera. 
Wright spent some time talking with me about his acting journey and the many aspects of himself that rooted his deep desire to perform. His biggest sense of inspiration came from his beloved mother. He shared some amazing memories related to his family, his acting and his world travels. He is fascinating, read on to see why.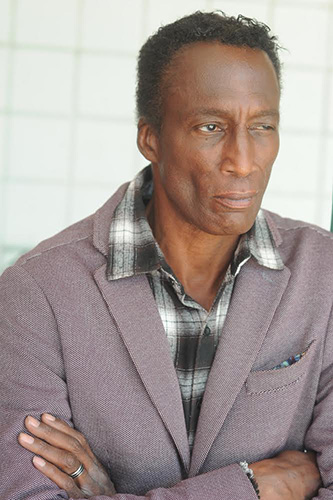 We have seen you on the big screen and on television shows galore. You started acting in 1979 when you played in the movie "The Wanderers"—but there was history before that. How did you even become involved in acting and what sparked the internal desire to do so? 
I couldn't do anything else quite honestly. I was a huge admirer of certain acting styles and actually pursued a venue to acquire my craft that was in line with the kind of acting I aspired to do. I was quite conflicted in my late teen years as to what I wanted to do. I would go back and forth as to whether I wanted to write poetry, or to dance, or whatever. But then, it occurred to me that I could do a lot of those things. I could paint my painting through my poetry, or play a musical instrument, or with being a thespian. It all sort of crystalized for me when I was actively pursuing avenues of study. My mom, who is my inspiration, had a vintage clothing store called, Jezebel, which was also the name of our restaurant. It was on Columbus Avenue in New York. Around the block from me lived a great acting teacher named, Lee Strasberg and his wife, Anna Strasberg. She happened to come upon my mom's store and fell in love with the white linens there. My mom happened to mention to her that she had a son who was an aspiring actor. One thing led to another and she asked my mom to have me get in touch with her. She invited me down to the Lee Strasberg Institute. Before I knew it, I was enrolled there in a work study program.  I mopped floors, I answered phones, I did all kinds of tasks in exchange for my classes. My classes occupied my entire schedule. It became my life, and before I knew it, she had me on a full scholarship. I didn't have to work or do anything, I just had to show up. I just had to learn my craft, and that's how I became an actor. 
Although you were born in New York…your family was rooted in Berkeley County South Carolina—Saint Stephen to be exact. Did your southern roots help shape you?
Well, no, but it entirely could have shaped my perspective about certain elements in society. For example, my mother's relationship with Malcom X—and I recall it clearly as a child. He would be in my mother's apartment and would wear three-piece suits with cuffs and I would get down on the floor and dig through the cuffs of his pants getting out pennies. But the whole civil rights thing had a great deal to do with my emotional and psychological connection to acting. If you asked me earlier on what I was doing…I would say, "I'm freeing black folks." I was using art as a mechanism. That would come out in the characters I would portray. It was a whole sort of social and psychological dynamic that underplays everything that I do in a sense. 
In "The Five Heartbeats" from 1991…you played Eddie King—it's an iconic and amazing movie written by Robert Townsend and Keenan Ivory Wayans. It is literally a household favorite amongst so many. Are you still in contact with the other cast members?
Oh yeah, by all means. I remain very close to Robert Townsend who I attribute the degree of my notoriety to have cast me to play that character. Interestingly enough, when he and Keenan were writing that film, they weren't writing it for me, they were writing it for Denzel. My mom had a restaurant named, "Jezebel", just like the store and Robert was there with a date one night. After he finished his meal, I invited him over to my apartment which was two blocks from the restaurant. I wanted him to screen a film that I had done in Japan called, "Bedtime Lies." He watched the film with his companion, and then he said, "Mike, Mike, Mike…this is the most amazing acting that I have ever seen." He told me that he and Keenan were writing this film and there was a role for Denzel…but he told me that I was the guy. He told me they would be starting on it in six months and that they would be in touch. Low and behold, six months passed, and he called me up and asked me, "Are you ready?" and I said, "Of course, I'm an actor, I'm always ready." So, he placed the script in my hand, and I went through it moment for moment, and beat for beat, every section, just like music. My approach is musical. 
We all have our favorites when it pertains to our own personal choices…so when you look back on all of the many characters you've played, which is your favorite and why?
Of course, I love "The Five Heartbeats." It was a breakout movie and it ultimately became perhaps the number one favorite film of African American audiences. I am also very fond of the film, "Sugar Hill", which was written for me. It was written by a fellow named Barry Michael Cooper, who wrote, "New Jack City" by the way. He wrote that character just for me. The way I got that movie made after Barry had presented it to me, happened when I was at a place in union square in Manhattan called the Coffee Shop, sitting with my best friend O.L. Duke, God rest his soul, he has since passed. In comes Wesley with an entourage of about ten people and I just stood up and got him by the lapels and said, "Man, I got a movie and I want you to make it with me." He wanted me to tell him more about it. We got in his limo. Wesley had a three-picture deal with Fox, I think. I got Wes to commit to making that film. That's how that film got made. That was an authentic New York role, and it was made for me. A lot of it was commiserate with my own personal journey. I improvised the whole film. I have a tendency to go off script. (laughs)
If there were anything that you could do over in your life, what would it be?
No Desirae, I tell you, I've done everything I have wanted to do. I've been everywhere, I speak five different languages. I have seen the world; I love my experiences.
What is something that people might not know about you?
I love to fish. My grandfather was a South Carolina woodsman, and as you said before, we all came from Berkeley, Saint Stephen to be specific. (laugh) My grandfather spent all of his years trapping and fishing in the Santee swamp. He also built a still or two as well. Maybe that explains my predilection from time to time to take a sip or two. (laugh) He also hunted and trapped squirrels, racoons and put them in my grandmother's freezer. This became a part of my internal sensibility if you will. I've been diving all around the world, fished around the world, lived with the Maasai in Tanzania, lived in Dakar and Senegal. I've swam with sharks. I've been everywhere. 
Biggest life lesson you've learned along the way?
Well, you know…go everywhere, do everything you possibly can. Enrich your experience. That's the best way to be the best that you can be. Leave nothing to chance. Focus yourself and just do it. I knew a fellow who was a good friend of my moms, he was a commodity broker and I had got a small windfall. One day I asked him, what was the best way to possibly invest it. He paused and asked me, "Do you have a map of the world, a globe?" I said, "Yeah." He said, "Well you pick the last place that you could ever imagine going and just go there. That's the best investment you could ever make." I chose Papua, New Guinea, those were the people who ate Michael Rockefeller back in the 60's (laughs)
What can we expect from you in the near future? 
I am up for a new picture called, "You Don't Know Jack", it's loosely based on the exploits of Dr. Death, Jack Kevorkian. There is also another series, called, "Stitch," which is about a fellow who investigates cases of organ theft. I shot a pilot for it and we are still shopping that around. 
What's one thing that you have taken away from your many years of acting?
The greatest sin an actor can commit, is to fail to be interesting. I always try to make my characters interesting. I want you to be riveted and wonder what's going on behind my eyes. I want the audience to think along with me and go on an internal journey. It's the minute things that you do that make a characterization compelling. The thing I longed for the most was when I knew that the audience was so captivated that I could hear the chairs creak as they were bending forward with anticipation. That is the most fulfilling moment, it's incredible. You've captivated them, you've bonded with them and they are hanging on your every emotion. That's powerful. 
Any parting words you'd like to share?
Just make up your mind. Do what you want to do and then commit yourself to it entirely. When you love what you do, it will love you back.
To learn more about Michael Wright and his body of work, visit his page on IMDb.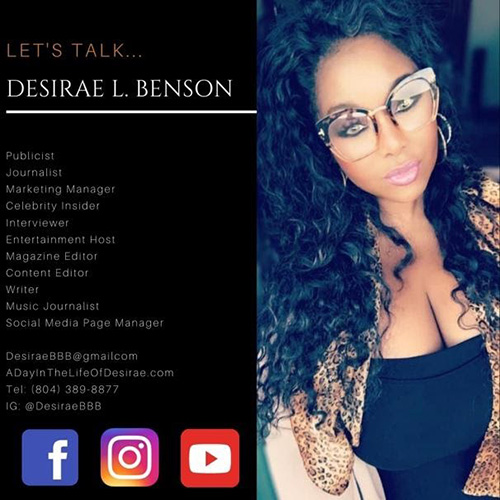 Desirae L. Benson is an entertainment publicist, journalist, content editor, and entertainment media host, residing on the west coast. She hosts her own show featuring four different segments with celebrities, musicians, and people of prominence. To find out more, visit her page on Facebook and Instagram, by using @DesiraeBBB or the hashtags:  #DesiraeBBB • #DesiraeLBensonPR #MovedByTheMusic •#AdayInTheLifeOfDesirae• For media inquiries, Email:DesiraeBBB@gmail.com.
All images courtesy of Michael Wright