After 25 years in the media and entertainment space, Michele Thornton Ghee decided to pursue her passion of elevating the importance of Diversity, Inclusion and Equity by forming her firm: The Stratechic Alliance. As the managing partner, Gheehelps company's leverage their most important resource: Difference.
Michele is thee definition of a powerhouse! She has been employed by some of the most powerful companies in the world;  WME, CNN, A&E, The History Channel and BET Networks. While at BET, Michele created and ran the first and only network for black women: BETHer. We got an opportunity to sit down with this amazing woman. Listen in on this conversation.
Who is Michele Thornton Ghee at her core?
Michele Ghee is Woman of God First. Not just in words but actions. She is a mom and wife. She is a woman who sees the best in everyone. She helps others without expectation.  She does not define herself by what she does but who she is. And that's how she sees others. She treats people with empathy. She walks in faith. She's a best friend  She's a Stratechic!
What made you want to become a speaker?
I was at a conference listening and watching this amazing woman empower an audience of about 1000 women. I felt renewed. I wanted to have the same impact on women. Every chance I got, I went to hear different speakers. I googled speeches. It hit me that all of the women speaking had authored a book. Often times a book I had never heard of. I realized that maybe this is the easiest point of entry into the speaking world. At the same time my family needed to become financially stable. I prayed that writing a book could help me live my life's dream and make more money. In 2015, I wrote my first book. By the grace of God, I didn't know at that time I would  need this path to remain financially secure as I walk away from corporate America to launch my own firm. 
What doors have authorship opened for you?
Being an author has opened doors I could have never imagined. When corporate America would not compensate or promote me after giving 150% effort, my books made me undeniable. My employer started to take notice. Clients were more likely to respond now that I had a following. Finally, it allowed me to become a sought after speaker. My job was eliminated in March, yet I still have a substantial flow of income. Authorship has been life changing. 
What advice would you give to your 21-year-old self? 
I wouldn't give myself any advice because this is the path that I chose and God allowed, covered and blessed. What I tell my 15 year old daughter is this: Pray every morning and evening. social media is your resume. You can't control people, only your reaction. Be undeniable by outworking everyone. Pay attention to culture because culture eats strategy. Relationships matter- introduce yourself to every teacher, receptionist and janitor. make your presence known. Preparation is half the battle. Every person is important regardless of their title. To have empathy for everyone. Learn to respect money now. 
What's next for you now in 2020? 
2020 has been a transformational year. My job was eliminated. I contracted COVID. Many would say, "Wow! That's so terrible". It was one of the biggest blessings of my life. It made me focus on the things that are important. So what's next. Prayer every morning to center my day on God's purpose for my life. I need to hear Him daily.
Entrepreneurship and building Stratechic Alliance which helps companies leverage their greatest asset: Difference. Continue to empower- elevate – educate and inspire people through my speaking platform. Continue to create content around my chalk board series. Be a mom and a wife. Elevate my community! Last but not least I'm going to create an audiobook for Stratechic 2.0 and start the draft of book number 4. Nothing much. (laughs).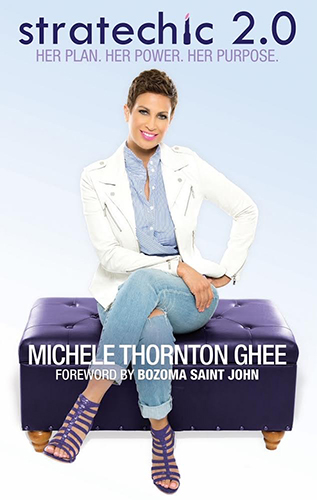 Please tell readers how to stay connected with you outside of this platform.
Text stratechic to 33777
Instagram @stratchic 
LinkedIn: Michele T Ghee 
Facebook: Michele T Ghee
Twitter @stratechic 
Featured Image courtesy of Michele Ghee Thornton