If you need to know anything about getting and keeping your natural hair healthy or need advice on making sure your curls are poppin', Caaliyah Greer is the woman to talk to. She started her natural hair journey on social media and on YouTube in 2015 giving natural hair tips, doing natural hairstyle tutorials, natural product reviews while incorporating some lifestyle and inspiration videos. After a while many people began to continue to ask her questions about haircare until one of her videos reached 1 million views. The Washington native now has 270k supporters on Instagram and 220K on YouTube. She has worked with big brands such as Mane 'n Tail Beauty, Bomba Curls, Hair Infinity, Crème of Nature, Reagan Sanai and many more!  She was also featured in Hype Hair Magazine in 2019 as one of the Hair & Beauty bloggers to watch!  Now with her growing audience, resources and dedication, Greer is looking to branch out into maybe becoming an entrepreneur and discussing more relatable topics such as relationships, being a young mom to her wonderful daughters Maaliyah and Samiya, depression and domestic violence. In 2018, she released a video entitled, 'My Domestic Violence Story' where she talks about being scared for her life and what it took for her to get out of that situation. Greer says her main objective is to help as many people in as many ways as she possibly can by being transparent, sharing her experiences and wisdom!
When and why did you decide to become a natural hair and beauty blogger?
I didn't actually "decide" to be a natural hair/beauty blogger. It sort of just happened. I was sharing my natural hair journey at the same time that being a blogger or influencer really started to blow up. Simply for the sake of helping others and wanting to document the journey. Very quickly after, people were asking me for videos, and brands were reaching out to work with me.
In 2015, you did the 'big chop', how did you remain confident/consistent and make sure you kept your hair healthy throughout this 6-year journey? Was 2015 the last time you got a relaxer (perm)? 
After doing the big chop, I remained confident because I had so many people encouraging and complimenting me. I, unlike many other naturals, didn't receive any negative comments from doing so. As far as staying consistent. I wanted long, healthy curls. I knew I had to be consistent or else big chopping would've been pointless. My last relaxer (texturized) was 2015.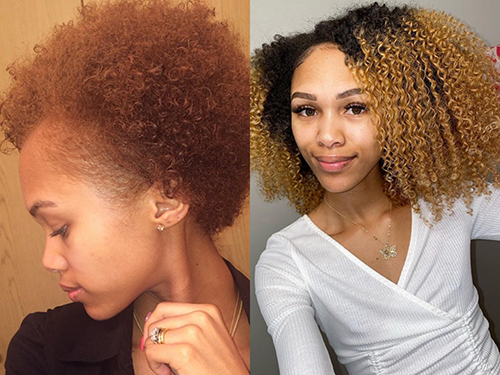 What was your first viral video? How did you feel? What was going on that day? 
My first viral video was my "How To Grow Your Natural Hair Long Fast". I knew it would get good views because it was a commonly asked question. But it reached 1 million views, and I was just so happy that I was able to reach so many people!
What is your main goal and or mission with your social media platforms? What do you want your audience to take away from you as an influencer?
My main goal with my platform is to help other women out with the knowledge I have. Yes, with caring for your natural hair, but also from my story, of overcoming domestic violence, anxiety, being a young mom. You can still accomplish your goals and be great!
Speaking of being a mom, you have two beautiful daughters, what are a few ways you are teaching them to love their natural hair unapologetically and take care of it at their young ages? 
I try to do different hairstyles on my girls, so they can see how versatile it is. I always walk them to the mirror and tell them how beautiful they are.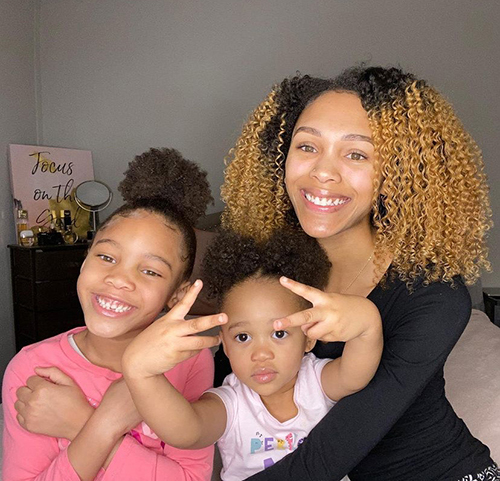 Experiencing domestic violence and anxiety can be detrimental to one's mental health, how were you able to overcome them? Congratulations on that by the way.
I overcame domestic violence by realizing my worth, and afterwards realizing that domestic violence didn't define me. I was strong for getting out, and I continue to be strong throughout my hardships. I still deal with anxiety, but I've found that facing my fear, doing something once helps alleviate anxiety and from there I can do it again and again, and no longer have the fears.
If you could give your younger-self some advice, what would that advice be? 
I'd tell my younger self to just go for it! Stop being afraid. I've held myself back from many things because I was too afraid to go for it. Also, be confident!
What would you say some of the pros and cons are for being natural and being a social media influencer?  
A pro of being a natural hair influencer is being able to work with amazing brands, and a con would be having to constantly do your hair more than you normally would. It can be exhausting!
In the past, there have been discussions on natural hair not being 'professional' enough for the workplace? Have you ever had this issue, if not, what do you think about that statement? 
I have never had an issue with wearing my hair out at jobs I have worked. My managers and coworkers always loved my hair and all the styles I did. However, I wasn't in a professional setting. As far as the statement, it clearly is false. How is something that grows out of my head unprofessional?
Of course, many would like to know what some of your favorite natural hair products are to use. We know you have several, but can we get a Top 3? 
It is hard to narrow it down, but if I had to I would say: Camille Rose Aloe Whipped Butter Gel, Mielle Babassu Mint Deep Conditioner, and Reagan Sanai Moisturizing Leave In Detangler (for my girls hair).
There is a myth that, 'natural hair grows quicker when it's dirty', what do you think? Is it true or nahhhh? 
I was told growing up that your hair grows faster when it's dirty, but as I got older, and as I went through my natural hair journey, I realized it just caused buildup and failed styles. A clean scalp, makes for healthy growing hair.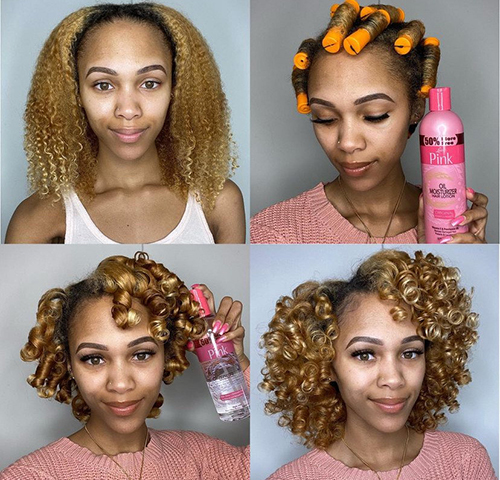 For many women who are natural, they've said wash day is like a day at the gym, a full blown workout! What does a typical 'wash day' look like for you? 
My wash days are not as extensive as other naturals I've seen. I keep my routine simple. I pre-poo, shampoo, condition or deep condition (one or the other), then style with water, and usually one cream. I don't always use a leave in conditioner. 
Another big concern for natural hair queens and kings is shrinkage! Do you have any quick tips you can put us on to avoid a lot of shrinkage? 
To avoid shrinkage I'd say, work on stretched/blow dried hair and don't use a ton of water (damp hair instead of wet).
How important is detangling and deep conditioning to hair growth? How often do you incorporate these into your hair routine? 
Detangling and deep conditioning is very important. You never want your hair to get extremely tangled and cause unnecessary breakage. I deep condition and detangle once a week usually, depending on the style I wear.
Cramming a few last questions in, how often do you believe is appropriate to get your ends trimmed and I've read that many naturals are fearful of dyeing their hair because of damage? What has your experience been with coloring? 
My experience with color has been good. I did recently get heat damage to my hair, but as long as you moisturize, deep condition and stay away from heat with color treated hair, you should be just fine. Go to a salon if you don't feel comfortable coloring your hair yourself though!
Don't spill all the tea, but what's next for Hazel Goddesss, what can we expect throughout this year? 
You can definitely see me branching off, and doing my own thing. I won't be using other brands products for much longer! 
For more on Hazel Goddess, follow her on Instagram & YouTube.
All images courtesy of Hazel Goddess