Artist, poet, and musician Morgan Harper Nichols is a creative who is constantly using her platform to inspire others though her art. Through her real life interactions and stories, Nichols is passionate and focused on collaborating with the people she surrounds herself with in order to help others in their own personal journeys. Recently, I sat down with the woman of many hats to discuss everything from her new book, How Far You Have Come and find out just why using her art to spread love is so important to her.
Tell us the inspiration behind your book, How Far You Have Come.
This book actually started with the cover, which is a photo from my iPhone's camera roll. I was just scrolling through and this was at the start of the pandemic. I looked at trips I have taken in the past and I reached a photo I took in New Mexico at sunrise. It was such a beautiful photo. I started to paint over it, and I began thinking about how interesting it was that the photo is so beautiful. At the same time, life was really hard at the time. I began thinking about other moments in my life where I was somewhere that was visually stunning but at the same time, there was struggle and something that I was going through. The book goes through eight different landscapes along the border of the U.S. I stop in each state and tell a story through poetry and art. My hope is that this book helps other people to feel inspired to go through their own phone's camera roll and find those moments that remind you that in midst of everything that's going on in your life, there is beauty and courage all along.
Can you share with us why you are so passionate about using your art and platform to raise your voice and connect with others?
I grew up feeling very lonely and different a lot of times. I didn't know up until recently that a lot of that had to do with undiagnosed autism. I was recently diagnosed with autism and I am 31 years old. Now there are a lot of explanations as to what I was struggling with socially and communication wise. I've always just been very passionate about connecting with other people who may feel that way, for whatever reason. We're constantly asking ourselves, 'Am I the only one struggling?' I think because it is a part of my own story. That is what inspires my work and that is what fills my work. When I have a moment to help someone see themselves reflected or feel a little less alone, that is what drives my poetry and artwork.
How do you juggle being an artist, musician, and businesswoman on top of being a mother?
I will let you know when I figure out (laughs). I feel like I'm all over the place (laughs). Honestly speaking, I have a lot of help. My business partner helps with a lot of the day-to-day logistics so that I'm able to focus on the creative. A lot of the other people that I work with are actually friends. I know them and we work well together. I'm really passionate about collaboration. When it comes to creative work that we love, we can't do it alone. We need other people, and we can love one another. For an example, I have a podcast that my younger sister edits; I was editing it, but it would take me three hours an episode – and she can do it in 20 minutes (laughs). That quicky taught me that although I enjoy it, she is much better at that. I really do try to surround myself with people that I can collaborate with so that each of our work shines.
What are you currently working on and what can we expect to see from you in the future?
I'm working on a lot of motion graphics and animation. I sense that over the past year, I have a toddler that introduced me to animation (laughs). That has inspired me to think what I can do in that space. I've been working on my drawing and story-telling skills. I'll continue to create, draw, write, and see what comes from there.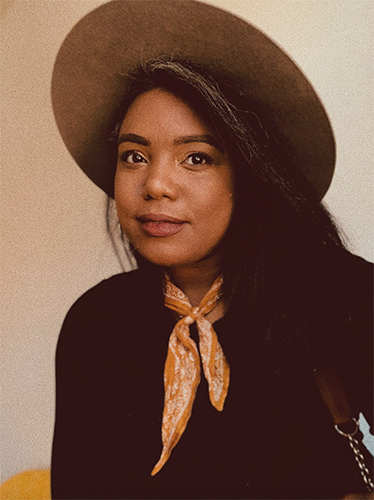 For more on Morgan Harper Nichols, click here.