The iconic R&B powerhouse reminisces over her 20-year music evolution and gives us a sneak peek into her new independence.
FOR IMMEDIATE RELEASE
SHEEN Magazine celebrates accessorizing your life from the inside out! During this global pandemic we are resolute with presenting ways to still dominate and stand out in our new normal. Despite the calamity going on in the world, we must continue to accessorize our everyday lives with love, joy, peace, and not to mention, stylish attire! This issue is jam packed with fashion through the perspective of accessories to find joy expressing yourself in your daily routine! As the Ultimate in Beauty, we pay homage to accessories overload in the most fierce and unconventional way!
To kick off this issue is one of the most streamed 9'0s female R&B singers in the history of Billboard, Brandy! As an icon and woman, Brandy has stood out BOLDLY to be everything we've ever needed in an R&B powerhouse. With her 7th studio album, B7 dominating all Billboard R&B charts, Brandy has proven to be the SUPERNOVA that we knew she would be when we first met her in 1993. We had a chance to catch up with the resilient icon to discuss everything from motherhood, to her timeless career, and her newfound independence.
"With all of my experiences the most important to me has been to come to know me and work on what would make me a better person, a better mom. Music makes me happy, I love music. I don't know what I would do ore where I would be without music."– Brandy
Our digital cover features none other than the incomparable beauty mogul and Love & Hip Hop Atlanta Starlet, Sierra Gates! In our introspective interview, Sierra Gates shares her humble beginnings and how she was led to her success in the world of beauty! The millionaire and certified boss discussed everything from the power of influence down to her comfy, chic contemporary style.
"If you look at my style, I don't show a lot. I like to cover up but still be sexy and stylish. I don't like to do too much because young black girls are looking at me. When we have an influence, we set the tone for what should be and should not be. It's ok to be comfortable and sexy."-– Sierra Gates
Birgundi Baker dishes on the rules to entertainment and her beauty must-haves in an exclusive Beauty Spotlight. Celebrity makeup artist, Sheceria Chambliss, dishes on life as a wife, mother, and entrepreneur all while creating her beauty empire. An outfit is not complete without a beat face! Content creator, Mena Adubea, reveals the importance of skincare and beauty for all occasions for The Foundation. Find out how hairstylist, Jonathan Wright, is on the rise, becoming the young favorite among Hollywood!
Our featured Stylist Spotlight, celebrity wardrobe stylist and fashion innovator, Brendon Alexander, drops knowledge on the steps to breaking it into the fashion industry; while Fashion Designer, Dominique Galbraith, designs wearable art for everyone–finding one inspiration at a time! Is there such a thing as over accessorizing? Hoop earrings, bucket bags, and so much more, find out what accessories are the final touch to your fall look!
Recording artist, BIA, stresses the importance of inclusivity in the world of entertainment while she dominates the female rap game in an intimate Music Spotlight. How has the pandemic affected the motivation and creativity of an artist? In our Artist Spotlight, cartoonist Eddie Moore, uses his art to shine a positive light on the world. Hailing from West Africa, Ibrahim Songowa Jr., is committed to changing the way we all look at fitness and how he's progressed in his journey amidst a global pandemic. "Alexa, play 'Superwoman' by Alicia Keys." CEO, Kiara Dancer, proves she's a tenacious woman by not letting her circumstances define her future! And we couldn't complete this issue without a real and relevant conversation about Breast Cancer Awareness & Domestic Violence. Dr. Bonita Parker and Dr. Jessica Mosley share their survival stories fighting against breast cancer and domestic violence. From digging deep into the technological advancements in beauty, down to learning to maneuver through the current pandemic and finding new ways to explore, we've got you covered!
SHEEN Magazine's September/October 2020 Accessories Overload issue hits stands on Tuesday, August 25th.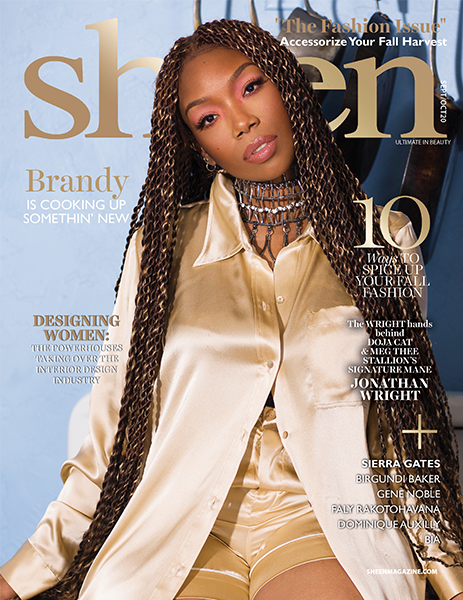 Photos by Derek Blanks @mrdblanks
About SHEEN Magazine
Sheen Magazine is The Ultimate Beauty Guide for the modern day woman. The lifestyle and beauty publication is the preeminent voice on new trends, techniques, and products. Sheen Magazine is a national and international distributed publication. Published bi-monthly, Sheen Magazine maintains its influence by always remaining current on the trends of beauty, fashion, hair, and entertainment. The publication seeks to cultivate, educate, and motivate, encouraging the full potential of their readers. The Ultimate Beauty Guide and can be purchased nationally at Target, Walmart, Walgreens, Books-A-Million, and Barnes & Noble. Visit us online at SheenMagazine.com and follow us on Facebook, Twitter, and Instagram @sheenmagazine.