EJ King urges women "Invest in your feet, invest in your appearance, invest in your look. Whatever it is make sure it's of quality and make sure it's a classic staple"
It's been a powerful month for the culture as June boasts Black Music Month, Juneteenth and is the official month for BET week. It's safe to say that the fashion show has officially begun but the runway will be the many red carpets and events that the stars will grace over this week. Hosted by Brittney Boston and with DJ ER and NUF CED on the turn tables, Musicology presented the experimental event to kick off BET awards week.
As I walked in the building of Ground Level by Drip Studio's I knew it was going to be a night to remember. The room was filled with celebrities, models, social media influencers, and show runners who operate behind the scenes of Hollywood's biggest productions. They gave the same dramatic, humorous, and romantic vibes that you see in the movies – depending on who you were talking to. Entertaining is their bread and butter and let's just say that they served us well.
While scoping out the model's rooms to get a sneak peek at what to expect later on in the evening I ran into Actress, producer, and artist Torrei Hart who was there supporting her longtime friend and fashion consultant EJ King. "I'm here to support my friend EJ so I don't know what to expect so I know he's gonna bring it because he's so fabulous," she said. And after being the first lady to captivate Kevin Hart's heart, I just had to ask her about fashion to see how she was able to captivate one of the greatest comedians of our time.
"For me I just do me. I don't care what everybody else is doing you know some days I want to be prissy and some days I want to be a Tom Boy, some days I'm rocking sneakers. I mean I just do what I feel. Whatever you feel that's what you do. Whatever makes you feel good you do – it's not what a trend is. You set your own trends," she told Sheen.
Ambient lighting filled the center stage and a huge, shining silver ball hung from the ceiling to accentuate the greatness that would be displayed. The event featured an interactive discussion and fashion show showcasing three black designers – TYPO, ODAINGEROUS, and SUPERVSN. They brought out Hollywood's most sought after celebrity stylist's like Karl Kani, EJ King, Icon Billiningsley, Winnie Stackz, and many more.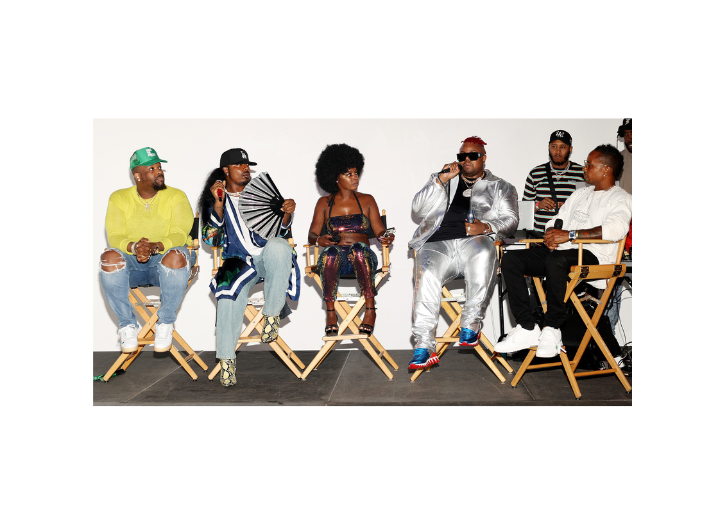 Stackz, who has worked with Missy Elliot, Megan Thee Stallion, Saweetie, Meagan Good, as well as Paris and Prince Jackson is Vogue certified and boasts the tile of Celebrity Creative Director in his Instagram page. When asked why it's important for Black men to have a presence in the fashion industry the stylist told Sheen, "I feel like Black men should have a presence in the fashion industry because I feel like Black excellence is the fashion industry. Black people they literally take Black small designers and turn it into what they do in the top realms. So, I feel like we are the fashion industry. Like from Black girls to Black guys I feel like fashion just – fashion takes from us, but we support it at the end of the day. So, all long as we support, they'll keep taking it."
The stylist who is known for fashion in LA and beyond also shared a few fashion tips for both men and woman, saying that "A guy should have a good cologne, watch, tailored look, great smile, and a great haircut" Stackz also added that "Women should have a good smile, confidence, fabulous hair, and a bomb a_ _ shoe."
As new Black fashion designers continue to emerge and are making a huge impact worldwide, Sheen caught up with longtime fashion designer EJ King. King, who has worked with Chris Brown, Kelly Rowland, Meg Thee Stallion, and Janet Jackson credits his success to "Being humble and being honest." King told Sheen "I think that if you don't let this business get to your head and you just stay to your craft and you build your relationships. That's all we have is your relationships in this business. So having great relationships and being humble – that's my secret."
As a designer, King is big on enhancing his client's natural style. The stylist has an open conversation with each client to find out who they are, what they like, and what they don't like before beginning a working relationship. "I think when you try to off put your views on everybody, I think you're a stylist and it can sometimes get misconstrued so finding out what they love and enhancing their natural self, that's my thing," he tells Sheen.
When asked what every woman should have in her closet, King didn't hesitate to share his top 5 must-have's. "A good pair of pumps, great jeans, classic pieces – if you don't have something get it in classic. If you don't have a good pair of pumps, get it in Louis Vuitton. Invest in your feet, invest in your appearance, invest in your look. Whatever it is make sure it's of quality and make sure it's a classic staple. Before you go crazy, I always say get a classic," he says.
For more information, Follow Musicology on IG @iammusicology
Photo Credits: Arnold Turner/Eclipse Content