Supermodel, actress, and businesswoman Eva Marcille talks about starring in All The Queen's Men and being an unstoppable Black woman.
It is a rare feat for someone to grace the cover of SHEEN Magazine twice. But with a career like this one, we just HAD to spin the block. Now Eva RUNS the block! Eva Marcille, now Madam in the hit series, All The Queen's Men embodies a Black female boss running Atlanta. In this interview and her career overall, she proves that she has dominated the industry just the same. We caught up to find out how it was taking on the role, her jewelry line, Eva by Eva Marcille, and why the secret ingredient to success is Black Girl Magic.
Of course, this is the holiday issue of SHEEN Magazine and it's only right we close it out with family. Take me into your home holiday experience. Are you super into traditions?
I've always been super family-oriented. When my husband and I first started dating, we would switch holidays off from his family to my family. His being from Texas, mine being from Los Angeles, we would travel back and forth. But now we have three kids, so its a lot easier to do things at home. I'm known for my Sunday dinners and things like that. So holidays this year are going to be very simple – at home cooking and hanging out with the family that we didn't get the opportunity to all of las year. This time last year, I was actually in the bubble shooting All The Queen's Men. So, I'm really looking forward to actually putting up Christmas lights, going to buy gifts, and nit Amazon-ing for my kids' gifts.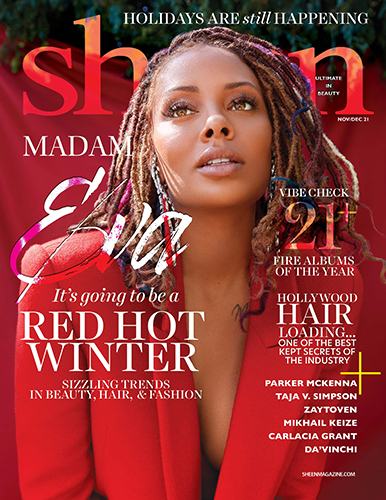 For more on Eva Marcille and more features Sheen Magazine has to offer, be sure to pick up your copy of Sheen Magazine's November/December 2021 issue available at Walmart, Target, Books-a-Million, and Barnes & Noble. You can also check out the link to purchase your copy of this issue and many more!
To subscribe to our newest feature, the digital issue of Sheen Magazine, click here!
Photography by Terrell Mullin