There are so many amazing products being released this month, whether its makeup, skincare, or hair products, we're loving every second of it and you should too! We've covered all the makeup and skincare releases happening this month but all the hair products coming out this month are too good for us not to share! Check out all of the new hair products hitting the shelves this month and let us know what you'll be purchasing!
Playa Monoi Milk Leave-In Conditioner, $26
I love any hair product with milk in it. I don't know what it is but it's so hydrating for the hair (mine at least). This new leave-in conditioner by Playa contains monoi oil and coconut milk which not only makes the hair soft but gives it shine and moisture! This product acts as a primer before you style your hair or put heat on it.
Urban Hydration Rose Hemp Collection, $11 each
What a way to bring in April, Urban Hydration. The brand's got a new collection called the Rose + Hemp Dry Scalp Collection and it's here to whip your hair back into shape this spring! The new collection includes a shampoo, conditioner, clay mask, deep conditioner, hair refresher, and leave-in conditioner. Each product contains ginger to ease dandruff, avocado oil to prevent breakage of the hair, hemp to make your hair soft, and rosehip to prevent your hair from thinning. The collection is avaliable at Bed, Bath & Beyond and Harmon Face Values.
Briogeo Don't Despair, Repair! Strengthening Treatment Oil, $30
If you're willing to spend a few extra dollars to repair your hair, then this product must be the one you buy! It's a strengthening oil that contains rose flower oil and macadamia nut to repair your hair from the damage it may already have. Your ends will thank you for this!
Dove Amplified Textures Collection, $7 each
This new collection by Dove is every kinky, curly beauty's dream come true. Its entire collection was made for each step in your wash day routine. A shampoo, conditioner, recovery mask, leave-in conditioner, shaping butter cream, and finishing gel!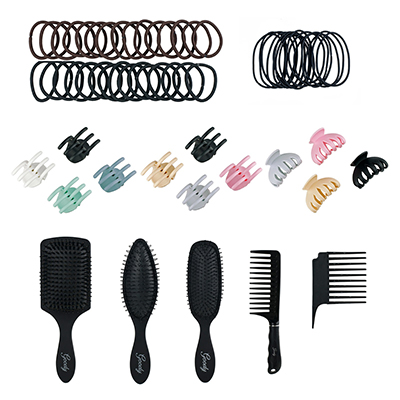 Goody Total Texture and Planet Goody Collections, $5 to $10 (available at CVS & Walgreens)
Goody has teamed up with Nikki Nelms for a brand new collection and it includes a line of tools and hair accessories for all you beauties with thick, curly, and kinky hair. It includes three brushes made for detangling, two elastic options and three combs. There are also claw clicks, headbands, and scrunchies that are all sustainably sourced from organic bamboo!