Summer is right around the corner so what perfect way to welcome the warmer weather than with a new skincare release? Sunday Riley is definetly a skincare brand that promotes protecting your skin all year-round but before you hit the beach, you may want to check out this new item from the brand. A new item and a first of it's kind for them, Sunday Riley has just recently launched their first-ever sunscreen.
I don't know about you all but I personally hate applying sunscreen. Not only is it thick on the skin but it just feel so heavy and takes forever to blend in. Think of this new product as a lotion that is packed with all the right things you need in a sunscreen.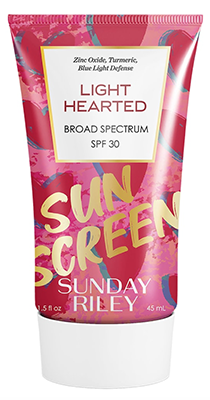 Sunday Riley Light Hearted Broad Spectrum SPF 30 Daily Face Sunscreen, $35
The new suncreen is rich with zinc oxide, octisalate, turmeric, and lutein, ontop of being an SPF 30 sunscreen. The consistency is like true velvet. There was no white cast, which I can appreciate. It is said to absorb into the skin well and can even be worn under makeup. If you hate the smell of sunscreen than this product is definetly for you because it did not irritate me or my skin.