Chanelle S. Reynolds not only made a name for herself in sports as NFL Director of Group Sales for the Washington Redskins but this boss lady also leads by example, inspiring women and minorities by providing them with guidance in business, leadership, and success. Her ambition, hard work, and determination speaks for itself. She is on a mission to encourage and inspire those that want to grow and expand. We caught up with Reynolds to discuss her book The Success Playbook" and more!
Tell us about your book and what do you hope readers gain from your book?
The Success Playbook is the "go-getter's" bible. This book is written to empower, inspire, and motivate all of its readers. The book will play off of my career in sports and how I've been able to overcome obstacles through strategy and faith. Readers will gain the blueprint of what I believe contributes to my success and the success of many others.
What inspired your book?
I often get asked about how I was able to navigate throughout my career path in sports as a black woman. Rightfully so, because statistically, the odds are against me. So, I decided to provide a blueprint for anyone who's looking to master their career and life.
How was the writing process like was it harder or easier than you expected?
The writing process wasn't hard, but it did take a lot of discipline. I had a lot more free time on my hands because of quarantine, so it made things a little easier.
What are your thoughts on the return of the NFL?
I'm happy to have football on Sundays again!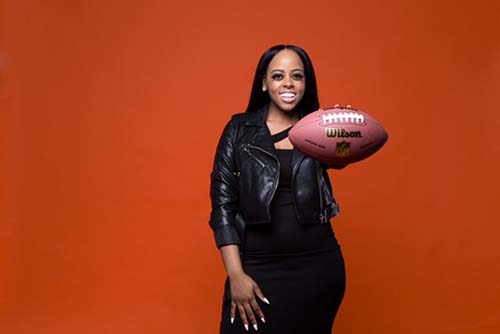 Has being an author been something that you always knew you wanted to pursue?
Absolutely, I always knew I wanted to write. I don't necessarily consider myself an "author", I just wrote something that people have been asking me for! But yes, I always told myself that I'll be a #1 NYT Best Selling author. I don't know how or when, but I know it'll happen.
Is there anything else you like readers to know about your brand/business?
Yes, keep up with me on my website. Also, I just launched a series of live webinars called, Hustle University. I'd love to have anyone reading this to be a part of!
All images by Briana Tansey