We have all witnessed singer, songwriter, and playwright, Nikki Lynette's music on popular networks such as MTV, Fox, Hulu, and Netflix but now we're preparing to see her in an exciting light. Lynette is currently working on the debut release of her upcoming theatrical music performance, Get Out Alive – a project curated to allow viewers insight into her world of trauma, suicide, and depression. We caught up with her ahead of the New Year to discover what inspired this project and much more!
Tell us about the debut of Get Out Alive. What can we expect to see?
Get Out Alive is a musical about depression. As crazy as that sounds, it actually works. I talk about my suicide recovery. I talk about what led me there, and how I came back from it. I'm doing it so other people who may be going through similar things the courage or find comfort in seeing my story. If I'm putting myself out there, maybe they will open up to someone they know about the things they're going through if they need that help.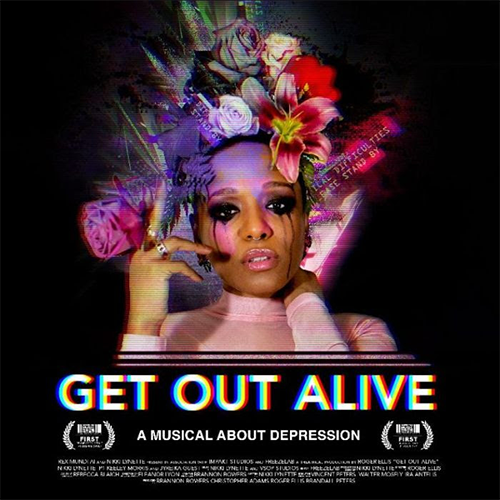 Why do you believe this theatrical music performance is so important?
We don't really have too many stories where people talk directly about depression. It's not something that we as a culture do a lot of. When we do, it's either extremely clinical or not cultural inclusive. It's not entertainment. I think that we need stuff about this subject matter that speaks to where we are culturally. I've been told that my work does that and I believe that my work does that. I feel confident that it does.
How have you been able to stay positive during this time of the global pandemic and the holiday season?
I have post-dramatic stress disorder. Every day, I am working to be positive. I have flashbacks and sleep disturbance. It's part of having the issues that I have. I never stopped having to do the work to maintain an idealistically realistic outlook. I'm always having to do that, so I won't be sad or missing anything. That's work I have to do every day. I was already in the practice of it when COVID came.
What are you currently working on and what can we expect to see from you in 2021?
As of right now, I'm finishing Get Out Alive. We're in the middle of editing right now. It is not easy; it is a lot of work! So many things can go wrong at once, but I am honestly having the time of my life. It's wonderful. That's what I'm working on. January 30th, 2021 is when Get Out Alive debuts. I hope people will go to the official Get Out Alive website to purchase their tickets. You'll be supporting independent theater and a really cool Black chick.
For more on Nikki Lynette, follow her on Facebook, Instagram, & Twitter.