Meet the founder behind skincare brand Soracare Lab, Chancelline better known as Chancee who is of Congolese origin based in Canada.  The professional who works for the government had no intentions of running a business, that changed a few years ago when she became invested in what she was putting on her body and what was in her skincare products. She started making her own products and the rest is history. We spoke with Chancee to find out more about the entrepreneur and how she incorporates her culture in her beauty range.
Can you tell us the story behind Soracare Lab?
In 2017 during my maternity leave I started to take an interest in natural skin and hair care. I started to make mixtures with natural ingredients that I found in my kitchen and began my research on natural ingredients. I noticed the difference on my skin and hair and wanted to continue. I stopped spending a lot of money on store-bought hair care products because I preferred the products, I made myself. Plus, at least I know exactly what my products contained. In the spring of 2020 during the pandemic when many were launching new businesses, I was motivated to launch my skin care brand which is today Soracare. Although I was a little hesitant; I said to myself, it is now or never.
How did you come up with the name of the brand and what does it mean?
The name of the brand comes from Soraya a Persian name which means princess or jewel, and which is also the name of my daughter. So instead of naming the brand Soraya Care, which I found a bit long, I decided to cut part of the name and add care.
Can you tell us your career background and how has it shaped you in starting a business?
I graduated from the University of Montreal in criminology and worked in government.
Honestly, I was in no way prepared to go into business. I have never worked in business before.
The fact of launching myself in the business was for me the discovery of another world. I had to learn as I went along, sometimes by trial and error.
Before I got into business I hated business, it didn't interest me and I avoided anyone who approached me for business opportunities, don't ask me why.
Have you come across any obstacles and how did you overcome?
It was during the early days when I started my business, the first few months were a bit tough. I didn't know anything about business and marketing and how to run a business on social media. Trying to understand Instagram's algorithm took a long time because before that I didn't really use Instagram. I had a lot to learn and so far, I continue to learn. It was a little stressful because I had to learn on my own or do research. I didn't have the opportunity to really have a person to guide at the beginning stage.
We love the fact that your products are natural ingredients, what do you think of the rise of clean beauty?
I find that this is a very good thing because it contributes to good health since these are products that are made without toxic ingredients especially with the rise of diseases such as cancer.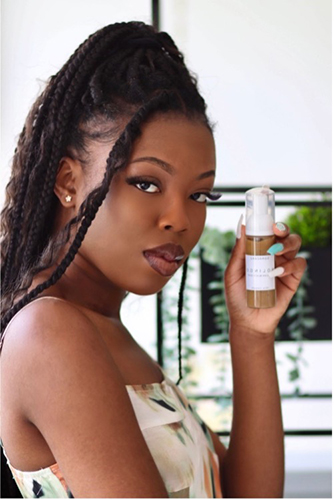 What would you like Soracare Lab to be remembered for?
For our exotic luxury side tinged with minimalism. Exotic because I try to incorporate a little of my Congolese culture into my brand by the names of the products which are in the languages ​​of my country.
If you could choose a celebrity to endorse your brand, who would it be and why?
I would choose Chanel Iman.  I love what she stands for; she is a wife and mother like me. In addition, I like how simple and authentic she is, and I believe it fits perfectly with Soracare's vision.
Where do you see the brand in the next 5-10 years?
I see myself managing one or more Soracare stores in Africa. Being African, specifically Congolese, I really want to invest in Africa.
You can find the brand here.
All images courtesy of Soracare Lab