Grind Pretty, the online platform designed for female entrepreneurs in the beauty and lifestyle space today announced its partnership with reality star and Afro-Lantina music artist, Amara La Negra. The collaboration is part of the brand's quarterly subscription service and will include products specially curated by Amara.
"It is an honor to be in a position from my own GRIND as a woman in the entertainment industry and business head of my own brand with the media brand. We as women are held to such a plateau in every aspect of our lives including as caretakers, so why not collaborate with a brand that celebrates the everyday woman while empowering our rising pretty grindettes! As my career continues to grow, I am compelled to see the lack of unity and support among women in this field, and I do not want my brand to be categorized as this type of human being. So being apart of this issue and this collaboration opens the door and sets a different tone in the world of women entrepreneurs. We are more powerful united versus against one another." – Amara La Negra
"We're really excited to be working with Amara on this partnership and admire her for beauty, brains, talent, and strength! " said Mimi J, CEO of Grind Pretty. "We wanted to continue our mission of encouraging female entrepreneurship by pushing female-owned businesses forward and that's what we did with this collaboration."
Every quarter, the subscription service features various beauty and lifestyle products by female-owned brands. In addition to the Amara La Negra limited edition box, subscribers can also purchase this year's standard Grind Pretty Spring box.
The Amara special edition box has a retail value of over $150.00 and is priced at $34.99 including:
Juvia's Place eyeshadow palette – mini palette
Mi Amor by Amara Lipstick – full size
Gleam by Melanie Mills Body Radiance – deluxe size

Her Given Hair Satin-lined headwrap + 20% off coupon

Wells CBD Facial Glow Spray – full size 
"I Like It Black" Russell's Coffee 
Grind Pretty Logo Mug
Grind Pretty Magazine Spring Issue Download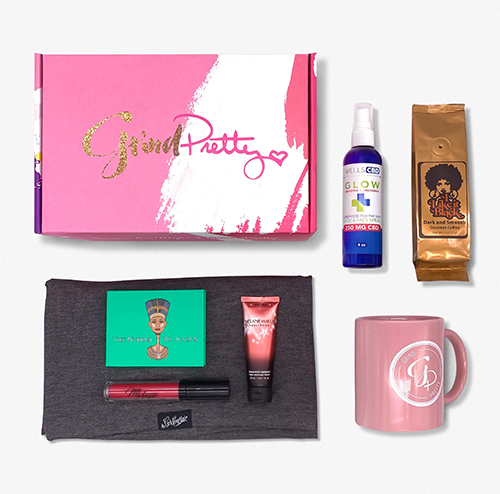 Grind Pretty's subscription box provides helpful tips and advice from beauty and lifestyle industry entrepreneurs, products sold by female-owned businesses, as well as its industry magazine that profiles the women whose products are included in the box.
Grind Pretty was founded by Mimi J, an accomplished makeup artist, entrepreneur, and owner of The Glamatory, a Smyrna, Georgia beauty boutique. Designed with the goal of helping other female entrepreneurs realize their dreams of building their own businesses and leading their most authentic lives, the online platform seeks to connect business experts and aspiring entrepreneurs with one another. Grind Pretty provides a wealth of helpful resources, including blogs, instructional videos, exclusive business-building tips, beauty advice, and more.
The quarterly Grind Pretty Subscription Box can also be purchased at $89.96 for a yearly subscription. To learn more about Grind Pretty, and its quarterly subscription box, click here!
Featured Image by Drea Nicole