OWN'S Love and Marriage Detroit heats things up in the love streets and casts a beautiful light on the city known for its grit, glamour and black cultural excellence. Chronicling three successful black couples, SHEEN MAGAZINE caught up with husband and wife power duo Russell and Kolby Harris as they wrapped up the 'Reunion Special'. Russell, the CEO of an emerging non-profit and Kolby a boss social media influencer together have one young daughter. The Harrises gave us the tea on the reality of marriage, communication and finances beyond the veil of social media. But first let's get to know them a bit more.
Who made the first move?

Russell: There are two different versions of this story. She liked a few of my pictures. Now I jumped in her DMs, but she started it. She liked (10) of my photos and when you like (10) pictures, somebody is trying to holla.
Kolby: Ten is crazy. I would never like nine photos of anybody.
Russell: The number is in the air, but I did slide in her DMS.

What was the first date like?

Kolby: The first date was basic.
Russell: Stop, come on. (laughing)
Kolby: He asked me out and we went to Savannah Blue.
Russell: Savannah Blue. There was nothing basic about Savannah Blue.
Kolby: Yes, it's one of our favorite restaurants to this day. He wined and dined me really good and I was just smiling all the way back home.
Who's always running late?
Russell: You already know the answer to this one Leslie. Kolby.
Kolby: He's always late.
Russell. Come on now. Come on now. Look at me. I'm in the military. Being late is not even a thing.
Who's the better cook?

Russell: She cooks. I'm better on the grill.
Who has to have the last word?
Russell: Pointing to Kolby—she just doesn't know how to let it go.
Who's more romantic?
Kolby: Probably me—Russell agreeing with her.
Kolby: There are times when he surprises me. He will go get me something to eat that I really wanted. He'll go grab Starbucks and surprise and it's like I love you.
Russell: Her love language is a little different. She enjoys quality time.
Kolby wants me to be like this all day (huggy) and I can't really do that, but I make sure we have the necessities we need to be able to live this life.
And not just the necessities, I make sure we have the luxuries and that means sometimes I have to sacrifice those things to be able to get the other things.
Kolby: Russell's love languages are physical touch number one and acts of service.
Who spends the most?
Russell: In terms of money—Kolby.
Who's the better driver?

Russell: Of course I am.
Kolby: No. Russell is speedy Gonzales. He is a very impatient driver. I am a very cautious, patient and safe driver.
Who likes to stay in the most?

Kolby: I like to be inside. Russell on the other hand likes to go to everyone's concert, everybody's shindig and everybody's party.
Russell: Yes, I like to be outside. I could be at Hart Plaza right now if there was something going on.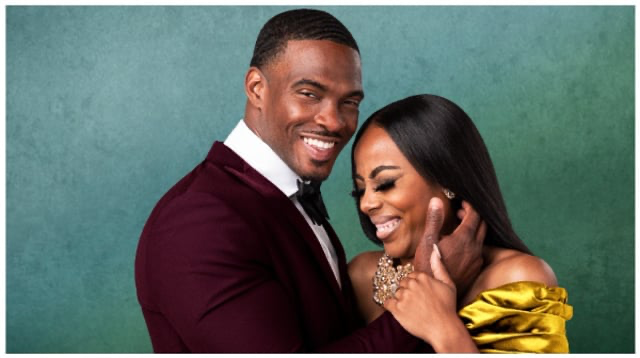 SHEEN: Congratulations on being on the Oprah Winfrey Network. This is a big deal. Talk about how this came to be and if you had any trepidations with going public about your marriage and relationship.
Russell: We had a couple sets of friends who were asked to be part of the show and for whatever reason one set of friends said they couldn't do it.  The Smiths whom you know pretty well Leslie told us about the show. I said absolutely not. I said we're good. My wife with her convincing ways got me to see what the opportunity was really worth versus what I was thinking in the back of my head. My trepidations were definitely around people being in my business. I'm already a public figure. In all, we did it and we're glad we did. It was definitely a learning with curve having cameras in your face. You have to watch the way you hiccup and yawn. It was a fun experience for sure.
SHEEN: In a world where social media 'defines what love is', tells you how to love and what is proper, without that influence how did you know that Kolby was for you?
Russell: When we met, I was in a low spot. I needed help, I needed to grow up and I needed to mature. I needed something in life. She brought this calm, this resourcefulness and this care and nurturing to my life that I hadn't experienced collectively—and then I said, oh this is what love feels like.
When she walked in the door, my first time seeing her I said she might be wifey. I was young around 27/28 and this is what I was thinking at the time but didn't really put any action behind it.  We dated and I asked her to be my girlfriend and then two years later I proposed. Five days we got married.
SHEEN: Five days later?
Russell:  I proposed to her May 4, 2019. We got married May 9, 2019. We went to the courthouse and said if you love me, I love you, let's do it.
Kolby: Part of the reason why we did that is because we wanted to buy a house and we wanted to do that process together. We had already been looking at a house. We were not planning to have a big wedding until 2020, granted the pandemic came. We consulted our parents and they were in agreement with us.
Russell: Yes, and I would just say that the house was one of the factors. It was not the only factor. We were so in love at the time, and we were also trying to be great Christians. We were abstaining and it was hard. We were into it for about a year and it helped that I went away to military training and when I got back, it was hard.
SHEEN: Kolby what was your assurance from Russell that you would be covered and protected as a wife?
Kolby: Russell had changed a lot. When I met him, he was in a dark space. He was going through a lot in his personal life and a lot of it was transitional. I was able to witness those things and I watched how he handled those things with so much character. To see how this man was handling adversity was admirable. He had done so much about making plans, preparation, and he was intentional about his true desires. If a man wants you—and I tell people this all the time—he is going to make every attempt so that you know. He's going to get his bearings in order. He's going to ensure that you know he's making plans for you. And that's what he was doing. I told him that he can't be living in a penthouse suite. He moved, and all of those things were reassuring to me because the things I was telling him, he was listening to me. When I saw that he was taking those actions steps to make change, I said okay. I ended up going to Dallas to visit one of my girlfriends. While I was gone, Russell went to my church and he actually joined my church and that was the icing on the cake for me.
SHEEN: You're both professionals at the highest level. How do you each balance work, engagements, family and make time for love?

Russell: It's definitely challenging. Being entrepreneurs, being professionals, being parents and being all the things. It's a day-to-day grind. I think the easiest way for me to sum up how we balance is that it takes the Lord. First of all, keeping us in the space of what the foundation of us really is and what it's related to. And that gives us the freedom to be able to do things and know that He has our back.
Kolby: I will piggyback and say that it takes a village. We have such an amazing community and tribe. Between our parents, God-parents and friends; we have so many good groups of people that we're able to lean on.
SHEEN: There was one point on the show where things were discovered in the marriage that weren't discussed as a unit. How did you all handle that?
Russell: I think the most challenging point for me that I didn't know would be an actual issue would be the communication piece. I thought that I was fine not telling my wife about Divinity school. I thought that it would be an acceptable thing because it was for the Lord. Lo and behold I found out that it was something totally different, but that communication barrier even in talks about the gym and not sharing the gym thoughts with her provided a different opportunity for us to have some bumping of the heads.
Kolby: I think that was a strong struggle as a couple. I feel like Russell could have been a better communicator. Why am I finding these things out on the show?
SHEEN: What do you think you've learned about yourselves individually since becoming parents?
Russell: That's a great question.
Kolby: I don't think I've ever even answered that for myself.
Russell: My patience has grown tremendously with life. After having my daughter, I became a very patient person. You're a tough guy before having a daughter and when you have her, you become a teddy bear.
Kolby: I've grown by becoming okay with things not working out the way I've always wanted them to work out. That's a hard assessment because I feel like I do have a ways to go. I'm not where I was and I am so proud of that.
SHEEN: How has being around the couples on the show helped your marriage?
Russell: Being in close proximity of folks who have been married longer than us, you learn the dos and the don'ts. For the most part, it has been positive. We love the Thompsons. We got close to them because of the show. They have been married for 14 years. We look at both sides, the positives and negatives, and for me personally, I learn from both couples about what worked and what didn't work.
Kolby: We learned so much—how to move, how not to move, what not to do to your spouse. For example, I would never pierce my husband by saying that I can have any man that I want. There have been times where my husband has pissed me off and sometimes as wives, you want to say things that will make him feel how you feel. I have learned that no matter how angry I get, I could never pierce my husband in that way. And that was just like a revelation and self-learning moment for me.
SHEEN: Finances garners so much debate on social media surrounding dating, marriage and who pays all the bills. The narrative is that the man should be doing everything finance wise and the woman should have a life of ease. Is this reality in a marriage?
Russell: Absolutely not. Whatever works for others works for them. We would never condemn folks for having their own systems in their own houses, but in our home, it is a collaborative effort. We have an account that we pay things with. She makes money and I make money. We know when the money is coming in and we also know where the money is going. It's a collaborative effort for sure.
Kolby: I left Corporate America this year because of my entrepreneur endeavors. And even though I wasn't where I wanted to be, Russell still gave me the green light to go ahead and pursue my dreams. With me doing that, it's added a little more to his plate, and even with more being on his plate, he is super – super gracious with me. It's never a thing of where you can't do this anymore, you can't get your nails done or no more  pedicures for you. It's a thing of just communicate and let me know what you have coming up so that I can make sure we're good and that no bills are going to be missing and we're going to eat. I'm just grateful for his leadership in our marriage and allowing that freedom and flexibility.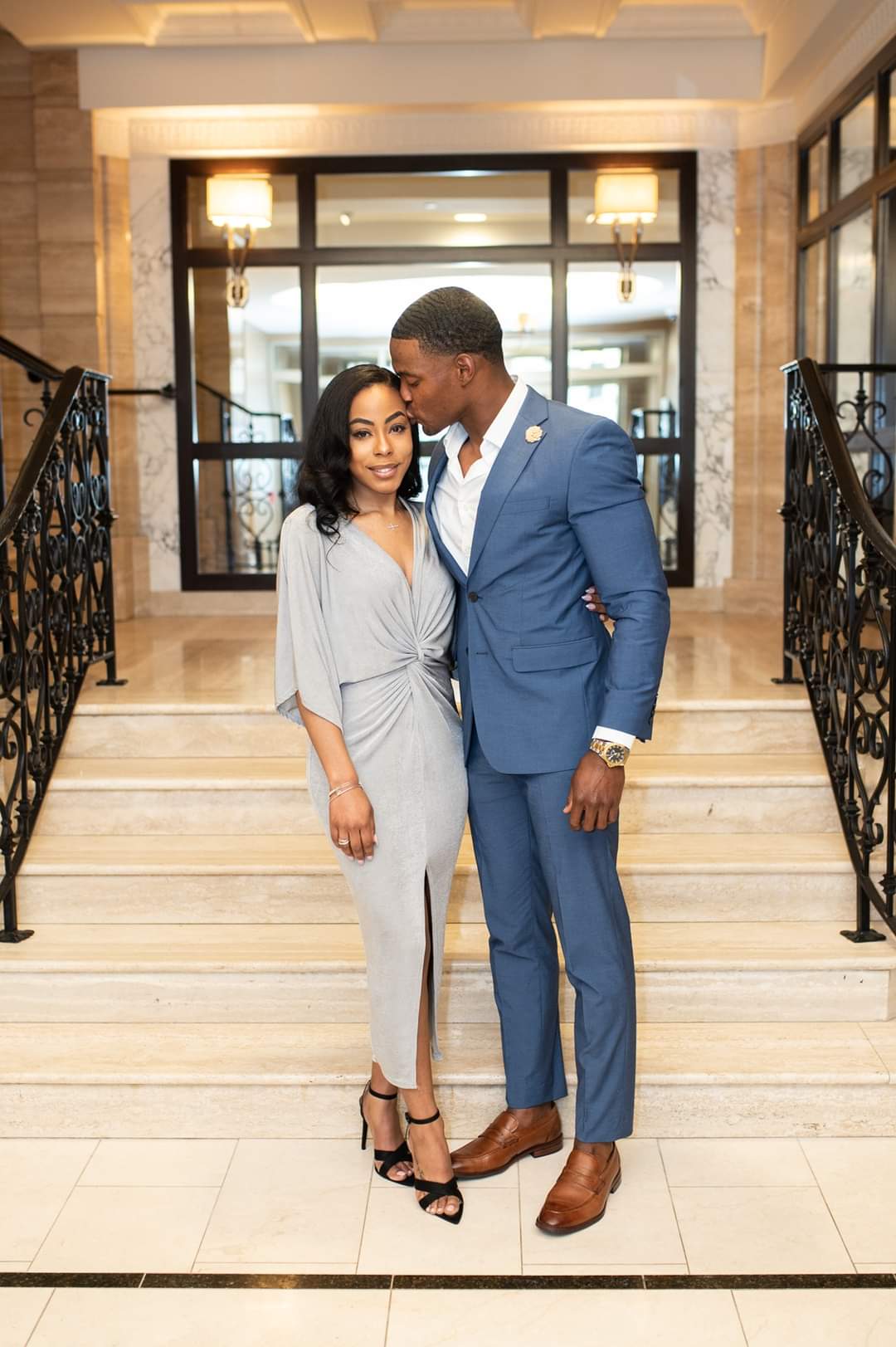 SHEEN: Speaking of leadership, you both share Christian values and it seems as though you both submit to one another.
Russell: I think marriages are great because individuals serve each other. It's a life of service. Even at times when you don't want to. The thing that makes us function and okay is that at the end of the day we are willing to serve each other.
Kolby: Russell came in one day and said, hey I'm hungry and I just went and made his plate. I hate when I make his plate and he gets in the shower or does something else because I want his food to be hot because to me that's an act of love. I want him to have hot food, not lukewarm food. It's an old school thing that my grandmother told me that you're supposed to eat your food hot because that's how you know it's fresh and made with love and so that's always in my head, and it's an act of love for me.
SHEEN: What words of advice or books can you share with couples who are dating specifically with a purpose to marry?
Russell: Love is like a muscle. You have to keep it under pressure and you have to keep training it. And its through the heavy weight, through the pressure, the tension (Kolby smiling while squeezing his muscular arms) and through those things that you get the results that you're looking for. Nothing against folks who are living a sedentary lifestyle or sedentary relationship, but if you're not putting the effort in, don't expect it to be anything more than what you put in it.
Kolby: I would piggyback and say to what we said earlier. You have to serve one another. Russell does a lot that he doesn't want to do. I take a lot of pictures. Russell hates taking pictures, but he knows that I have to take pictures because I am a social media influencer. Lately these past two years, he does it with a smile. And those are the things that I appreciate. You serve each other because you know that's what the other person likes.
You mentioned books and I have been reading Marriage Be Hard, by Kevin and Melissa Fredericks—and y'all. It's so good. It talks about everything from sex to family. It goes into everything, even things you don't think about in your marriage before you get married. Some of these things Russell and I were dealing with and I'm like I thought this was just happening to me but no it's happening to everybody. It gives me so many tools and resources. It's also Christian-based so it points back to scripture which allows you to study your word and dig a little deeper. I would definitely recommend that book even if you're not married yet because I think it has a lot of gems in there to help you as you start planning and preparing for what marriage could be for you and your future spouse.