The summer has finally arrived ladies & gentlemen, and when you as you prepare for your summer trip getaways I hope that you all are taking the necessary steps to care for your skin. Over the years I have introduced you all to some great projects, however, Herb 'N Eden takes front and center.
Founders, Terran & Quinton Lewis's story is definitely a true inspiration. Herb 'N Eden sells a wide range of natural products including bar soap, body wash, scrubs, oil and butter, lotion, and bath salts. My absolute favorite product is their South African Lavender Soap and their Lavender & Geranium Body Oil.
Last year when the pandemic hit, Herb 'N Eden did hit roadblocks but they kept things moving and recently opened a new warehouse while creating opportunities for 35 people to work for this amazing company. Talk about choosing Faith Over Fear this company is growing and showing no signs of slowing down. Check out my interview with the dynamic couple below.
Tell our readers how Herb 'N Eden got started.
Herb'N Eden got started with me wanting to learn a skill. I went to Barnes & Noble and got a craft book, came across soap making, and followed instructions to make melt and pour soap. Fell in love with it from the first bar, when I realized I could use herbs and essential oils in soap, which we use daily. Quinton suggested I should start a business. From there I learned to make soap from scratch from a soap-making kit. Bar soaps have been the staple for years and eventually, we branched off to make other complimentary body care products.
As a married couple in business, what are the benefits of working together?
The benefits of working together are that we can be around each other often, we know each other very well, the skills that we have are very complementary to each other because he does marketing and knows all the business ins and outs, while I develop the product and have the brand vision. We can always bounce ideas off of each other, and we are on this interesting journey together.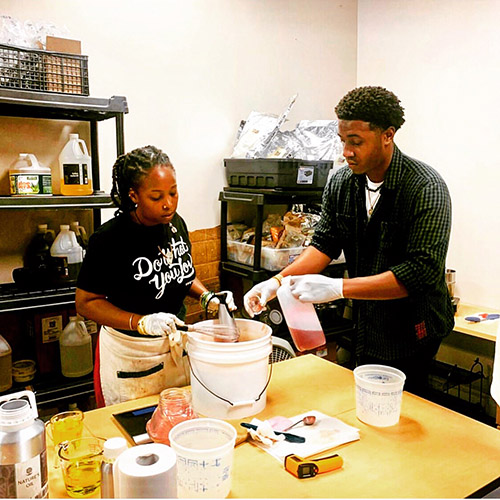 What are your favorite three products & why? What are your top sellers?
My three favorite products are tea tree and turmeric face wash, citrus hemp soap, & lavender, and geranium body oil. Top sellers are tea tree and turmeric bar soap and facial wash. Our bar soaps are really our best sellers such as activated charcoal, lemongrass & patchouli, oatmeal honey.
What have you learned about the business that you didn't know pre-COVID?
Covid really put pressure on us, so it stretched us to a new norm versus what we were used to. The main thing I took from it, was that storms don't last always, and if you stay persistent and keep working on improving every aspect you will make it through. 
What advice would you give future entrepreneurs?
Give it all you got, constantly work on bettering yourself. Concentrate on branding more than sales, be authentic and build a community of loyal supporters. Also, rely heavily on content creation.
What is the best advice that you both have received during your journey as an entrepreneur? 
Stay direct to consumers as long as you can and build that up.
What's next for Herb 'N Eden?
Herb'N Eden plans to be a household name, so we will continue to release products and take over as much of the bathroom as possible. 
Keep up with the amazing brand on social media: @herbneden. Visit the Herb 'N Eden website and YouTube.
Featured Image by Nadia Ancohie