Ahead of the premiere of the third spinoff of Power, Power Book IV: Force we were lucky enough to sit down with actor, Isaac Keys to discuss his role in the new series. Keys portrays Diamond – a Chicago native who spent 15 years imprisoned as he served as the head of Chicago's most promising crew that took over the entire city. In our exclusive interview, he shared a little more about his character, what you can expect to see, and much more!
Tell us about your role in Power Book IV: Force.
I play a character named Diamond in Power Book IV: Force. Diamond is a Chicago native; he takes a lot of pride in his city. He has a lot of pride in Southside Chicago for sure. He runs an organized crime syndicate. He has a lot of pride, but he's caught up in the life of the streets – it's something he's always known. It was just the best way he knew how to survive and was a way he could provide for his brother and other people around him. He tries to keep the neighborhood up, although he's involved in drugs and things of that nature. I think he battles with a lot of his morals and values. He wants to do the right things but is caught up in wrong situations. Though he makes the best out of those situations, he has a lot of layers to him. I think it's going to be great to see how they're all peeled back throughout the season.
Can you tell us what we can expect to see on this spinoff?
A lot! This is a fan-favorite! This time, it's in a different city – it's always been based out of New York. It's a whole new adventure. You're going to see a lot of the same action, if not more. You'll see some deceit, love, resiliency, and all-around how relationships and evolve and deuterate over time. Everyone has a motive or an agenda they're working on, I think that's what is going to make everyone excited and keep them on the edge of their seats.
What was it like filming during the ongoing pandemic?
A lot of COVID tests (laughs). That's the main thing. We took a lot of COVID tests. We had three mandatory: Monday, Wednesday, and Friday; whether you were shooting or not. If you shot on one of those days, you had to take a rapid one. There were a lot of tests, but production and the health and wellness crew did a phenomenal job. They kept us safe. It added a layer of intensity in a way. We had to wear masks, but I used the situation as my character throughout the day.
What can we look forward to seeing from you in 2022?
I love right now that you'll see me in Power Book IV: Force. That opens up 2022 with a phenomenal show. Right now, there are things and passions that I'm doing. I've been catering a lot to myself health. I want to do more speaking engagements and mentoring kids. We'll wait to see what comes. There are two projects on the table right now but that takes time and right now, we're just riding with Power Book IV!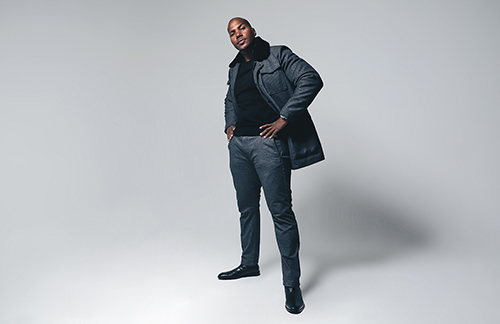 For more on Isaac Keys, follow him on Facebook, Instagram, & Twitter.