Dr. Robin B is a pharmacist, entrepreneur, fitness enthusiast, podcast host, and social media influencer. Dr. Robin B has created her own lane in the health and beauty space by aligning with missions that promote holistic health from the inside out. She has taken the fitness world by storm by partnering with top fitness companies like 1st Phorm and Buffbunny Collection. Fashion is also a passion of hers which has given her the opportunity to work with renowned brands like Pretty Little Thing.
Can you tell us more about who is Dr. Robin B.?
I'm a pharmacist, entrepreneur, fitness enthusiast, podcast host and social media influencer. I've created my own lane in the health and beauty space by aligning with missions that promote holistic health from the inside out. My medical knowledge has also afforded the opportunity to create and produce my very own skin care brand called "Muze Labs" @muze.labs. I am a philanthropist and community leader who has curated multiple service initiatives in the underserved community, most recently, sponsoring events at a transition home in Los Angeles called The Alexandria House.
Growing up, had you always aspired to be an entrepreneur and work in the medical field?
My desire to work in the medical has an evolution that began in the 8th grade where I had the opportunity to obtain my first internship at a Pediatric Medical Center. From that point on I did numerous internships and paid jobs in the medical field through college to figure out what I wanted to specialize in. My entrepreneurial journey began in undergraduate studies at Syracuse University, NY where I achieved a Bachelor of Science in Biology and started my first clothing business. Immediately after graduating, I took my education pursuit to Los Angeles, California where she attended UCLA Pre-Med program to enhance my education in the medical field. After completing that program, I matriculated in the Loma Linda University Pharmacy program in California. I feel that my desire to work in the healthcare industry was impacted by my love for science and people.
Being a pharmacist, can you tell us how you got interested in the fitness arena to create a fitness app?
With my love of science and people helped assisted pursuing a career in pharmacy as well as a fitness enthusiast. With my extensive experience as an athlete with competitive cheerleading, ice skating and soccer, which has enhanced my athletic abilities and love for fitness which I take great pride in transforming my body through proper nutrition and regular exercise. With understanding that the wellness of our bodies must align with proper nutrition and self-care, my passion as a pharmacist is not based on medicating our pain but enriching our body through education, consistent workouts, mental stability, daily meditation and fueling our body with embracing healthy eating. The Dr. Robin B's platform promotes healthy living, and it is comprised of stimulating the "mind, body and soul" which is the foundation of her desire to train, teach and mentor others by combining her passion for science and exercise.
Can you tell us a little more about your Fitness App, and how it feels to know that you've made history being the first black pharmacist to launch this type of app?
My app is something I always wish existed in the fitness world which are workouts that are quick and effective for busy lifestyles. Being a doctor and influencer, I don't have much time to devote to the gym but I still want the results. These programs are intense enough to transform your body no matter what fitness level you start at. This app will be updated regularly with new and exciting exercises that will challenge you as you progress. Being the first black pharmacist with a fitness app is overwhelming yet important. I want to represent pharmacists as more than "pill pushers". We do and know a lot more than people think, it's time we share that information. I'm honored.
You also have a beauty line called "Muze," what was the inspiration behind creating this line?
My medical knowledge has afforded me the opportunity to create and produce my very own skin care brand called "Muze Labs". The creation of this magnificent brand has been my greatest accomplishments, because I was able to marry my passion with my career and utilize my skills as a pharmacist to develop my very own all-inclusive, gender neutral, clean skin care line to support all skin types for all people. This has also allowed to be the Creative Director for all my campaigns, which has been an asset to her brands and digital reach. The Muze brand is focused on the active individual who has a busy lifestyle but cares about a repeatable, easy and one stop skin care routine for athletes as well as the on-the-go entrepreneur.
How would you say that your beauty line and fitness combine to truly help people become a better version of themselves?
I believe that beauty is inside-out and although cosmetics may enhance the external reflection of someone, you have to start with a clean canvas – hence the word "muse" which is an artist's subject. We are all "muzes" and we must ensure our skin is clear and healthy especially when combating sweat when working out. The collaboration between the Muze Labs and the Dr. Robin B fitness app provides the marriage of healthy skin, a physically fit body and healthy lifestyle.
What can people expect to gain from your fitness app and how would they connect or join it?
The Dr. Robin B fitness app is for busy professionals or entrepreneurs looking to transform their bodies in a short amount of time. Aligning with mind, body and soul, my app will also offer nutrition, intermittent fasting guides, and recipes that are easy to follow. My goal is to share my transformation secrets that worked for me! You can visit www.drrobinb.com to sign up for only $1 for the first month.
The Dose Show is also your podcast, can you tell us what you mainly speak about or touch on there?
The Dose Show podcast @thedoseshow on YouTube was established to provide a platform for influential guests and celebrities to provide insight on topics such as film, music, health, medicine, personal relationships, and career planning. Now, my newest series "Learn N Burn" involves interview style questions while and medical trivia while doing a workout. It's challenging and super hilarious to watch.
What would you like our viewers to gain from this interview?
It is important that others understand that I live my life by giving back to others as a philanthropist whose primary desire is to provide education, wellness advice and personal enrichment to others so that they too can embrace a holistic lifestyle.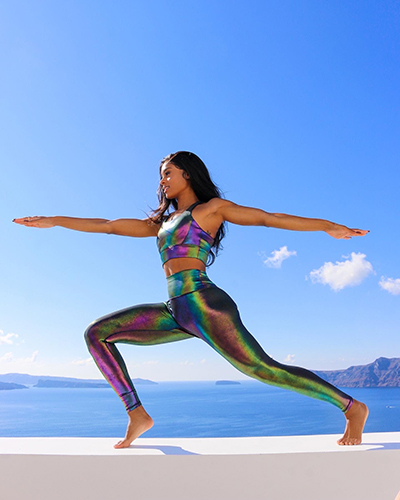 You can find all things Dr. Robin B by visiting her website or her Instagram.
All images by provided by Dr. Robin B