Producer, dancehall star, and video director Demarco is truly a man of many talents. In the world of entertainment, he's admired for his signature style in producing, his brilliant merge of reggae and afrobeats, and so much more. He's written for notable artists such as Bounty Killer and Rihanna and his ten plus years in the music realm speaks for itself. In our exclusive interview with Demarco, he opened up to us about his start in entertainment, what it's been like being a creative during this time of COVID-19, and much more!
Do you mind sharing your start in the world of entertainment as a producer and video director?
Well as a producer, growing up I admired this producer named Dave Kelly. He's a well-known producer from Jamaica. I used to tell myself that I would become a producer one day. At 16, I migrated to America, where I met people in the rap game. There was a beat machine called MPC2000. I was going around and learning the beat machine and program. That's how I started. I learned drum programs and played the keyboard and that's how I started as a producer. As a video director, I'm always the person that wanted to be hands on. From the beginning, I always said that I didn't want to depend on anyone. I wanted to do it all. I learned how to record myself and become an engineer. I learned how to write my own music and everything. I wanted to be hands on with visuals and everything. Someone invested into my brand, and I bought all the equipment and learned how to use them. My love for visual arts was really what made me become a director. I invested in myself and started shooting my videos until I began shooting videos for other people such as Spice, Shaggy, and more!
How would you describe your style of producing?
My style of producing… I would say that I can produce any type of track. From a dance track to a pop track to a reggae track. I pretty much can do it all. I would describe it as all-around because I love music and creating. I listen to all genres so I am versatile.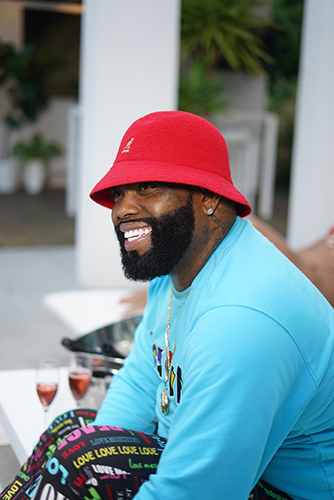 How would you describe being a creative during this time of COVID-19?
That's where learning how to do everything benefits me now. In the beginning of the pandemic, there weren't any shows. I have many different types of cameras and I know how to use them. I began my YouTube channel and documented making beats from scratch. It's a whole production. I was doing it all because I just love what I do. Visualizing audio, recording, engineering, everything. The show is called Demarco on the Beat and that's how I got by during the pandemic. It ended up getting a lot of placement and features.
What are you currently working on and what can we expect to see from you in the rest of 2021?
I'm currently working on my album, it's finished! We put out four singles so far so two more are coming. The album drops on October 22nd and it's called Melody. Right now, I just dropped a new single from the album called "Rider." It's on all major platforms and the music video is doing pretty well. For the rest of 2021, I'll just be promoting the album and getting it out there!
For more on Demarco, follow him on Instagram today.
All images by @obinxtdr