We had the chance to catch up with model, actress, and entrepreneur, professor Honey,  and we tapped into her business mindset and industry-shift strategies!
Nerissa Reaves (Professor Honey) has always been admired and paid for her physical appeal; however, she knew there was much more to her value and we couldn't resist the opportunity to get insights on her navigation through entertainment, beauty, and business!
Good credit is sexy and so is generational wealth! — Born and raised in New Haven, CT by a single father who encouraged her to make education her number one priority in life, Nerissa was destined for greatness. Although her academic affairs were a great financial sacrifice for her father, he made sure that she studied at the best schools and opened her mind to worldly experiences. For example, Nerissa knows how to speak fluent Japanese and even had the chance to work as a translator for the Japanese Consulate. Therefore, his guidance prepared her well to gain the skills necessary to be the millionaire that she is today!
Her education includes a B.A Spelman College Magna cum laude and M.S from the University of New Haven Suma Cum Laude along with many other recognized certifications. Some of them being Alumni of Goldman Sachs 10,000 Small Businesses, Alumni of Leading Educators, Certified Japanese Fluency Level 4-Japanese Consulate, Franchise Owner with Novae Money, an Inc 5000 inductee-fastest growing private company.
After achieving all of her academic success, Nerissa came to the realization that there is a serious lack of financial education in our school systems. It drove her to become a part of changing the narrative by helping this generation and those to come elevate their knowledge in financial literacy. Aside from educating strictly finances, Nerissa strives to emphasize the importance of having the brains to match your beauty to women and young ladies. As a model influencer herself, she knows all too well of the stereotypes a woman can fall under, which is why she feels that it is important to level up your mind.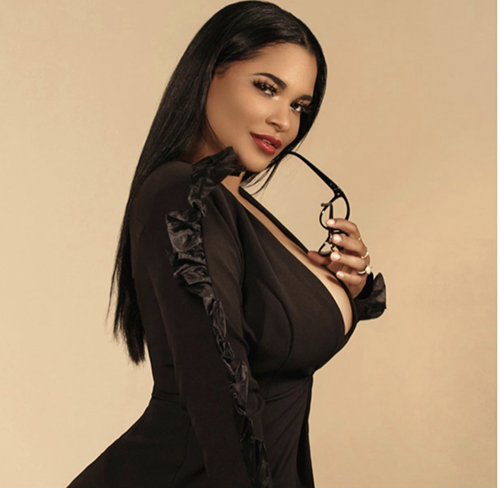 What are some tips you have for women looking to expand outside of the modeling industry and become a leader in business?
Ladies, I want you to recognize your POWER. It's wonderful to have a man who can be a king to your castle. However, I want you to attract a partner who is going to respect your mind and your grind. This means-you can't rely on a man to fund your entire life and you can't present as a damsel in distress. Get out there and make it happen for yourself. You can do it! Watch how the quality of men who approach you improves significantly because you're presenting as boss. If you are currently modeling and using your physical beauty to build your brand or attract a mate, consider adding a bit of mystique with sexy blouses, and attire that still shows your sex appeal without revealing all of your beautiful secrets. Leave something to the imagination. Also, use your platform to share how smart you are, too. Share stories, fun facts, inspiration and other passions that involve you sharing your heart-not just your body. Trust me on this ladies. Rebranding myself took a while because of some of my previous work and I don't want you to have to work harder-just smarter. Being sexy with sophiscaiton and class will allow you to start carving out your niche which will lead to you being an expert or spokesperson in your field of passion.  I want us to level up and show the world that we are capable of collective feminine power and that we are forces to contend with. 
We love that your journey is back with so much education! What was college life balance like for you and how did you stay motivated completing your degrees?
College life was amazing! I got my undergrad degree at Spelman College in Atlanta, GA so those years were full of rigor and fun. I have always been a determined lady who accomplishes any goal that I set for myself so getting distracted was never an option. Also, the Spelman culture was very collegiate and provided a perfect school life and social balance. My course load and my wonderfulprofessors kept me on track. From there I secured other degrees and certifications from other schools and universities around the country and the world-but I've always kept the same determination and attitude. 
How important has branding and marketing been to your overall journey?
Branding and Marketing are the KEYS to building a brand properly. There are tons of people with great business ideas and platforms but because they don't have the network and team behind them to really help them grow, they are left struggling. In today's society, there are so many digital and social platforms to use that allow you to showcase who youare and what you do. These tools can make you a millionaire overnight. But you have to use the proper algorithms, content, camera…heck, even the proper lightening to leverage those platforms effectively. I would advise any brand ambassador or budding entrepreneur to surround yourself with individuals who are experts in their respective fields to help your brand blow up-and this doesn't have to be costly. There are plenty of young people who are willing to intern with you and get behind your brand for minimal cost and some shout outs. In the meantime, find a mentor that you admire and follow their work online. Don't recreate the wheel-just do exactly what they did and put your own unique spin on it. 
How does it feel to have the freedom to be a both a creative and a strategist in business finance, as a woman of color? 
I feel strong and empowered every day! I also feel pioneering because I know there are not many women who have showcased "brains & beauty" in the ways that I have. But honestly, I also feel like there is a lot of responsibility on my shoulders because I know I've been called to help my people change the trajectory of their lives and break generational curses. Sometimes, the pressure of how much needs to bedone overwhelms me but there is nothing I'd rather be doing in this world. I look forward to learning more, sharing more and growing more as a servant leader. I feel like I am just beginning. 
What do you have to say to other multifaceted women who may be facing challenges with maintaining multiple gifts and passions?
Do you, sista! Do not let the world define you or box you in-because it will try to. You are so beautiful and so special that you have been called by the universe to share your multi-faceted dimensions without self-limiting boundaries or beliefs. Make smart decisions but don't feel pressured to fit into the confines of what others want for you. Tap into your goddess energy as soon as possible and let that guide you. To do this, create a schedule that has self-love built into your routine every day. This will allow you to create a confident, protective shield around yourself so when you go out and let your create juices flow, nothing or no one will be able to penetrate that. 
What's next for Professor Honey and how can our readers stay connected? 
I would like to create an army of financial warriors who are passionate about changing the financial trajectory of our people. Right now, I am looking for men and women who are ready to be trained and willing to go out here and help transform the lives of others. Did you know that an 800-credit score is worth $100,000 in buying power? This means that 1000 people with 800 credit scores is 100 million dollars in buying power. We can change the face of our communities around the nation by putting millions of dollars of our own money into our schools, businesses, etc. This is not hard. We just need to come together and get it done. If you are interested in becoming a financial warrior on my team you can email me nerissa@professorhoney.com or follow me on IG @thehoneyloaf and send me a DM. I take the time each day to respond to all of my emails and DM's so you will hear from me directly.
All images by Moon Fire Photo