Social-emotional learning (aka S.E.L.) is the methodology of having the ability to comprehend your emotions and fully feel your own emotions while also showing empathy for others. This new methodology has been explored in student classrooms across the globe. At the height of the pandemic and new virtual learning process, S.E.L. lessons were mandatory to start each school day. New children's book author, Kimberly Waldren, took an extreme interest in social-emotional learning and decided to use it as the premise for her book. "Social-emotional learning is important for kids during our unprecedented times because it can help them develop empathy, increase self-control and manage stress," Kimberly Waldren expresses.
We're seeing a positive linkage between the use of S.E.L. lessons and student development. "The development of social emotions is linked with the development of the ability to imagine other people's mental states, which generally develops in adolescence," Waldren adds. "Social emotions can help children better understand and identify their emotions. It also helps them build better relationships and interpersonal skills that will help them succeed as adults," she continues.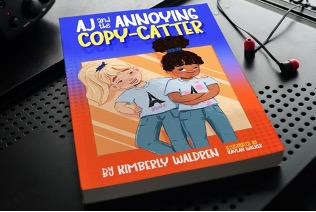 "A.J. & the Annoying Copy-Catter is about a young girl who recognizes a fellow classmate is being bullied (after a little detective work). After witnessing the cruelness, not only does A.J. realize her classmate needs a friend, but she also takes the opportunity to support her classmate by standing up against bullies," says Kimberly. Unfortunately, we are seeing more and more cases of bullying in our schools. Kimberly's new chapter book is a fresh take on combating bullying while highlighting social-emotional learning. "The story showcases how understanding and identifying not only your own emotions, but the emotions of others, can have positive outcomes," Kimberly continues.
Kimberly Waldren is actively working on book two in the A.J. series. Her next literary addition is set to release in late 2022. Connect with her author brand on Instagram as @Author_KimWaldren. Purchase your copy of A.J. and the Annoying Copy-Catter on Amazon and at your local Wal-Mart store. Get in touch with author Kimberly Waldren for an author visit, interview, read aloud and more by emailing her at PublishedByAJ@gmail.com.
Writer C. Scott is an authorpreneur, mom and freelance writer who also offers literary services. Follow her online as @curls_coils.
Photo Credit Courtesy of Kimberly Waldren and Starvin' Artist Graphic Design