Luxury Fashion Has a Whole New Identity with Luxe on 7th!
Eboyne' Jackson, a woman of God, first and foremost, is also a woman of many talents, a creative one, if you will. With a background in journalism and public relations, she has spent much of her career behind the scenes, cultivating brand and media partnerships for some of the biggest names in entertainment and beauty. She is also SHEEN Magazine's Associate Editor, and has also added the title of producer to her resume', something that many people may not know about her.
In addition, she is a serial entrepreneur with brands like Eboyne' Royale which features luxurious tresses and luxury "all-day waist trainers." She also co-founded Glam Beauty, offering the creme de la creme of 3D Mink lashes, a business that she started with her sister, Mariah Summerling, during the pandemic. With all of the things that she has poured herself into in her professional life, she has returned to one of her first loves, fashion. Wanting to provide luxurious looks with a price tag that women could live with, she put a lot of thought into every aspect of her new line, Luxe on 7th, so that it would be a true representation of her and the millions of other women like her.
Meet Eboyne' Jackson, creator of Luxe on 7th and preview an exclusive first look at the capsule collection!
What was it that made you decide that now was the time to start a fashion business?
Well, honestly before anything, I always wanted to be a writer and editor of course, and I have several businesses which I'm grateful for–my hairline, Eboyne' Royale and Glam Beauty, the brand I started with my sister, but my dream overall was always to be in fashion, for sure. Fashion has been my first love since I was a little girl when my grandmother would always make sure I was dressed to the tee.  Then, growing up and going to elementary school, middle school and high school, is when I really started to experiment with fashion and I would rip up jeans and deconstruct them, way before it was even trending like it is now. I would recreate pieces for all of my friends at school and add glitter and embellishments and things like that–Way back before it began resurfacing; I had been doing it, so this has been a long-awaited transition, for sure.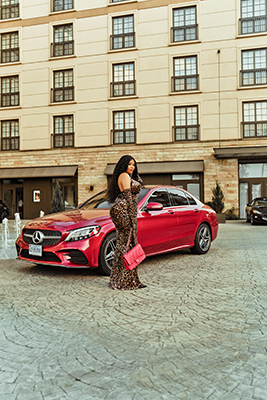 You named your brand "Luxe on 7th." Tell us more about what that name represents.
Well, I am very spiritual, and I love my relationship with God, and I wanted that to be represented in this line because that's who I am. The number seven represents completion and luxe, of course, is all about luxury. I wanted the name to represent the wholeness that I want women to feel, and the completion from the inside out when they put on our pieces.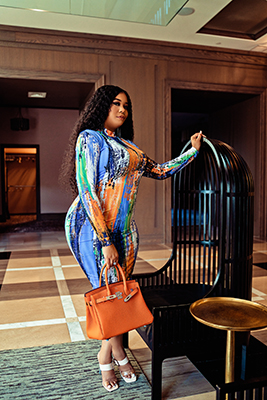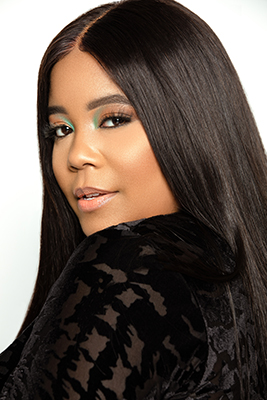 Tell us what we can expect from the new line.
I would describe the line as wholeness meeting luxury. Luxe on 7th is really all about self- love and all about embracing your beauty and femininity but in a way that is very timeless and classic. It's all about getting that look of completion. I think of a woman that is whole in herself, and knowing her identity and knowing who she is. Beauty is from the inside out, not the outside in. This line is all about self expression and knowing who you are and being self assured in who God has called you to be. Knowing who you are in God is an important part of women's identity and self worth. This is all about knowing who you are and showing up as her. I really think it is important for us as women to express ourselves in fashion in a way that is not forced. Women are beautiful in all sizes and body types, and Luxe on 7th is about being fierce, fabulous and whole and also being covered because to me that is the new sexy.
What types of pieces will you offer from Luxe on 7th?
The selections really capture a little bit of every different element in a woman's life. A lot of the pieces are definitely ready to wear. You throw it on and go. We do have a lot of really amazing pieces that could definitely transition into evening wear like the velvet dress that I've been wearing and in the ad campaign, a beautiful leopard print with matching gloves. I really love that one and it looks amazing and transitions well.  The pieces have classic looks and are so comfortable. It was also important to cater to women of all sizes. I wanted to be able to create something a woman could get no matter her shape or size so our sizes range from Small to 3X. I want women to feel beautiful in these pieces, and to feel like they are representing the best versions of themselves.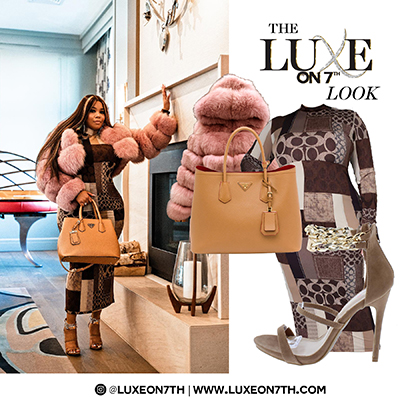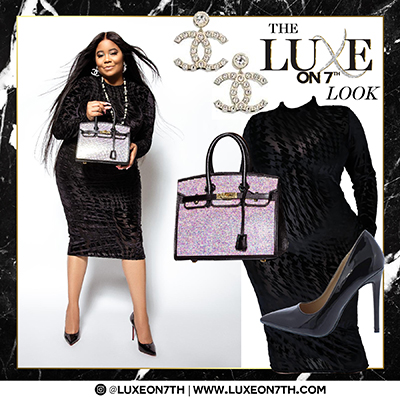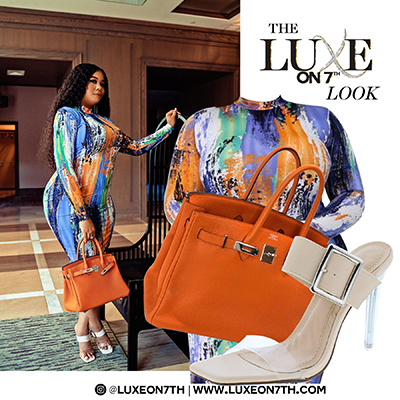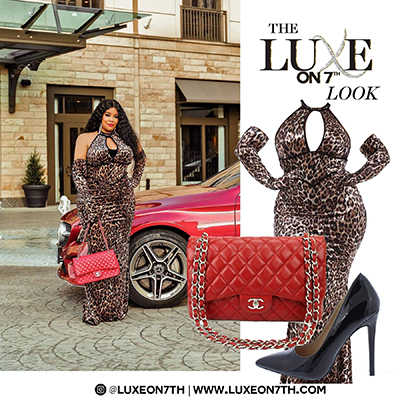 Jackson says that it was very important to her to make the line affordable. She recognizes that women that juggle many things and are responsible for taking care of home and sometimes a business, have to be money conscious so pieces range in prices as low as $12.99-$49.99 and up, and this includes shoes! Many women are resourceful and while they have the money to spend, sometimes we just may not want to. Jackson says that while she is the face of the collection and will be representing the brand starting out, we can expect some fire collabs in the future.
You can get your Luxe on 7th pieces beginning at midnight EST on June 11th at www.luxeon7th.com!