Lauryn is the CEO of Infinity LashWear which is a collection of luxury lashes. Infinity LashWear's mission is to raise the standard of luxury. Prior to starting Infinity LashWear, Lauryn has had over 10 years of experience in the sales industry. She also teaches other sales professionals how to properly position themselves to make sales and has leveraged her sales experience to build her beauty empire.
What inspired you to start Infinity Lashwear? 
The desire to show women that luxury is a birthright that every lady deserves. Society has shown women that we need to suffer and accept the status quo being offered in order to feel valuable. I was inspired to show women that they can have luxury in every aspect of their life, and by believing they deserve it, starts with their mindset. When you look beautiful you feel beautiful. Beauty is a state of being; confidence and allure are just the byproducts of your mindset shift. Sharing this message and encouraging women to put in the extra effort to look beautiful creates a ripple effect of positivity in their lives! Helping women look absolutely flawless in the process is just an added bonus! 
What are some new trends in the lash/beauty industry? 
The beauty industry is ever changing, specifically the emergence of faux lash extensions. A common trend is to put mascara on your strip lashes to give a more dramatic sultry look. Another popular trend that's here to stay is the all-in-one eyeliner and lash adhesive. Gone are the days of spending hours trying to perfectly secure your strip lashes. With Infinity Lashwear's magic liner you can now flawlessly apply your lashes in seconds and feel confident in the all day hold! 
What makes your brand different from other lash brands? 
There are many lash brands in the industry but what sets Infinity Lashwear apart is that we are timeless. Our beauty enhancing lashes are high quality mink that upgrades your look in seconds. Our signature collection of lashes were handcrafted for every eye shape; whether you have almond eyes, monolids, or round eyes there is an Infinity lash style specifically designed for your eye shape!  
What advice can you offer for other women who would like to start a business?  
Stay true to your mission and your brand, in the ever-changing world of business this will separate the good brands from the great ones! Know your audience and study them! What motivates them, what inspires them, what intrigues them. The more you know the more you can grow with them and expand and scale your business.
Stay consistent, this may be the hardest tip for new business owners. Don't get overwhelmed by the lulls in sales, keep your head down and focus on your goals. Consistency will always pay off.
Followers don't equal sales. This is very important, because we live in such a socially digital driven society, we often get caught up in appearing 'popular' on Instagram, Twitter, Facebook, etc. and we struggle to convert those followers into sales. This happens because your marketing plan isn't created with increasing revenue as the goal. Get very clear about your goals and implement a marketing strategy that helps drive sales not followers.
What can we expect from you and your brand next? 
We are expanding our catalogue to include an added line of dramatic luxe lashes for the ladies who want the ultimate glam! These sexy, sultry lashes will compliment your face and give the added drama you've been looking for; think red carpet! Stay tuned for our new VIP collection coming Spring 2022!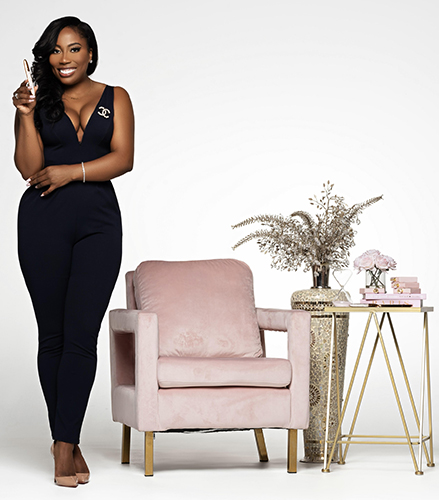 For more information, click here.
All images by Thomas Kirk