Earlier this month, music sensation, Chrissy released her newest project titled, Organic and naturally, we wanted to learn all the details. With her soulful, dynamic voice Chrissy has captivated her listeners and music-lovers across the nation, reminding us that music means more than mainstream attention. In our exclusive interview, Chrissy opened up to us about Organic, upcoming projects, and more!
Tell us about your new project, "Organic."
"Organic" is a chill project. I say it's "vibey." That's really how I would describe it. It's about love and good vibes (laughs).
Do you have a favorite track on the project?
I personally would say "Love on Me" is my favorite. It's my favorite because I feel like I can relate to it. Being in a relationship, you just want to be loved on as a woman (laughs) by my significant other.
Tell us what we can expect when we see you in the musical film, Howard High.
Howard High is a musical. It is fun, keeps you on your toes, and you will never get bored. There is a lot of singing and dancing. Truly, it is a beautiful project that I feel so honored and privileged to be apar of. I love the cast so much. They are now like my family. I think everyone will love Howard High because it's positive, fun, and includes great music.
Can you tell us about Chrissy Cosmetics?
Chrissy Cosmetics is an organic makeup line. It includes lip colors, lip liners, highlighters, and the list goes on! I think everyone will love it. I love makeup (laughs).
What are you working on now and what can we expect to see from you in 2022?
I've been working on Chrissy Cosmetics and more music. I would love to release more music at the top of the year. I will be getting ready for the release of Howard High as well.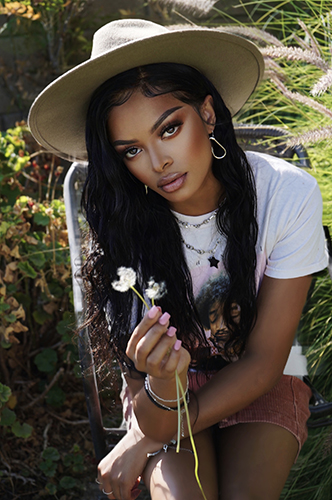 For more on Chrissy, click here.