You may recognize Leisel L. Taylor from her appearance on HGTV's hit series, House Hunters – but beyond that, she's surpassed many of the goals she's set for herself in the world of real estate. Today, she is one of the top 20 producing agents in the state of Maryland and her expertise and gentle and humble personality is truly what sets her apart from the rest. I was lucky enough to sit down with Leisel L. Taylor recently to discuss her start in real estate, her activation of boss-mode, and much more!
Tell us about your real estate brokerage.
The name is Village Premier Collection Maryland. It's located in Lanham, Maryland. Village Premier Collection specializes in residential and commercial sales. Our agents serve Maryland, Virginia and the District of Columbia. To give you a little information on the brokerage that I just started, it's actually a franchise that I purchased. The headquarters is located in Atlanta, Georgia. We are expanding into the Washington D.C. market. We are very agent-centered because the owner was an agent, and I am a producing agent that has transitioned into the role of broker. We're focused on helping agents build successful businesses. We launched officially October 1st, 2021. We celebrated our grand opening in November. We're up and running! We have 20 agents that decided to go on this journey with us. All of them have seen great results.
What made you want to step into real estate?
(Laughs) Oh wow! So, I'm laughing because when I receive this question, I wonder if I'm going to be the odd one. Everyone does it because they've always wanted to do it, right? I'm quite the opposite (laughs). I had no desire or plan to get into real estate. My husband and I were selling our house that we purchased back in 2007. During this time, the housing market was crazy. We purchased our house at the top of the market and in 2011, due to job and income changes, we had to sell our house. My husband was paying attention to what the real estate agent, who was helping us with the transaction. I'll never forget the final day signing documents with her. My husband looked at me and said, 'You can do what she's doing.' I questioned it but, he was sure. I then signed up for the class, people thought I was crazy. I did a 10-day class and sat for the exam. I passed it on my first try. The next day, I signed up with the real estate company that I have been with for ten years until I started my own brokerage. That's how I got started, just trying to sell my own house (laughs).
As a woman making boss moves, how would you say you are able to juggle the different roles you have in life?
I think that is such a complicated question to answer. People ask me how I do it and sometimes, I don't even know how I do it myself. I don't believe a lot of people realize how expensive it is to start a real estate career. It's not cheap. My husband said, 'Don't waste our money' because at the time we didn't have a lot saved. Basically, in the beginning I was not able to juggle the roles. My son was a year old, I had a full-time job, I had a husband, and I had a real estate career. To be very frank, I was focused 100% on my real estate career. Thank God I had my husband, who supported me 1000%. He helped me in raising our young son. In the beginning of my career, I really hit the ground running. I fully immersed myself in the training classes that were available because I wanted to make sure that I knew what I was getting myself into, especially since I was going to be the one educating my clients on home sales and purchases. Since real estate was a completely new career for me, I truly wanted to focus on getting all of the knowledge that I could so I could advise my clients properly. In the beginning, there was no juggling. I was 100% committed to building my real estate business. My family life was sacrificed for the first couple of years. The more my business grew, I was able to add support that could help me in the roles that I have in my life. I had my husband help with our son and as my business grew, I was able to take that off of him because I hired admirative support to help on the backend with my clients so that freed up my time a little more. The bigger my business grew, I was then able to bring on more agents, who were able to help in the growth of my business.
What is your best advice when it comes to real estate?
Always be learning-based. That's a great question. It's one of the things that I've noticed with people who enter the industry. New agents believe they do one or two transactions and they know it all. I've been doing this since 2012 and I know for a fact that I still don't know it all. I'm learning something new everyday. The one piece of advice is to be learning-based. Always be ready to invest in yourself so you can ensure that you keep up with market and real estate trends. I go to a lot of conferences, networking events, and I take classes. When COVID hit, we had a lot of changes that happened in the industry. There were some documents we had to learn. I kept up to date on those documents and attended classes to ensure that I was in the know. Just be learning-based.
What can we look forward to seeing from you in 2022?
Growth! That's the best way I can put it. When I look over my almost 10-years in real estate, I've just been growing. I'm looking forward to continuing to grow my brokerage, myself, and the agents that join my brokerage. In 2022, I'm looking forward to launching my coaching business. I have a lot of agents that come to me and ask why I don't coach. It's something that I've run away from, but I've realized it's my calling. Overall, just growth.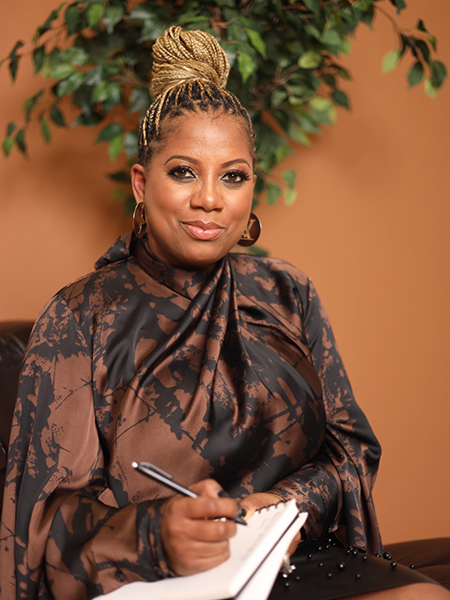 Follow her on Facebook, Instagram, & Twitter.
All images by Digital Daze